The Best Performing Portfolios Typically Share this One Trait
Aug 5, 2020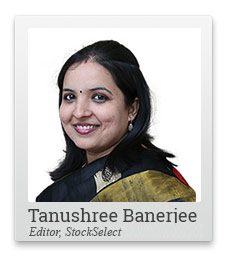 In 2017, Forbes magazine conducted a study of the best-performing stocks over three decades.
Not surprisingly, Warren Buffett's Berkshire Hathaway was on the list.
But can you guess its rank?
Berkshire ranked only 15th on this list. Which means 14 other stocks managed to trounce the magic of Buffett's investing genius.
Incidentally, 10 out of the 14 shared a common trait.
Before I tell you what it was, let me show you the numbers for the Indian market.
102 stocks on the BSE have become 4 baggers during the past five months. That means their gains are in excess of 300% from the lows of March 2020.
Of these 95 stocks share a common trait.
--- Advertisement ---
3 Smallcap Stocks Set for a Massive Rebound

Since the beginning of 2018, smallcap stocks have been hammered hard.

The BSE Smallcap Index has fallen by about 25% since then.

And this has made a few excellent stocks available at dirt-cheap prices.

We've identified 3 such high-potential stocks. The returns they generate from these prices could be mind-blowing.

We're holding a special online event on 9th October where we'll reveal the details of these 3 stocks.

Please click here to sign-up for free
------------------------------
Turns out this common trait works well in any bull market, whether it lasts for three decades or three months.
The common trait is that these were all unknown, small business when they began their historic runs higher.
When a bull market lifts all tides, several stocks make outsized gains. But in few cases the gains are exceptional.
Does that mean you could throw darts to pick smallcaps at the start of a bull market?
Well, chances are that you could end up picking all the wrong kinds of business at cheap valuations.
--- Advertisement ---
3 Excellent Tech Stocks to Buy

Technology is where the growth is.

We've discovered 3 excellent tech stocks you could consider buying.

You can find all the details in our small presentation.

Click Here for the Presentation
------------------------------
So, while 95 smallcaps out of 2,000-odd may have done exceptionally well...your picks may be among the other 1,905!
High potential smallcaps are a must have in every portfolio.
By design, your portfolio should have companies that aren't blue chips already.
But they should be extremely strong contenders for being counted among tomorrow's blue chips.
Having said that, selecting 95 out of 2,000 stocks is easier said than done.
And it takes a lot more than analysing financials or evaluating PE multiples.
For me, the only way to reliably buy smallcaps is by meeting the management of the company in person, by visting factories and speaking to vendors and distributors.
Fortunately, my colleague Richa does exactly that for her subscribers. She becomes their eyes and ears while travelling thousands of kilometers to visit managements.
She doesn't mind taking flights at wee hours or spending hours on the road.
UNLOCKED: Up to 3x More Gains During the Corona Crisis...
In fact, until the pandemic struck it would be rare to find Richa working from office more than 10 days a month. She would be constantly hopping from one city to the other chasing the next big opportunity.
Even two years of underperformance of smallcaps (2018 and 2019) did not deter Richa from hunting for quality smallcaps.
When the stocks showed a strong rebound post Covid-19, her confidence was vindicated.
I am sure you are keen to know how Richa makes her shortlist of 95 stocks from over 2,000.
The good news is that she will be revealing her secret process of picking high quality smallcaps at the Rebound Riches Summit on Friday, 7 August, 2020.
More than 6,000 astute investors have already signed up to listen to Richa speak at this online event.
I recommend that you book your free seat right away.
Warm regards,

Tanushree Banerjee
Editor, StockSelect
Equitymaster Agora Research Private Limited (Research Analyst)
PS: On 7th August, our small-cap stocks editor, Richa Agarwal, will show you how to multiply your money in India's most exciting stocks. Join Richa online at the Rebound Riches Summit. Book your free seat here...
Recent Articles