Investment in securities market are subject to market risks. Read all the related documents carefully before investing
An Emerging Opportunity for Investors
India's Lithium Megatrend
Top 4 Semiconductor Stocks that are Outperforming the Market
Aug 5, 2023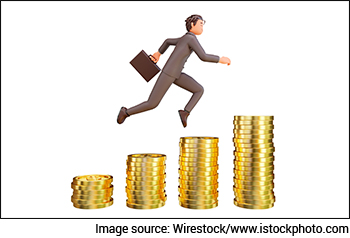 The Indian semiconductor industry has been experiencing a remarkable surge in growth, propelled by a combination of technological advancements.
As demand for electronic devices surges, several semiconductor companies have emerged as key players, experiencing substantial growth and capturing investors' attention.
In this article, we will delve into the top five fastest-growing semiconductor stocks in India right now.
These companies have been riding the wave of technological advancements, global market expansion, and government support for the electronics manufacturing sector.
Whether you are an investor seeking promising opportunities or simply intrigued by the world of semiconductors, this list is sure to captivate your interest and shed light on India's ascent in the semiconductor industry.
Let's dive in.
#1 Dixon Technologies
The first stock on our list is Dixon Technologies.
The company is a multinational electronics manufacturing and services company. Its core competence lies in manufacturing consumer electronics used daily like televisions, washing machines, smartphones, LED bulbs, battens, downlighters, and CCTV security systems.
So, it's easy to see how the stock is involved in the semiconductor ecosystem.
As for growth, the business has grown rapidly in the last three years. The revenue of the company has grown at a 3-year CAGR of 40% while the net profit has grown by 28%.
This has been on the back of a strong order book position in all divisions. Customer addition (India and overseas), healthy traction in existing segments (washing machines, mobile phones, lighting) and fast ramp up in new segments has also driven growth.
The company's electronic manufacturing services (EMS) segment is a key contributor to its revenue. The EMS theme exhibits strong traction with significant growth opportunities in India, making it an attractive long-term investment avenue.
--- Advertisement ---
Investment in securities market are subject to market risks. Read all the related documents carefully before investing

Access details of this investing opportunity fast

EV is an emerging opportunity of this decade.

And most investors think the best way to ride this opportunity is through stocks of EV making companies.

Well, our research suggests that's not a recommended strategy.

Click Here to Know More
(Information available only till 11:59pm tonight)
Details of our SEBI Research Analyst registration are mentioned on our website - www.equitymaster.com
---------------------------------------------
Dixon is also a key beneficiary to the government's PLI (production linked incentives) scheme for the electronics segment.
In September 2022, the government approved its first disbursement under the scheme. Dixon Technologies' subsidiary Padget Electronics was the first beneficiary and received Rs 532.8 m under the scheme.
Dixon also has a JV with Japanese company Rexxam for manufacturing Printed Circuit Boards (PCBs). Rexxam deals in the development, design, manufacturing, and marketing of electronic products, peripheral devices of semiconductor production equipment, etc.
For FY24, the company has projected group revenues to hit Rs 170-200 bn. To reach its objectives, it will be investing over Rs 9 bn for the various PLI schemes.
This acceleration in investment has paid off. Dixon has already received orders from Motorola and Samsung to assemble 2G and 3G mobile models to begin with, graduating to 4G and 5G eventually.
Shares of Dixon Technologies have risen more than 600% in the last five years. In comparison, the Sensex has risen 73% during the same period.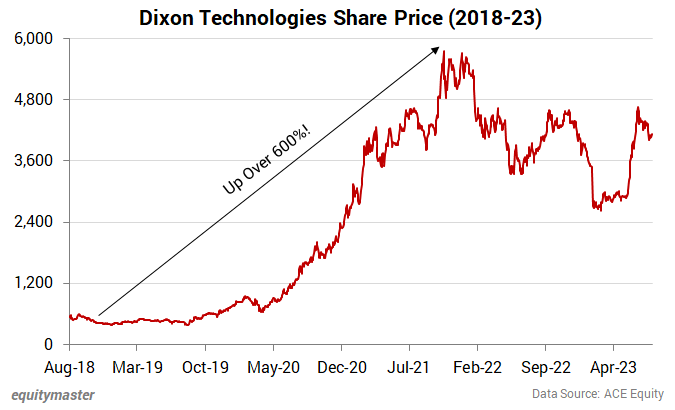 #2 ASM Technologies
The second stock on our list is ASM Technologies.
The company is engaged in the business of providing consulting and product development services in the areas of engineering services and product R&D.
It also has a 50-50 joint venture (JV) with HHV group, which is slated to be one of India's state-of-the-art semiconductor focused equipment manufacturing facilities.
The facility will include services in designing and manufacturing semiconductor tools, sub-systems, system components, and providing field support. The management considers it a key growth vertical.
ASM Technologies has seen its revenue grow at a CAGR of 34% in the last three years. Its 3-year return on equity (RoE) also stands comfortable at 15.6%.
While its debt-to-equity ratio is above 1, the company's interest coverage ratio is high at 2.7.
Apart from semiconductors, the company caters to hi-tech medical equipment, automotive, aerospace, enterprising storage, and networking consumer electronics, etc.
--- This is Third Party Advertisement ---
Mutual Fund investments are subject to market risks, read all scheme related documents carefully.

[MEGA] Webinar Invitation -

Navigating markets in 2024 - Fund Managers' Year End Perspective.

Date: Dec 6th Time: 6pm Venue: Your Computer

What's Next for equity, debt & gold asset classes?

Join Chirag Mehta, CIO and Fund Managers of Quantum AMC as they discuss asset class outlook & what one should expect from the markets in the new-year.

Register Free for this Exclusive Webinar
----------------------------------------
Through its arm ASM Ventures, it also makes strategic minority investments in early-stage tech companies in India and abroad.
The company has recently forayed into areas of virtual reality (VR), internet of things (IoT), and open edX platform management.
Shares of ASM Technologies have seen a phenomenal run in the last five years, rising more than 1,000%.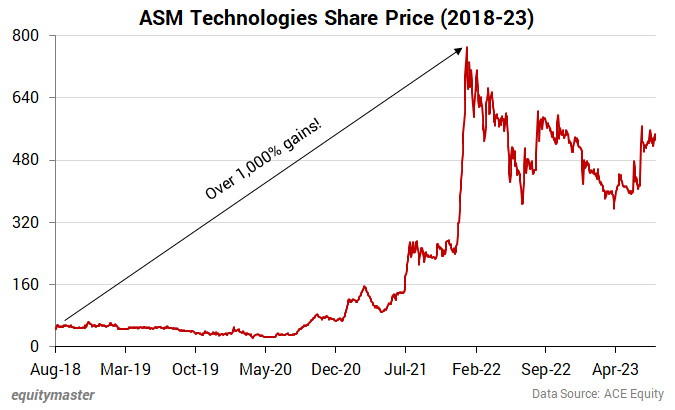 #3 Moschip Technologies
The third stock on our list is Moschip Technologies.
The company offers turnkey analog, digital, and mixed-signal ASIC and IP design services. It has emerged as a leading semiconductor design services company in India.
In FY22, the company made significant progress with a high-speed SerDes IP portfolio and design wins with tier-1 customers. It experienced strong growth with existing customers for design services. It also acquired new customers in North America and helped them transition from 2G to 4G.
The company recently announced that it has acquired Softnautics Inc, a California based company with a focus on Product Engineering Solutions in embedded FPGA and VLSI. Softnautics has offices in California and India (Pune and Ahmadabad).
The US$ 17.25 million (m) acquisition will be completed during next quarter and is expected to be EBIDTA accretive and generate free cash flow starting from the very first year.
Equitymaster Conference 2024: View Your Invitation
This will strengthen MosChip's Embedded System Design capabilities which will enable the company to serve existing clients better, while increasing its ability to acquire new customers.
Softnautics has established strong customer relationships with top-tier companies across North America and will add 185+ employees to current MosChip talent pool across various domains.
Moschip has hired semiconductor industry veteran, Dr Naveed Ahmed Sherwani as non-executive director of the company.
The company's revenue has grown at a CAGR of 27% in the last five years while net profit has grown at a CAGR of 20%. The company's debt to equity ratio also stands low at 0.64x.
Shares of Moschip Technologies have delivered multibagger returns in the last five years. The stock is up more than 200%.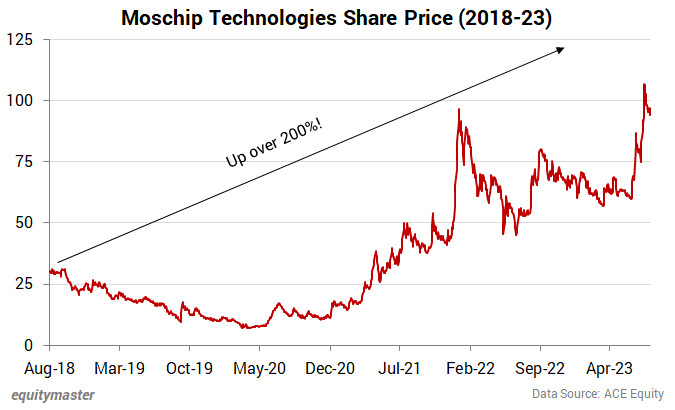 #4 Tata Elxsi
The last stock on our list is Tata Elxsi.
The company is one of the leading providers of design and technology services across industries including automotive, media, communications and healthcare.
It accelerates semiconductor and device companies' development lifecycles by providing platform software, system architecture, and design.
The Tata group company has an established presence in the designing and development of systems and software for varied end-user industries, including semiconductors and Tata Elxsi is slated to play an important role.
The company has tied up with Renesas Electronics Corporation, a premier supplier of advanced semiconductor solutions, to set up a state-of-the-art design center in Bangalore that will develop targeted solutions for electric vehicles (EV).
Tata Elxsi and Renesas will bring together their deep domain expertise, intellectual property, and assets to the NEVIC and collaborate to create reference designs and solution accelerators for critical EV subsystems like battery management systems and motor control units, among others.
In July 2022, Tata Motors partnered with Renesas Electronics to design and develop semiconductors.
The tie-up was expected to help Tata Motors tide over the global auto chips crunch that has affected its earnings and resulted in production cuts and even temporary plant shutdowns.
Cut to April 2023, Renesas has now introduced an NB-IoT (Narrowband Internet of Things) chipset specifically for the Indian market. The new RH1NS200 is an LTE NB-IoT modem chipset that is designed to operate seamlessly on the networks of all major Indian telecommunications carriers.
The new chipset also can be used in asset tracking, lighting, security, and numerous other applications.
Tata Elxsi's revenue has grown at a CAGR of 18% in the last five years while net profit has grown at a CAGR of 26%.
The company's impeccable financial performance has led to rise in its share price. The shares of the company jumped more than 600% in the last five years.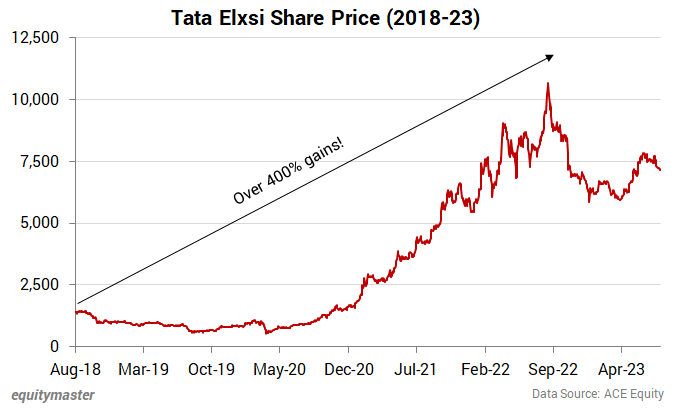 Conclusion
Sustained growth, technological expertise, and commitment to innovation of these companies make them compelling from a long-term perspective.
Nevertheless, the semiconductor industry remains dynamic and highly influenced by global market trends and geopolitical factors. As such, investors should exercise caution and conduct thorough research before taking any investment decisions in this space.
Disclaimer: This article is for information purposes only. It is not a stock recommendation and should not be treated as such. Learn more about our recommendation services here...
Recent Articles