Forget the Nifty and Sensex for the Next 1 or 2 Years and Focus on These Stocks
Aug 6, 2020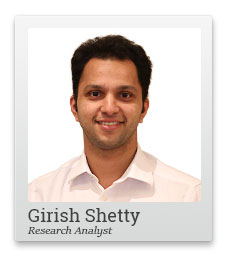 I had a peculiar habit when I just started out as an amateur investor. I always waited for the 9:15 a.m. market bell.
It gave me a weird sense of thrill to see what markets did at the opening bell.
News channels did a great job of amplifying this habit of mine. They would attach some or the other reason for the rise or fall when the market opened. Being the newbie that I was, I assumed they knew what they were saying.
It took me many years to get out of this habit. It also led to a lot of wrong buying and selling decisions based on what the Sensex and Nifty were doing or worse, what the TV channels were saying.
I realised that if you have to do well in the Indian stock markets, this is the noise you need to shut out.
BREAKING: Here's Investment of the Decade
But I still see this habit among most retail investors. In the pre-Covid-19 era, I used to see this in the Mumbai local trains. Around 9:15 a.m. passengers would be glued to their phones waiting for the market to open.
Do you have this habit too, dear reader? Do you desperately wait for markets to open to check the levels of the Nifty and Sensex?
If you do, now would be the best time to stop. Even more so, in the current market scenario.
The returns you make from the Indian share market over the next 1-2 years will most likely not be from the Nifty or Sensex stocks.
We are seeing the signs already.
Banks and financial services, which were driving the Sensex and Nifty, have come to a grinding halt. The BSE Bankex Index is down 34% since the start of the year. The same index was up 76% over the last 3 years.
Uncertainty surrounding the economy post Covid-19 has been a major reason for this decline. Businesses and individuals' ability to pay their loans back is likely to be severely impacted in this pandemic. We are seeing markets reflect the same.
--- Advertisement ---
[EXCLUSIVE] Webinar Invitation - "10 Charts, 1 Growth Story - INDIA"

Date: April 23rd | Time: 6pm | Venue: Your Computer

The second wave of the pandemic is here.

But we did beat the first wave, and surely we will beat this one too!

There is a reason why India is poised to be a global superpower soon.

The growth story of India has spanned over the past decades and is only getting stronger.

Hence, it only makes sense for smart investors to have all the information & answers to make the most of India's growth trajectory.

That is exactly what our Live & Exclusive Webinar will cover.

• Has Covid Impacted India's Long Term Growth Potential?
• What Opportunities Does India's Growth Story Create For You?
• Is Equities The Best Way To Play India's Long-Term Growth Story?

And many more...

Click Here to Register FREE for this Exclusive Webinar
[No Payments | No Credit Card | Absolutely FREE]
[Yes! I want to attend this Webinar]
------------------------------
On the other hand, certain sectors have come out stronger from this crisis. I recently wrote to you about the outperformance of the food and agriculture sector.
We recommended two stocks from this space in March and May this year. As I write this, the two stocks are up 32% and 58% respectively from our recommended price.
Hidden Treasure subscribers can read the March report here and the May report here.
Another sector that has come out strongly is the pharma sector. The BSE Healthcare index is up 39% this year a compared to the 9% decline for the Sensex.
What's common among these outperformers?
Well most of them produce essential items for consumers. With or without Covid-19, these are things every household needs throughout the year.
There's another theme we've noticed in these outperformers. Most of these have come from the smallcap space.
--- Advertisement ---
[Watch Now] 3 Little-known Stocks We are Super Bullish On




Click Here to Watch Now
------------------------------
After a lull of almost 3 years, we are seeing signs of a rebound in the smallcap space.
But mind you, the rebound that I am talking about is only in quality smallcaps.
For every outperformer, there might be 3 to 4 duds. It is important to narrow down on the winners rather than the pretenders.
My colleague Richa, editor of Hidden Treasure, will help you do exactly that. She'll be sharing her secrets on how to pick quality smallcaps at the Rebound Riches Summit tomorrow at 5 pm.
More than 7,000 readers of the Profit Hunter have signed up to listen to Richa speak at this online event.
I highly recommend you block your calendar for 5 pm tomorrow.
If you pick the right smallcap, you will not have to check where the Sensex or Nifty is for the next 2 years at least.
Warm regards,



Girish Shetty
Research Analyst, Hidden Treasure
Equitymaster Agora Research Private Limited (Research Analyst)
PS: Tomorrow at 5 pm, our small-cap stocks editor, Richa Agarwal, will show you how to multiply your money in India's most exciting stocks. Join Richa online at the Rebound Riches Summit. Book your free seat here...
Recent Articles