Count on These Stocks to Create Permanent Wealth...
Aug 8, 2018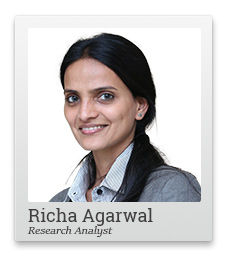 It had only been a few months since I had joined Equitymaster.
I had just met with the management of a company I really liked - and was excited to share my findings with my team and the co-heads of research - Rahul Shah and Tanushree Banerjee.
I spoke at length about all the great advantages of the company - the huge market share, unique positioning, and fresh capex that the management was undertaking....and how it would help the company march ahead and earn returns for its shareholders.
Most of the team liked the idea and asked me questions probing its future plans.
But Tanushree did the opposite.
For the next 30 minutes or so, she grilled me about all the things that could go wrong.
At one point, I was miffed. Why were we focusing on the worst-case scenarios - when there was so much good to build on?
Eventually, the idea was approved. But secretly I wondered if Tanushree had an 'over-conservative' approach to investing.
--- Advertisement ---


This is it…Claim Your 3 'Permanent Wealth' Stocks, Now

We have entered the final stretch.

Your invitation of a lifetime expires at 11:59 pm, tonight.

That's right, if you want access to Tanushree Banerjee's Permanent Wealth Blueprint and her 3 'permanent wealth stocks' to buy…

You need to act right away!

Click here for full details…
------------------------------
As my own investing approach matured, I have come to realise how underappreciated Tanushree's style is.
The safety-first approach to investing.
For all my stock discussions thereon, I have made sure to allocate equal time to what could go wrong with a company, as what could go right. And whether there is enough margin of safety in the stock.
Markets always hero worship analysts or fund managers who spin tales about multibaggers...or those who proclaim the next growth story.
You seldom hear about the ones that warn.... Those who avoid wealth destructors.
Tanushree belongs to this rare group.
It was her aversion to losing money that made her reject Vakrangee - the much hailed multibagger - before its mighty fall.
Tanushree and her team had met the management almost a year before the fall - it was trading at Rs 176 per share at the time.
She did not find enough substance the management's claim, and avoided the stock.
In the short term, this might have seemed a missed opportunity - the stock was trading at over Rs 500 per share in Jan 2018!
But Tanushree was not fretting. She didn't waver in her conviction that she had made the good, safe decision.
And as Vakrangee crashed, her investors were saved from huge loss.
Vakrangee is just one of the lot.
Her disciplined approach has led her subscribers to steer clear of value traps and misleading growth stories.
Not to mention that even while being safe, she has managed to offer returns over 1000% (how's 1,821% gains from M&M in 7 years!).
In fact, on many large caps, she has managed a feat of generating over 100% returns in less than a year.
The secret is her ability to sit still amid the noise and buy only when odds of outperforming are heavily stacked in her favour.
You may not get actionable ideas from her every week or month of the year.
She recommends only when she sees enough upside in the fundamentals and margin of safety.
And that, I believe, is the right way.
Like in February 2016: Oil was touching US$30 per barrel. The Fed was considering negative interest rates. There was a sell-off in the global markets. Investors were giving up on stocks and seeking refuge in safe-havens like bonds and gold.
The Indian markets too were spooked. The Sensex had tanked over 800 points. There was a bloodbath at Dalal Street.
Amid all this chaos and fear, Tanushree asked her subscribers to buy 4 stocks on single day (Hindalco, HDFC, HDFC Bank, and Exide Industries). All four went on to offer spectacular returns, including returns of over 100%.
In June 2016, when Sensex was trading at around 27,000 mark, Tanushree shared with her subscribers a report on why Sensex could go up to 40,000.... And the four safe stocks (TCS, HDFC Bank, L&T, Bharat Forge) that one could count on to create permanent wealth.
Sensex is close to that mark now. And subscribers who acted on her recommendation are sitting on huge gains.
The reason I'm sharing this with you today is because of what Tanushree is working on right now - in fact, she has been on this for quite some time.
The way she sees things now, the Sensex is on its way to hit 100,000 mark by the next decade.
That said, she believes it's not going to be a continuous joy ride. In fact, a majority of these gains will be led by stocks outside of the Sensex.
How can regular investors make sure NOT to miss this ride?
So Tanushree created a blueprint of stocks that will create permanent wealth for her subscribers.
Just for today, however, you can also have access to this blueprint - given Tanushree's keen focus to protect downside while riding the gains, I believe this is a great opportunity that all my readers should seriously consider.
Regards,



Richa Agarwal (Research Analyst)
Editor, Hidden Treasure
PS: Richa believes Tanushree's new permanent wealth system is the safest way to long-term wealth - and we must agree. If there is one blueprint all investors - especially if you are new to the markets - need for long term success, it is this. Today is the last day the blueprint will be available. See the video here and get 3 stocks you should invest in straight away.
Remember - this closes at midnight tonight. Click here now.
Recent Articles