Trading in These Times: 8% Gains in 3 Days!
Aug 9, 2018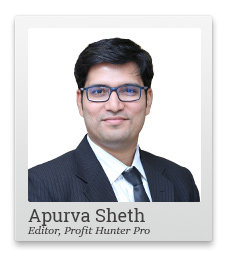 Some of you know that I am a Chartered Market Technician® (CMT). The CMT is recognized as the highest level of education within the discipline of technical analysis worldwide.
Now, I'm not saying this to boast (although I'm quite pleased with that qualification - which less than a hundred Indians hold) but I'm telling you this because you should know where my techniques come from - and why you can trust them.
Technical analysis provides all the tools to study the most important element while trading in the markets - Price Action.
Earning the CMT designation demonstrates mastery in the core body of knowledge required to succeed in trading.
A professional course like CMT enables you to constantly upgrade and learn new tricks of the trade.
Last week I had one such learning opportunity at the Mumbai Chapter Meeting of the CMT Association held at Bloomberg's Office in one of central Mumbai's suburbs.
View from the Balcony
A Room full of Market Enthusiasts
The Mumbai Chapter Meeting is a chance to rub shoulders with likeminded people including research analysts, chartists, algo developers, institutional and proprietary traders.
It was a fantastic experience - meeting likeminded people and talking about the markets.
We discussed how volumes can add an extra dimension to trading simply by plotting it on the sides rather than at the bottom.
We discussed the various illusions of the market we must deal with before timing them.
--- Advertisement ---


3 Trading Opportunities Waiting For You!

Short-term trading opportunities appear and disappear fast.

That's why you need to act IMMEDIATELY on the 3 opportunities Apurva has got right now.

Apurva's last trade booked a profit of 11.92% in just 6 days. The 3 opportunities he has now could probably do even better.

But once again, these companies do not remain a BUY for very long.

So hurry! Click here to get the full details right away…
------------------------------
I also had a fascinating conversation about using mechanical systems in trading.
Systems have really got me interested over the past few months and I am even working on building a few. So this was a great way to learn from others' experiences.
I'll share insights from the meeting and my tryst with systems in future updates.
Meanwhile, markets at an all-time high.
The Sensex and Nifty are scaling new highs daily but all stocks are not moving up along with it.
While people were wondering which stocks to buy to make the maximum out of this opportunity, I recommended a total of four stocks over the last week ...3 on Friday and 1 on Monday.
I even wrote to you about the 3 stocks which had the potential of generating 11-12% in a matter of weeks.
But forget weeks - it's been a couple of days and 2 of these 3 stocks are already up more than 8% as of yesterday.
8% gains in a matter of 3 days - superb by any standards.
Now, unless you got in when I recommended the stock, you must be wondering what's in it for you now?
Well, I hope you did buy those stocks. Because they are still going up.
But if you didn't then my whole point today is there is still a chance to make money with trading - and this market is just perfect for that!
I recommended a total of 4 stocks during the week, 2 of them are already out of buying range... But the other 2 stocks are still available within the range.
Let me tell you a bit about these stocks...
Stock #1: Ready to Take-off FMCG stock
I am sure most of us have consumed this company's products once in our lifetime and probably still do it regularly...
For decades, Warren Buffett has advocated buying companies with strong brands for they 'lend the moat to the economic castle'.
This company has been able to build a successful business on the back of its two strong brands - that are household names - and have given huge pricing power to the company, through thick and thin.
The StockSelect team recommended it to its subscribers in September 2017.
In my latest monthly 'sector check-up', I observed that FMCG is one of the sectors where the stocks have great momentum - so I knew I would spot some winners.
So, of course, I care most about price action, and this stock seems about ready to take off... I believe it will go up again upto 12% in weeks, if not days.
Stock #2: Mint Money with This Reversal Pattern Again
I recently wrote to tell you about the inverse head and shoulder pattern. In fact, one of the two stocks which has already moved up by 8% formed this pattern.
So you know this is a fantastic technique for identifying stocks that are about to start heading upwards.
I have found another stock which is forming the same pattern - one of the largest producers of agrochemicals in India.
The StockSelect team even considers it a safe bluechip stock fit for long term investment.
From a trading perspective, I believe this stock offers an excellent opportunity at this point - it looks like a 9% gain is close at hand.
And this is just the beginning - I have recommended more stocks in the last few days than the last couple of weeks.
Opportunities are just jumping off my screen every other day now!
So, if trading with safe stocks over the short term interests you there has never been a greater time or bigger opportunity. Join my readers now - because things are getting interesting.
You know how people are always asking - hey, is this the right time to trade?
These are stressful times for investors, but if you have the fortitude, discipline and technique - then yes, these are exactly the right times for traders!

Apurva Sheth (Research Analyst)
Editor, Profit Hunter Pro
PS: To make 8 to 12% returns in a few days sounds like over-reaching, but with Apurva's system it is just another ordinary trade. Subscribe now to get the 2 stock recommendations that are a 'buy' right now - and that can make you the gains this market is otherwise withholding from investors. Subscribe now - before the prices run up.
Recent Articles