After the Sensex Its Time for Gold 40,000
Aug 9, 2019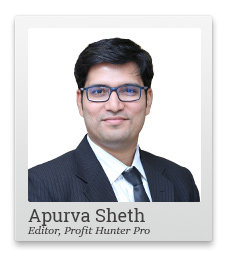 Regular readers will know that Equitymaster was the first among the first to predict Sensex 40,000.
Rahul Shah, Equitymaster's co-head of research, said the Sensex could go up 70% in the next two to three years back in April 2016.
His rationale was that if profit margins of Sensex companies, which were at 12.2%, reverted to their ten-year mean of 13.5% and the EPS grows at its long-term average of 15%, then Sensex could easily touch 40,000.
--- Advertisement ---
This is a Powerful Mega Trend Playing Out in India

We have uncovered a powerful mega trend that is playing out in India right now.

It could potentially generate immense wealth for early movers.

Our co-head of research Tanushree Banerjee has also zeroed in on one specific stock riding this mega trend.

It's her #1 stock pick right now.

And she believes, this could be one of the top stocks to get to potential Rs 7 crore wealth over the long term.

Tanushree will reveal all the details about this mega trend and her #1 stock at her special online event on May 17.

At the event Tanushree will also show you, how to potentially accumulate Rs 7 crore in wealth over the long term.

What you learn at the event could possibly change your financial fortunes forever.

Click here for sign-up. It's free.
------------------------------
I shared my views based on time series and price action which also suggested the Sensex was heading to 40,000 in a few years. Earlier in May 2019, Sensex achieved this target of 40,000.
I am happy the Sensex achieved this target. But there is another asset which is likely to hit the 40,000 mark soon: GOLD. I've been bullish on gold since last year.
I recommended Profit Hunter Pro readers to add some gold to their portfolio in October 2018 when I tied the nuptial knot with my better half. Indian weddings are incomplete without gold. The one thing which worried me the most were rising prices and I warned them about it as well.
Next, I wrote about gold again in December. Dr Urjit Patel quit the RBI, BJP lost elections in a few states, rupee slipped against the dollar and there was lot of uncertainty in the markets. It was then I stuck my neck out and told my readers, gold could be the best asset class to invest in 2019.
By the way, gold is already beating equities. Year to date Nifty is down 0.06% and Gold is up 21.75% as on August 7, 2019.
Learn: How to Potentially Accumulate Rs 7 Crore in Wealth Over the Long-term
In January, I shared some compelling macro reasons why investors must own gold in 2019 written by Brian Tycangco of Stansberry Pacific Research.
Later in the month, I shared with my readers my views on 2 stocks that could benefit from golds advance in 2019: Muthoot Finance and Manappuram Finance.
Since then these stocks are up about 15% and 24% respectively.
I also shared story of Sam Zell, "the grave dancer". He made billions by selling commercial properties to Blackstone in 2007 before the subprime crisis broke out. Sam believed if demand for gold goes up (as it tends to do in a crisis), there isn't much supply of gold to respond. The result would be an upward pressure on gold prices and gold stocks.
In February, I showed my readers why I believe gold is the best investment for 2019. An investment of Rs 100 would have yielded Rs 521 in gold and Rs 524 in equities (Nifty) over the last 14 years until 2018.
But this has changed now. Here's the updated chart...
100 Rs Invested in Gold and Nifty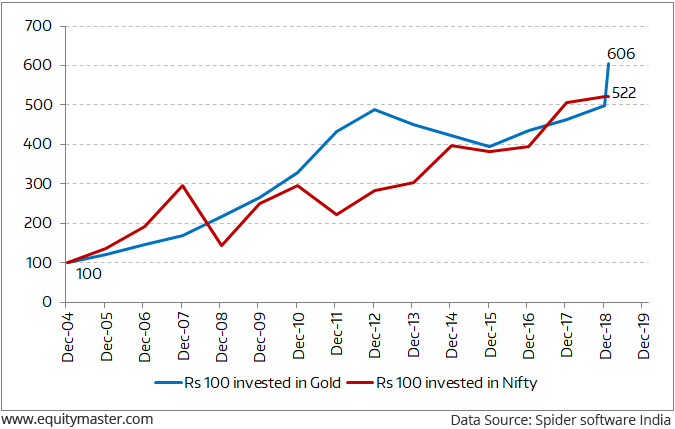 An equal amount of Rs 100 invested in both Gold and Nifty would have returned Rs 606 and Rs 522 respectively.
I made a case for investment in gold for my readers simply because of 2 reasons:
The drawdowns in gold is much less than Nifty.
It's returns were almost equal to the Nifty over the long run.
Now the case for investment becomes even stronger as Gold has started to beat the Nifty this year and even on a long-term time frame.
--- Advertisement ---
How to Earn a Fortune in Gold, the Smart Way

Gold is on 'the verge of a decadal run' says Vijay Bhambwani, India's #1 Trader and Editor of Fast Profits Daily at Equitymaster.

He says gold has the potential to generate staggering gains in the coming years...And those who are betting on gold right now will hit the jackpot.

But wait.

While gold is an attractive investment destination, there's a very specific way to play this opportunity...

A way that ensures you rake in maximum profit and perhaps hit the jackpot...while minimizing potential pitfalls. Thankfully, Vijay - India's #1 Trader - can guide you step-by-step in the upcoming gold rush and help hit the jackpot just at the right time.

Sure, you don't want to be an average trader. That's not how you make a fortune.

Here's how you can get Vijay's guidance...
------------------------------
Now what could be the next level to watch out for in gold?
Gold prices in India depends on two factors:
International Gold Prices



Internationally, gold is traded in dollars and is far below its all-time high of US$ 1,920/ounce. It has broken out of a long-term consolidation and is heading upwards.

Exchange Rate



We import most of our gold requirements and make payments in dollars. If the dollar strengthens against the rupee, we pay a higher price for the imported gold. The rupee is in a long-term downtrend compared to dollar. This means importing gold will always be expensive for us.
Professional traders look at both these factors to find out where gold could be trading on the local exchanges. This could get complicated at times since the impact of one of these factors could be set off by an adverse movement in the other.
But not anymore...
Today, I want to simplify things for you. I want to give you a simple model to give you an estimate of where gold prices are going.
Look at this chart...
Gold v/s Sensex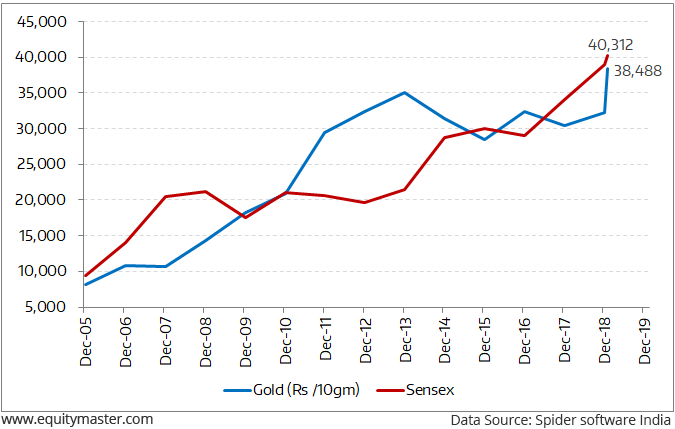 This is the yearly chart of Gold and Sensex. But instead of closing prices I have used the high prices. Sensex hit a high of 40,312 while Gold hit a high of 38,488 on Wednesday, 7 August 2019.
Gold and Sensex move in tandem with each other over the long term. So, whatever levels we see on the Sensex, the chances are we may see similar levels on Gold soon.
Going by this logic, Gold could cross 40,000 soon. But gold isn't the only asset moving up. Silver is also on the move and it's a high beta commodity. This means silver could move up faster than gold.
I have been sharing my views on silver with my readers regularly. You can benefit from these insights too.
Are you ready to ride this uptrend in precious metals?
If yes, then join thousands of Profit Hunter Pro readers. They profit from from the insights I share with them daily.
Warm regards,

Apurva Sheth
Editor and Research Analyst, Profit Hunter Pro
PS: Dear reader, identifying profitable trades in this volatile market requires a proven trading strategy. This is exactly what our trading guru, Apurva Sheth, has developed for you. Get details of this trading strategy here.
Recent Articles