Revealed


Richa Agarwal's
Top 3 Stocks for 2023
This is Why Defence Stocks are Potential Multibaggers
Aug 9, 2022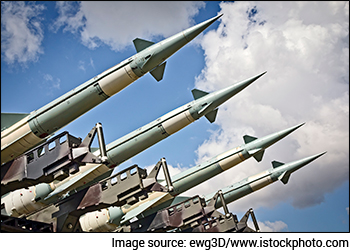 Jayant Patil had joined Larsen and Toubro (L&T) four decades back as a fresh IIT graduate.
Later, Patil's team, worked with Dr APJ Abdul Kalam to build weapon systems for the Defence Research and Development Organisation (DRDO).
So, decades before 3D designs became popular, L&T experimented with them for the DRDO project related R&D. The team worked on warships to submarines and unmanned armoured systems to missiles.
As precision is key to defence capabilities, use of automation, Internet of Things, and artificial intelligence started early.
Today, Patil leads the L&T team working on artificial intelligence (AI), Internet of Things (IoT), virtual reality (VR), augmented reality (AR), geo-spatial technology, and cyber security for India's defence forces.
Digitalisation of processes means that every single nut, bolt and washer needs to be accounted for. Every pipe and every cable are barcoded to fit in the right place. Without such precision in the making of submarines, the product cannot be built.
L&T's defence business took the path of digitalisation almost over a decade before anyone was even talking of digital. To add to that there was strong technical collaboration.
--- Advertisement ---
"My Top 3 Stock Picks for 2023"

Good News for you!

I have zeroed in on my top 3 stocks for 2023.

On September 30th at 5pm, I'm revealing the details only to a selected few readers of Equitymaster at my upcoming MEGA summit.

If you'd be interested, use this link to save your spot asap.

Save Your Spot
------------------------------
For instance, L&T's partner in the manufacture of the gun systems is Hanwha Land Systems, South Korea's largest defence conglomerate. Hanwha is the largest producer of tracked self-propelled guns globally, with over 1,000 pieces in service with various armies.
The guns produced by L&T-Hanwha have been modified to suit Indian requirements. It has greater than 50% indigenous content.
Also, there is sufficient capacity in the offing. L&T has concurrently built a whole new manufacturing complex at its Hazira premises for the manufacture of these gun systems. It includes state-of-the-art test tracks to qualify mobility of every gun system produced here.
L&T's Armoured Systems Complex is a huge workshop that will house the entire assembly line starting from manufacture of various sub-systems and systems of the gun.
L&T's Armoured Systems Complex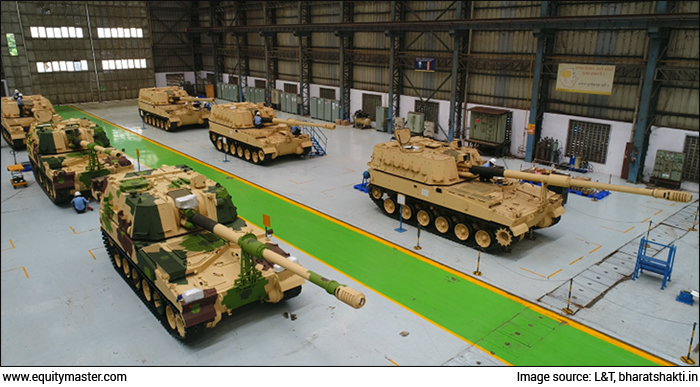 L&T has been a partner to BrahMos missile system production for the past two decades. It produced missile launchers, fire control systems, and related hardware with 90% indigenous content.
And not just the army, the company has been a contributor to the navy too.
L&T has designed and engineered, in-house, all the 50 platforms delivered till date to Indian Coast Guard and the Indian Navy.
In fact, it has attained the distinction of delivering all the shipbuilding programs awarded by Ministry of Defence ahead of schedule.
L&T's defence order book was over Rs 80 bn at the end of March 2022. The contribution of defence to L&T's order book and revenues is currently less than 10%.
Therefore, despite a sharp uptick in orders, the defence portfolio may not move the needle for the stock of L&T in the near term.
Why then should you consider L&T in the first place?
That's because private sector companies like L&T specialising in technical innovation are the crucial spokes in the wheel of India's defence evolution.
India's export of arms and defence technologies touched a record Rs 130 bn in financial year 2021-22. 70% contribution came from the private sector. Further, there was a substantial increase in exports to the US, the Philippines, West Asia, and Africa.
It's not just guns and missiles, but the private sector and startups are looking to make India an export hub for drones too.
Watch my video on the drone opportunity.
So yes, defence is set to be a gamechanger for even private sector companies like L&T over the longer term.
Over time, there will be barely any PSU monopolies in Indian defence sector.
The companies offering defence products are temporarily expected to have higher working capital too. This is due to the nature of payments in the defence sector.
Do not speculate on short-term order wins or quarterly performances of the defence segment. However, the massive transformation of India's defence industry is now inevitable.
You can ignore the strong undercurrents at your own risk.
Warm regards,



Tanushree Banerjee
Editor, StockSelect
Equitymaster Agora Research Private Limited (Research Analyst)
PS: There are just a handful of Indian companies focussed on the defence sector today. But the next few years are expected to bring a massive change in the private sector defence business.
Screen the best defence stocks to tap this long term megatrend.
Recent Articles