Investment in securities market are subject to market risks. Read all the related documents carefully before investing
An Emerging Opportunity for Investors
India's Lithium Megatrend
Investing in Artificial Intelligence Stocks: Things You Have to Know
Aug 9, 2023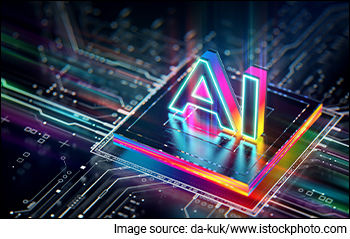 Artificial Intelligence (AI) has become intertwined with of our lives. It's not just a narrative anymore.
We use AI daily in so many ways. Siri, Google assistant, and Alexa come to mind. ChatGPT and Bard have. From online shopping to writing greeting cards, AI has become an integral part of our lives.
We use it to make videos, write articles, prepare presentations, learn new topics, provide customer service, even drive cars and perform surgeries. It seems there is an AI for everything.
AI is also driving productivity across diverse industries. It's revolutionising healthcare, finance, agriculture, education, transportation, and many others.
It's safe to say the use of AI is increasing all over the world by the day. In the coming years, AI will transform the way we live and work.
This offers investors a wonderful opportunity to benefit from this investing megatrend. It's the next big thing in the world of investing.
--- Advertisement ---
Investment in securities market are subject to market risks. Read all the related documents carefully before investing

Are these EV stocks potential multibaggers in the making?

Our senior research analysts have identified two EV stocks.

These two stocks riding India's emerging EV trend very smartly.

If you're looking to buy some high-potential stocks in the current market environment, then we strongly suggest you check out these two EV stocks.

Click Here to Know More
Details of our SEBI Research Analyst registration are mentioned on our website - www.equitymaster.com
---------------------------------------------
Just look at how the market rewarded the stock of Nvidia.
Stock Price of Nvidia (US$)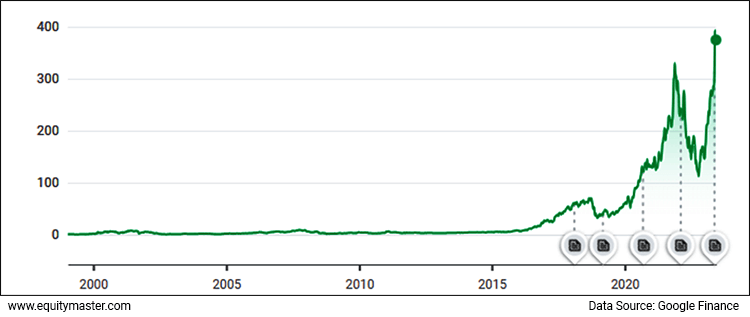 AI investing
In India, the AI boom has already begun. We already have seen humanoid robots welcoming us at bank branches. Chatbots helps us resolve issues with our online transactions.
We believe this is a huge megatrend in the stock market with multibaggers in the making. Investing in AI stocks in India can create long-term wealth for investors.
If you're considering investing in AI stocks, it's important to understand that AI isn't just a tool that can improve their stock-picking universe but an industry in which to gain broad exposure. Investing in AI stocks offers investors the best of both worlds.
On the one hand, there is the potential for capital gains as the AI industry continues to advance and digitalisation initiatives gain momentum.
On the other hand, investors can also enjoy passive income through dividends while they wait for their investments to grow. Check out the top dividend paying AI stocks. By combining the upside potential of AI with the steady income from dividends, these stocks make a strong investing case.
For investors looking to tap into purely the growth aspect, keep an eye on disruptive tech stocks which are leveraging the power of AI. India is home to a large number of technology companies that are investing in AI research and development.
Although picking stocks in a growth industry comes with a lot of uncertainty, we believe the top AI stocks are all worth considering. There are many opportunities in this space.
Dalal Street analysts are touting the best artificial intelligence stocks in India amid a surge in investor interest. But if you're looking for the best AI stocks, you should also be cautious amid the hype.
Look for companies using AI to improve products or gain a strategic edge. But be on guard against poorly performing companies that suddenly 'pivot' to AI.
Buying specific AI stocks will be challenging as it means putting in some work to understand a new industry. The first step is to take the time learn as much as you can about AI and its ecosystem.
Once you have a good idea of the different segments of the AI sector and how they interact with each other, you will be in a position to decide which segment you want to invest in.
--- This is Third Party Advertisement ---
Mutual Fund investments are subject to market risks, read all scheme related documents carefully.

[MEGA] Webinar Invitation -

Navigating markets in 2024 - Fund Managers' Year End Perspective.

Date: Dec 6th Time: 6pm Venue: Your Computer

What's Next for equity, debt & gold asset classes?

Join Chirag Mehta, CIO and Fund Managers of Quantum AMC as they discuss asset class outlook & what one should expect from the markets in the new-year.

Register Free for this Exclusive Webinar
----------------------------------------
Then dive into the fundamentals of that sector and identify which companies are the strongest. If the stock is available at a reasonable valuation, then consider buying it.
Finally, keep a long-term view. AI may be the next big thing to create massive wealth in the stock market, but this megatrend will play out over many years. Give your AI investments at least a three to five years to bear fruit.
Broadly the companies in the AI ecosystem can be segmented as follows:
Chipmakers
Software firms developing AI tools (some will be direct AI plays)
Cloud computing firms (infra or software developers)
Tech companies that are users of AI
Hardware companies building AI enables devices
Then there are all the companies in every industry that uses AI. Indeed they must use AI or they will lose out to their competitors.
As the industry evolves, there will be many sub segments that will be created. But as things stand today, these are the broad categories.
You can consider investing directly in companies that develop AI tools. These are direct plays on the actual technology. Thus these investments are suitable for enterprising investors willing to put in the necessary work to study these companies.
Alternatively, you can consider investing in companies that stand to benefit the most from its wider adoption. These are indirect, pick and shovel AI stocks.
These investments are suitable for conservative investors. These are stocks of already strong companies that stand to benefit from the growth of AI applications.
Equitymaster Conference 2024: View Your Invitation
There will be winners and losers whenever a new technology like AI takes center stage. But if you do your due diligence, you have a great opportunity to create wealth in this megatrend.
For further reading we recommend the following articles:
Happy investing.
Recent Articles