The Kodak Moment for NPA Laden Indian Banks is Here
Aug 12, 2020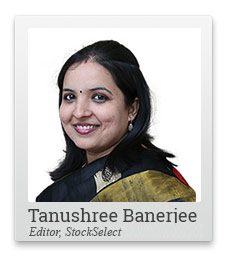 If you belong to my generation or earlier, I am sure you know what a Kodak moment is all about.
This was well before teenagers started using iPhones for selfies after every change in activity, mood or costume.
Kodak moments were rare and they typically denoted a moment to capture for posterity.
Eastman Kodak, the photography giant, was synonymous with cameras and photographic reels for decades. So, when families had the rare occasion of taking a photograph, it was called a Kodak moment.
Unfortunately, the Kodak moment I am referring to today does not have such a positive connotation.
Eastman Kodak had filed for bankruptcy back in 2012.
--- Advertisement ---
Good News: Our No.1 Stock Pick for 2021 has Already Started to Move

Our Head of Small-Cap Research, Richa Agarwal, revealed her top stock for 2021 just a couple of days ago.

...And now, the stock has already started to move. Meaning, it has begun to potentially make its early investors rich.

As the word spreads, there's a chance that this could move up RAPIDLY.

You Could Find the Complete Details of this Revolutionary Stock Here in this Note
------------------------------
At a time when even digital cameras have become obsolete, Kodak has been long buried in the annals of history.
But turns out Covid-19 forced the US government to offer a new lease of life to this comatose corporate giant.
The US government realised the urgent need to reduce reliance on countries like India and China for generic drugs. It chose Eastman Kodak over pharma giants to set up capacity for cheap drug production.
What's more, Kodak will receive a federal loan of US$ 765 m to accomplish its pharma goals.You can argue that it was yet another instance of throwing good money after bad. But the shares of the once bankrupt company, more than tripled on the loan announcement.
How is it relevant to you dear reader?
Well, if you have been holding shares of beleaguered NPA laden Indian banks, chances are you could also be in for such windfall.
REVEALED: How to Unlock Almost 3x More Gains During the Corona-Crisis...
Both the government and the RBI are determined to give long ropes to these entities. This will help them survive even if it is at the cost of writing off bad loans with taxpayer money.
The RBI recently extended the loan moratorium for troubled borrowers by another three months. By kicking the can of NPA problems down the road, the central bank has delayed the problem for now.
If not for the moratorium, the gross NPA levels for the sector would have been reported at 20-year highs in the next quarter.
The RBI move may offer a temporary respite to the stocks of the beleaguered banks. Some may be lucky to see a sharp spurt in stock prices.
--- Advertisement ---
4 Excellent Tech Stocks to Buy

The covid-induced crash induced havoc on the market...

However, there was one mysteriously calm person...

And in fact, he was ready to book double-digit gains very soon...

Who was this person?

How was he prepared for the covid-induced market crash?

And how did he book double-digit gains in the market rally that followed it?

Click Here for the Presentation
------------------------------
However, do remember that such temporary upsides are unlikely to last long.
Like Kodak, their eventual bankruptcy is inevitable.
What will follow is a major clean up in the financial sector (which started with the bankruptcy act) and a consolidation of market share.
That is when some true Rebirth of India megatrends will surface in the sector. A few resilient stocks will become very attractive buys.
Rest assured I will keep you posted.
Stay tuned...
Warm regards,

Tanushree Banerjee
Editor, StockSelect
Equitymaster Agora Research Private Limited (Research Analyst)
PS: Get access to my top 3 tech stock recommendations here...
Recent Articles