Stocks at Record High: To Invest or Not to Invest, That Is the Question
Aug 14, 2018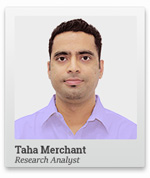 On one side, you have the BSE Sensex, which is at record highs.
On the other side, you have a whole host of looming questions that have no easy answers...
Will the economy's much anticipated capex cycle recovery take place as expected?
Who will win the general election next year and how will the markets react to that?
Then you have good ol' Trump playing table-tennis with tariffs and the resultant confusion being caused in economies across the world. Turkey is the latest victim - with its currency seeing a massive crash.
Will the economic turmoil spread to other countries as well?
The Indian rupee is already making fresh record lows and is now within kissing distance of Rs 70 to the US dollar.
--- Advertisement ---


Accelerated Profits Summit: Reserve Your Spot Today...

All the preparations are done...

Hundreds of our valued readers have already claimed their spots…

Hurry! In just a few days Anisa Virji will start sharing CONFIDENTIAL details on Rahul Shah's Accelerated Profits Strategy with everyone who has claimed their spot for the Summit.

So, if you still haven't Reserved your FREE spot… Don't delay!

Click Here To Reserve Your Free Spot
(As soon as you reserve your spot, you will also get an Absolutely Free Copy of The Special Guide: The Secret Sauce Behind Accelerated Profits (Worth Rs 950)…Hurry!)
------------------------------
What effect will this have on the economy and on stocks?
Too much uncertainty to handle, isn't it?
The answers to all these questions will help you know if the markets will move still higher and you should invest in the stock market today, or if you should sell all your stocks and run.
Good Luck Finding Reliable Answers To Your Macro Questions!
Talk about a tough decision!
Actually, all of these questions have just one answer: That there is no answer.
And trying to answer them is like banging your head against a wall.
Then how do you know if you should invest in the market today or not?
There is a way actually.
In fact, there is a way to invest in stocks without losing any sleep at all over all the macro-economic uncertainty.
Subscribers of our Benjamin Graham inspired 3-step system don't have to worry too much about all these things.
Because the way the system works, our recommended portfolio is well positioned for any eventuality...
Should there be no problems from across the border and things start looking up on the domestic front, the portfolio will be in a position to take advantage of such a trend.
However, if there's indeed a sharp correction in these high markets, we have the ability to put our strategically kept significant cash holdings to good use and buy quality stocks at great prices.
We believe this is one of the biggest advantages of the system.
It does not let you lose sleep over an uncertain macro environment and ensures that you can accelerate your profits whichever way the tide turns.
And this is exactly how it has been playing out too.
Since inception of the system about four and a half years back, there have been tons of big macro events that have played out, both good and bad, both domestic and global.
From countries going bankrupt, to high stakes election results, to demonetization and big corporate bankruptcies, and everything else in between...
Despite all of this, the system has comfortably outperformed the benchmark index the BSE Sensex by over 2x over this period.
So whatever the future brings, we've got all our bases covered over here with Rahul Shah's accelerated profits system.
Cheers,



Taha Merchant
Research Analyst, Microcap Millionaires
PS: Dear reader, the last time we published Equitymaster's Secrets: The Biggest Lessons from Our Entire 20+ Years Investing Journey, over 20,000 readers claimed a copy for themselves. This time, we are printing only 1,000 copies of the updated version which includes a special message from Tanushree Banerjee. Claim your copy before the stock runs out!
Recent Articles