'Chandrayaan 2': My Top Aerospace and Defense Stock to Bet on Today
Aug 14, 2019
Editor's note: Dear reader, Chandrayaan 2 left Earth's orbit today. It will reach the moon on 20th August. On the day of the launch, I wrote to you about my top pick in the aerospace and defense sectors. On this historic day, I think it's appropriate I share this with you again.
---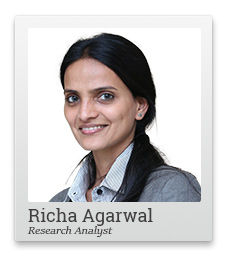 Whoever said that sky is the limit.
If ISRO's mission is successful, India will become only the fourth country, after the US, Russia and China to land on the moon.
It would also be unique in a way.
At less than Rs 10 billion, Chandrayaan 2 is the lowest cost lunar mission ever. As the western media reports, it is less than half the budget of the recent hit movie 'Avengers Endgame'. What's more, the mission is fuelled by homegrown technology.
--- Advertisement ---
Ex-Swiss Investment Banker Reveals His Biggest Investment Strategy in 4 Free Video Classes

Rahul Shah, ex-Swiss investment banker and Co-Head of Research at Equitymaster, is hosting a series of 4 free video classes for his readers, where he will reveal the details of something he's been working on for years…

The Double Income Project…

Rahul will show his readers, step-by-step, how to dramatically increase their income, potentially even double it…in what he believes is the earliest amount of time possible. a few short years.

For instance, if you make Rs 50,000 a month…Rahul's goal is to show you how to take it to Rs 100,000 in the long run.

Or if you make Rs 100,000…Rahul will show you how you could potentially increase it to Rs 200,000 in the long run.

This is different from anything Rahul Shah has ever done before – there's nothing to pay, no service to subscribe to and no forms to fill to attend these classes.

Just click here to sign up for the free video classes.
------------------------------
This is India's second moon mission. It aims to study lunar terrain and atmosphere. It's too early to say if understanding moon's surface would lead to any direct tangible benefits to mortal beings on earth.
But regardless of the findings, along with the recent Mission Shakti, Chandrayaan 2 proves India's growing technological prowess in space and defense capabilities.
At its peak, the Apollo program is said to have employed 400,000 people. And over 20,000 industrial firms supported it.
Back home, ISRO's ambitious mission could set a whole new 'lunar economy' bustling. The day is not far when India will be at the centre of commercial satellite deals.
But take that with a pinch of salt.
The Double Income Project: The Lazy Man's Guide to Doubling Your Income in The Long Term
That's because real beneficiaries of India's rise as a space and defense power will be few. However, I'll not be surprised if in the wake of this event, defense stocks start shooting up and become next 'hot' theme.
I hope you, dear reader, won't fall for the fad and will look before you leap.
Defense is a capital intensive and regulated industry with long gestation periods. You must be selective while picking stocks in the defense sector.
Nonetheless, there lies a great investment opportunity in the sector. And I for one am quite excited to see this defense and technology megatrend unfold.
You see, one of my small cap stock recommendations, is a highly regarded vendor to the aerospace and defence industry. The company enjoys the clientele of some of the best companies catering to this sector. Besides, it has more than one arrow in its quiver to meet good return target for long-term investors. These include cyber security, data analytics, communications, and utilities.
--- Advertisement ---
Watch this Video Now And You Will Stop Worrying About Money...

If you are concerned about money, then you MUST watch this exclusive video right now.

Because in this video, Richa Agarwal, Head of Small Cap Research, talks about stocks that have made a select group of people Crorepatis.

They invested in just one stock and ended up becoming Crorepatis in the long run.

In this video, Richa also reveals her unique formula to identify such potential RARE stocks.

Plus, she also discusses her special report, 'One Stock Crorepati: How to Get Rich With This Little-Known Indian Stock'.

This video is now available for your viewing...

This video could be taken down any time soon. So, hurry…

Click here to watch the video right away…
------------------------------
Hidden Treasure subscribers can access the initial recommendation report here.
For those who have not taken any exposure to small cap stocks yet, I believe it's a great time.
I'll be tracking the developments in this space and share with you the specific stock opportunities.
But here's what you need to be cautious of.
You may hear a lot more announcements that might draw you to fundamentally unsound stocks. Don't get carried away by the propaganda. Stick to a disciplined process of picking stocks.
Warm regards,



Richa Agarwal
Editor and Research Analyst, Hidden Treasure
PS: Equitymaster's small cap expert, Richa Agarwal, believes a select group of 4 small-cap stocks are on the verge of a rebound. Get the details here.
Recent Articles