The Hidden Profit Pattern of Bitcoin
Aug 14, 2020
Two weeks ago, I wrote to you about the possibility of an august rally in international gold prices.
Gold prices moved up more than 5% and hit an all-time high of US$ 2,075.
However, gold gave up these gains after uncertainties related to the coronavirus eased as Russia announced the development of a vaccine.
There are still two weeks remaining in the month of August. So, there's enough time for bulls to snap back.
Even if gold doesn't end this month in the positive territory then it would be an exception. Nevertheless, smart traders have still managed to profit from this August cycle in gold.
Fast Profits Report is our premium monthly stock recommendation service where we recommend equity investments in natural resources companies coupled with some direct investments in hard assets.
Vijay Bhambwani recommended booking partial profits in physical gold to our subscribers earlier this week right before gold and silver prices crashed.
--- Advertisement ---
These 3 Stocks are the Dark Horses of the Stock Market

The mainstream media mostly ignores them.

Mutual funds and hedge funds can't buy them in bulk.

Stock brokers rarely cover them.

These stocks are the dark horses of the stock market.

They only come in limelight after they have rallied by hundreads of even thousands of percent.

Our head of smallcap research, Richa Agarwal, has a knack for identifying such stocks before they begin their rally.

Over the years, she has spotted such stocks which have gone on to offer triple and even quadruple digit gains for investors. (* Past performance is no guarantee of future results)

Today, when the markets are near all-time high... and some investors are thinking of booking profits... Richa has spotted 3 such stocks which are set for a massive rally.

She will reveal the details of these 3 stocks on 28th January at her free online summit.

Click here to sign-up instantly. It's free.
------------------------------
Gold isn't the only asset which goes through such repetitive cycles. These patterns are obvious but very few traders know about it and even fewer will ever tell you about it.
But it's different here at Profit Hunter.
I believe you should know more about such hidden patterns that could benefit you.
Today, I want to reveal yet another hidden pattern. I have found this pattern in a completely different asset class altogether: Bitcoin.
Gold is the oldest currency dating back more than 2,000 years. Bitcoin is the newest kid on the block with about 10 years of history. It's the world's first decentralised digital currency.
If you want to know more about it then you can watch this 5-minute video. I have explained what bitcoin is and the 5 parameters on which you must assess it.
Despite their stark differences there are some similarities between gold and bitcoin. They are both stores of value. They are a hedge against inflation. Some people considered them as safe haven investments.
BREAKING: Full Details of the #1 Investment of the Decade...
Apart from these similarities there are hidden patterns which keep on repeating in both assets. These patterns have solid potential to make you rich. We have already seen one such pattern in gold. Let's check out the one in bitcoin.
Greed and Fear Cycle in Bitcoin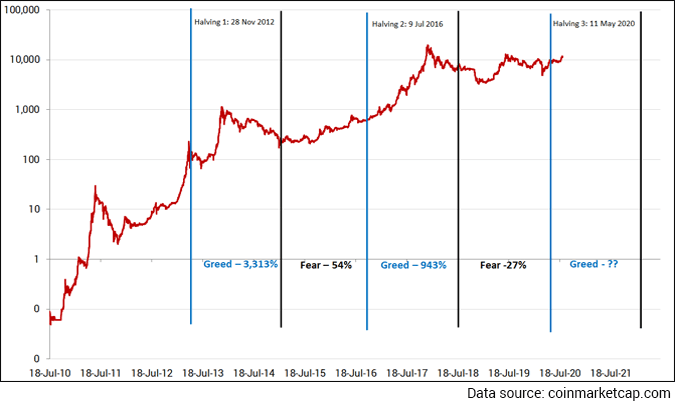 Bitcoin goes through a cycle of greed and fear every two years. I have shown you similar cycles in the Sensex, BSE Auto index, and Nifty IT index.
The greed phase in Bitcoin starts with the first halving which happened on 28 November 2012. Since bitcoin follows a decentralised system there isn't any central authority which keeps a record of all the transactions.
This job is done by individuals who are rewarded with bitcoins every time they successfully verify a transaction before others. The people who do this job are called miners and the process is known as mining.
--- Advertisement ---
Top 3 Stocks for 2020 and Beyond

We've uncovered 3 high-potential tech stocks after years of research.

These 3 cutting edge tech stocks could potentially create a wave of Indian millionaires.

First one is present in the sector which is expected to GROW over 300 times by 2030.

Second one is one of the leading players in Artificial Intelligence technology.

And the third one is involved in putting up a global safety net to save the world from cyber criminals.

These 3 tech stocks have the potential to offer life-changing gains in the long run.

Click here to get the details...
------------------------------
The reward for successfully verifying these transaction in 2012 was 25 bitcoins. This was halved to 12.5 bitcoins in 2016 and 6.25 bitcoins in 2020. This halving happens roughly every four years and will continue till the last bitcoin is mined in the year 2140.
I have noticed that after every time the mining reward reduces, bitcoin tends to move up for about 2 years.
The blue lines in the chart are marked on the day mining rewards were halved. This marks the entry of bitcoins into the greed phase. The black lines represent the start of the fear phase. Bitcoin consolidates in the fear phase.
Bitcoin moved up 3,313% and 943% in the first and second greed phase respectively. It moved up only 54% and 27% in the two fear phases.
Bitcoin has entered the greed phase on 11th May 2020 and will stay there until May 2022. This means it could be a solid money-making opportunity in the next 2 years.
But before you invest in them you should understand that Bitcoin is highly volatile and will probably take years to win investor's confidence.
The previous corrections in bitcoins have been vicious. It's best to avoid them if you don't have an appetite for risk.
However, you must not avoid the hidden patterns like the one I just showed you. Several stocks, commodities, currencies and indices go through such cycles. If you can identify them at the right time then you could make big money along the way.
Warm regards,

Apurva Sheth
Senior Research Analyst, Fast Profits Report
Equitymaster Agora Research Private Limited (Research Analyst)
PS: You can get access to Richa Agarwal's best small cap recommendations at a great price today. Sign up for Hidden Treasure here.
Recent Articles