A 100-Bagger Portfolio in the Making...
Aug 16, 2018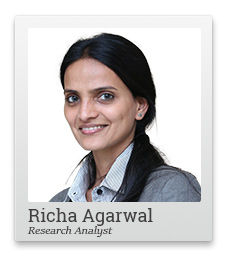 Tomes have been written on finding 100-baggers. Yet, few can claim to have ever achieved this holy grail.
I'm glad to share that the Hidden Treasure team has just achieved this feat.
Page Industries, a stock we recommended in January 2009, is up 10,800% as I write this.
And while we are extremely pleased about this, there is a sense of realism.
I'm often asked about what the next Page Industries kind of recommendation will be, and the answer is not easy.
You see, when we recommended Page Industries, we did not know it would become a multibagger.
In fact, we had recommended the stock with an initial target price of Rs 630 (the current price is Rs 33,240).
To have a 100-bagger you must have patience.
A big reason for this achievement is having the patience to hold the stock for over 9 years.
And I also attribute this partly to luck - the decision to not Sell, despite valuations that for years have been difficult to justify within the domain of 'rational investing'.
So, while I'm confident that my service will beat the broader index by a wide margin in the long term, I'm not sure if and when we will have our next 100 bagger.
--- Advertisement ---


Have You Claimed Your Virtually Free Book Yet?

Equitymaster's Secrets: 2018 Limited Edition is now out. And 1,000 readers can claim their virtually FREE copies today.

You just have to cover postage and handling.

Click here to reserve your copy.
------------------------------
The truth is, as the market evolves, the opportunities to spot 100 baggers are declining.
The search is getting tougher.
Here are some interesting facts...
A 100 bagger implies a return of 9900%. This translates into different CAGR returns for different times: 20% for 25 years... 26% for 20 years... 36% for 15 years... 58% for 10 years... and 151% for 5 years.
So how many BSE-listed companies have had such returns?
BSE Listed Stocks That Became Hundred Baggers
| Period (Years) | Number of Hundered-Baggers |
| --- | --- |
| 5 | Nil |
| 10 | 10 |
| 15 | 66 |
| 20 | 85 |
| 25 | 30 |
Source: Ace Equity
We are avoiding shorter durations as there is a high chance of penny stocks making it to the list. The closing date here has been 13 August 2018.
BSE has over 5,000 listed stocks.
As you can see in the table above, the number of hundred-baggers has been less than 2%.
In the last five years, not a single stock has multiplied 100 times.
To say a 100-bagger is rare would be an understatement. Finding a 100-bagger in the current market is like finding a needle in a haystack.
To spot one, you need exceptional foresight; insight into the business; and immense patience.
Even if you spot a potential multi-bagger at the right time, chances are slim you'll hold on until it becomes a 100-bagger.
Further, your long-term vision will likely turn out to be an illusion.
Investing is a game of probabilities.
Nothing is certain. It's best to be humble about your (or anyone's) forecasting abilities.
But - that doesn't mean there aren't ways to generate great wealth - there absolutely are.
One of the best ways to turn the odds of the probability game in your favour is to bet on deep bargains.
You may not get a 100-bagger stock this way, but there is still a good chance to have a 100-bagger portfolio using this approach...
If...you can follow a system that works.
For instance, using this approach, Rahul Shah has created a system that has given overall returns of 175.1% since the service's inception in February 2014.
This is overwhelmingly better than the returns achieved by the Sensex, which is up by 77% during the same period. More than double.
The reason a system helps - is that it keeps you on course through the toughest market conditions. The above timeframe includes events such as Brexit, the China slowdown, demonetisation, and Trump.
These are times when, left to their own devices, individuals usually mess up - sell too soon, buy too soon...
But if you are disciplined in following rules of a system that works - you don't have to worry about making mistakes.
You don't have to be patient, the system is patient for you.
Rahul Shah's system has a maximum holding period for stocks of two years - during which time a group of stocks he recommends is likely to at least double.
Like some of these...
545% on Titagarh Wagons in less than a year...
206% on Purvankara in less than 2 years...
176% on LEEL Electricals in less than a year, and so on.
The system is designed to accelerate the profits of an entire portfolio.
[Actually, you can also just get Rahul Shah's cool new guide - The Secret Sauce Behind Accelerated Profits (great name, right?) - free by clicking here.]
If the accelerated profits system continues to outperform Sensex at this rate and with such returns, and if one assumes reinvestment of the gains, over the long time, this could turn out to be a 100-bagger portfolio.
In short, while the pursuit of a 100-bagger stock seems elusive in current markets, a 100-bagger portfolio could be well within your reach.
Regards,



Richa Agarwal (Research Analyst)
Editor, Hidden Treasure
PS: Dear reader, the last time we published Equitymaster's Secrets: The Biggest Lessons from Our Entire 20+ Years Investing Journey, over 20,000 readers claimed a copy for themselves. This time, we are printing only 1,000 copies of the updated version which includes a special message from Tanushree Banerjee. Claim your copy before the stock runs out!
Recent Articles