Gold could Hit 40,000 Sooner Than Expected
Aug 16, 2019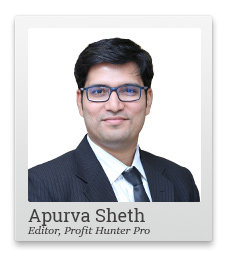 Last week I wrote about gold and how it is firmly placed to follow Sensex to 40,000.
I explained how the domestic prices of gold are dependent on two factors.
International Prices of Gold

The international gold which is traded in dollars is far below its all-time high of US$ 1,920/ounce. It has broken out of a long-term consolidation and heading upwards.
Exchange Rate

We import most of our gold requirements and make payments in dollar. If dollar strengthens against the rupee then we pay a higher price for the imported gold. Rupee is in a long-term downtrend compared to dollar. This means importing gold will always be expensive for us.
--- Advertisement ---
[URGENT] Closing Alert for Richa's No. 1 Stock for 2021

Gentle reminder that access to the details of Richa Agarwal's Top Stock Pick for 2021 will be turned off at 11:59 pm tomorrow.

This stock is effectively available for pennies on the dollar today and has the potential to deliver life-changing returns over the long term.

But you need to act fast... because the stock has already started to move.

We recommend you access all the details here right away.

Once 11:59 pm hits tomorrow, all the stock details will be made private and you will lose out on potentially the opportunity of a lifetime.

So, just continue reading it here right now...
------------------------------
Now let's look at price chart of both these factors.
I showed the above chart of international gold to my Profit Hunter Pro readers when I recommended adding some glitter to their portfolio in October 2018. Gold had just managed to break out of an ascending triangle consolidation.
Short Presentation: For Those Looking to Buy Stocks
Other factors like the US-China trade war, geo-political tensions between Iran and the US also supported the price rise.
Fortunately, we haven't seen a lower price in gold since then. It has been in a solid uptrend. It has even broke above the 5-year long resistance line which is at US$ 1,350. This level will now act as a major support.
Apart from this trade war between US and China is escalating. Central banks across the globe are anticipating a slowdown in global economy. The Middle-East remains a breeding ground for geo political tensions. US has a new tiff with Iran. China and Russia are increasing their gold reserves.
The international gold price is unlikely to fall sharply with all these factors at play.
Investors and traders in India have one more crucial factor to look out for now - USDINR.
I showed this chart of USDINR to my Profit Hunter Pro readers. The USDINR was trading around 73 back in October 2018. It fell substantially from the highs and found support around 68 which acted as a resistance earlier.
--- Advertisement ---
How to Unlock Almost 3x More Gains During the Corona Crisis...

Good News...

Our top analyst Richa Agarwal just identified 5 "pandemic-proof" smallcaps that could win the war against coronavirus...

And deliver up to 50-100% gains really fast!

She has revealed the exact details of these 5 high-potential smallcaps in her latest special report...

Check It Out Now...
------------------------------
Domestic gold prices moved up even when rupee strengthened against the dollar. However, this has changed now.
Rupee nosedived more than 2% against the US dollar and breached the 70-mark on August 5. The fall in rupee's value marked the biggest single-day drop in the last six years.
The depreciation came on the back of escalation of trade wars and a sharp devaluation in yuan and uncertainty over the Kashmir issue. Rupee is trending lower since then and could weaken further against the dollar.
FIIs are on a selling spree in equities since May 2019. They are net sellers worth more than Rs 280 billion. This is likely to keep rupee under pressure for now.
Now think of domestic gold prices as a chartered plane flying on two engines. International gold price is one and exchange rate is another.
So far it was running only on one engine. But now the engine of exchange rates has also fired up. If both the engines are left on, then the flight of domestic gold prices will reach its destination of 40,000 much faster.
Hold on tight! This is the best time to be invested in gold.
Warm regards,

Apurva Sheth
Editor and Research Analyst, Profit Hunter Pro
PS: Dear reader, identifying profitable trades in this market requires a proven trading strategy. This is exactly what our trading guru, Apurva Sheth, has developed for you. Get the details of this trading strategy here...
Recent Articles