Revealed


India's Top 3 Smallcap Stocks
Why You Should Not Follow the Likes of Rakesh Jhunjhunwala
Aug 19, 2022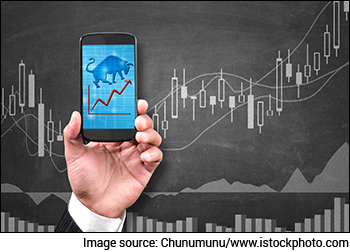 The man hailed as India's Warren Buffett, the eternal India bull, is no more.
The most striking thing about Rakesh Jhunjhunwala was his sheer optimism. For him, the mother of bull markets was just ahead, at any and every point of time.
To be honest, it sounded a bit frivolous at times. But that kind of optimism separates a common investor from legends. Warren Buffett has similar optimism about America that Jhunjhunwala had about India.
I never had the luck of personal meeting or any interaction with the legend. Nonetheless, he has been an influential force in shaping my ideas of investing and its potential.
The one thing that stands out was his investment in Titan Ltd.
From 2002, his 1.5% stake in Titan led to a fantastic compounding journey of 31,044%. It was worth over Rs 10 bn when he sold some shares in 2018. That's a period of 16 years, a rare investment horizon for common investors.
He taught many that with right stock picking skills and management quality, it's possible to become a crorepati from a single stock. Of course you will need patience and the right temperament for long term investing.
Stories like this help give me conviction to stick my neck out and recommend to my subscribers they increase allocation to my top smallcap stock.
So far, this has been most rewarding with over 600% gains in a little over six years. I believe returns in the future, will be equally rewarding.
--- Advertisement ---
Revealing On Wednesday at 5 PM

Details of Top 3 Potential 'Crorepati' Stocks for 2023

Use this link to join the India's Top 3 Smallcap Stocks MEGA summit on Wednesday at 5 PM.

Richa will be revealing the details of 3 companies with the makings of a 'Crorepati Stock' that are potentially set to soar high in the coming years.

If you haven't registered for the summit, please use the link below to save your spot right away.

FREE Sign Up Here
------------------------------
Now I know what you are thinking. If Jhunjhunwala was so influential, why does the headline of this piece suggest not following him?
Well, here's the thing.
Jhunjhunwala played his own game...and so should you.
We must always learn from our investing experiences as well as the wisdom of big investors.
I've always asked my readers to not follow big investors blindly, even the likes of Jhunjhunwala, when in either trading or investing. That's because these investors can afford to make big mistakes that normal investors can't.
By the way, this was his own mantra...
Never be afraid to make a mistake. But only make mistakes that you can afford. So that, you may live to make another.
He prioritised process over success and acknowledged the inherent risks one has to take in investing.
He did not follow someone else. He did not believe in walking a beaten path by copying trades of other big investors.
He had his own journey. He played his own game, as per his strengths, edge and risk appetite. And so should you.
So what's your edge?
It cannot be investing tips, or sidecar investing. That's what most investors do. And they end up with average returns. Sometimes, with losses.
If you invest in the same stocks everyone is, you can't outperform the market.
I believe one of the ways a regular investor can generate market beating returns is by focusing on microcaps. There are also businesses in the seed stage.
Picking winners in a sea of stocks is no easy task. It can be like finding a needle in a haystack.
So, what does it take to have these consistent compounding stocks in your portfolio? Is there a formula or some common characteristic that could make the task easy?
History could be of some help here.
Not so long ago, I pulled out a list of stocks that compounded at a minimum 26% CAGR over 10 years.
Now before I go on, I must tell you I removed all stocks with marketcaps below Rs 1 bn at the start of this period (August 2009). The reason was that such companies would likely have been too illiquid, even for serious microcap investors.
Coming to the results...
Asian Paints
Shree Cement
Pidilite Industries
Balkrishna Industries
Aarti Industries
TTK Prestige
CCL Products
Vinati Organics
Sundram Fasteners
Minda Industries
Bata India
Info Edge
Indraprastha Gas
CCL Products
SRF
Torrent Pharma
KPR Mill
...and more.
What is common among these stocks?
They belong to different sectors. They started with widely different marketcaps from Rs 1 bn for TVS Srichakra to Rs 133 bn for Asian Paints.
Some have been true blue consumer companies like TTK Prestige and Bata. Others have been typical B2B players like Vinati Organics and CCL Products.
In short, they have very little in common. Except....
Most started small and were barely known 10 years ago.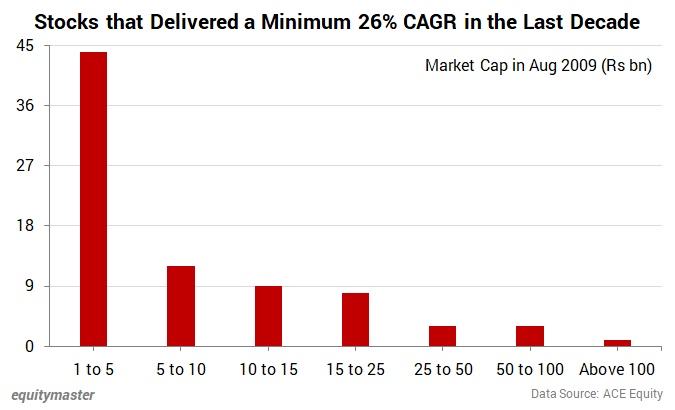 Also, each of these companies were backed by promoters known as much for their competence as for their integrity.
There were other factors, such as their competitive edge, balance sheet health, return ratios, valuations at the beginning...and so on.
The thing is you would have needed a bottom up approach to implement this strategy. You would have had to focus on business specifics more than the economy or any macro trend.
In my last editorial, I shared with you the journey of one such seed stock - Rajratan Wires.
But then there are many such opportunities in the lesser explored universe. These stocks are just waiting to be found.
Warm regards,



Richa Agarwal
Editor and Research Analyst, Hidden Treasure
PS: If You are interested in microcaps, here is a video on three stocks from this universe that I believe should be a part of your watchlist.
Recent Articles