Stock Alert: Our Top 5 Stocks to Buy Now
Aug 21, 2019
The Chinese curse, 'May you live in interesting times' is an apt way to describe the past few months.
I mean, just look at the recent correction...
The Smallcap index is down 37% from its recent highs. The Midcap index is down 26%.
And the frontline indices - BSE-Sensex and NSE-Nifty are also coming off from their recent life highs.
--- Advertisement ---
3 Stocks for Potentially Massive Gains

COVID-19 has triggered a fundamental shift in the global economic and geopolitical map.

This reshuffling of the geopolitical map is just ONE of the forces fuelling the great Indian revival.

A revival that will restore the power, wealth, and influence we once enjoyed.

And, those who invest in the companies at the heart of this revival could turn a small stake into generational wealth.

Our co-head of research, Tanushree Banerjee, has narrowed down on 3 specific stocks.

She strongly believes, these 3 "revival stocks" could potentially offer massive gains.

Click here to learn more about this mega opportunity
------------------------------
But this is just the tip of the iceberg. When you dig deeper, the real pain is more intense.
To understand this better, look at the BSE Allcap index.
This index has 1,052 listed companies. It accounts for 99% of the total market cap of BSE listed companies.
76% of Stocks Are Down More than 25% from Their 52-Week Highs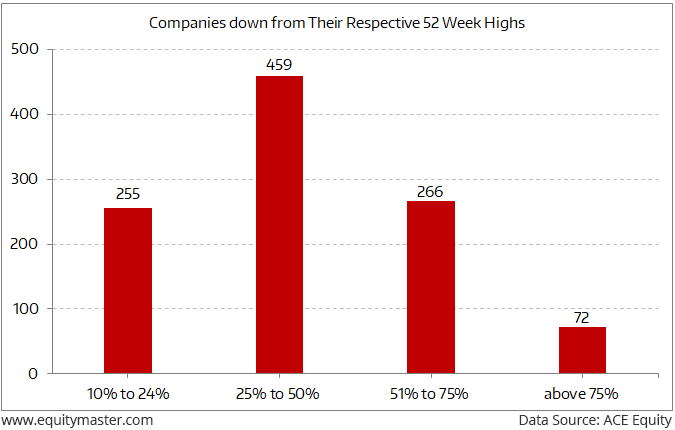 797 companies are down more than 25% from their 52-week highs.
Scary, isn't it?
Well, this also tells you the current state of the economy isn't bright.
But that's just one side of the story. All is not lost.
Revealed: 3 "Revival Stocks" for Potentially Massive Gains
We are looking at the economy from the near-term perspective. That's why the picture doesn't look rosy.
But when you look at the economy and the market from a longer-term horizon, the picture looks very different.
I mean you just cannot ignore the inherent strength of the Indian economy.
It is getting more robust through reforms such as the GST and the bankruptcy law. This will catalyze growth going forward.
In the last four years, India has taken massive strides towards financial inclusion. During this period, 330 million new Jan Dhan bank accounts have been opened.
Similarly, mobile penetration is expected to reach 90% next year. Internet penetration has soared, and the use of digital payments is also rising fast.
Also, the economy's foundations have also been strengthened in the last few years.
Inflation has come down to the 3-5% range. Foreign exchange reserves are now at an all-time high of US$ 430billion. Similarly, central government's budget deficits have been broadly under control.
Importantly, we have political stability.
Lastly, India's economy has enormous potential considering its population size. Not to mention, we are still relatively small in terms of per capita size.
Some reassurance, right?
But we humans are emotional creatures.
When we feel positive, we extrapolate good times far into the future.
On the other hand, we are in fear mode, we think like the world is going to end.
This swing of the pendulum creates price declines.
But this also creates an opportunity.
I believe, the recent market correction provided one such opportunity, especially in mid and smallcap space.
Importantly, several quality companies have turned attractive.
In Smart Money Secrets, we have identified such quality businesses.
These businesses have sound fundamentals, robust balance sheets, and strong management teams.
And the recent market correction is a blessing in disguise for us.
How?
It's rare to find companies with strong business models and high-quality managements, trading at attractive valuations.
But in the last one and a half months, Radhika and I have recommended an increase in exposure in 5 high-quality stocks from 50% to 100% to our subscribers.
We have just published a premium report about these 5 stocks for our subscribers. We believe these 5 stocks have massive wealth building potential in the long-term.
If you have subscribed to Smart Money Secrets, you can click here to download the report.
If you haven't subscribed to Smart Money Secrets yet, you can sign up here.
Happy Investing!
Warm regards,


Sarvajeet Bodas
Co-editor and Research Analyst, Smart Money Secrets
PS: Sarvajeet and Radhika have selected their top 5 stocks to buy now. Get access to the report here.
Recent Articles