This is Every Investor's Dream: A Growth Stock at Value Prices
Aug 22, 2019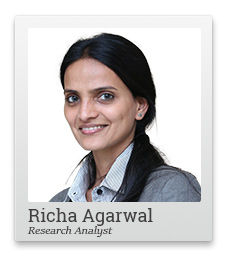 If you own the right stock you can create massive wealth for yourself.
And you don't have to look far to see this in action.
You might have, at some time or the other, looked at the wealth of the promoter of a company and gone green with envy...
The value of the average promoter's stake in his listed company runs into crores. It's the kind of money dreams are made of.
That's the power of owning equity in a good business which grows big.
--- Advertisement ---
Ex-Swiss Investment Banker Reveals His Biggest Investment Strategy in 4 Free Video Classes

Rahul Shah, ex-Swiss investment banker and Co-Head of Research at Equitymaster, is hosting a series of 4 free video classes for his readers, where he will reveal the details of something he's been working on for years…

The Double Income Project…

Rahul will show his readers, step-by-step, how to dramatically increase their income, potentially even double it…in what he believes is the earliest amount of time possible. a few short years.

For instance, if you make Rs 50,000 a month…Rahul's goal is to show you how to take it to Rs 100,000 in the long run.

Or if you make Rs 100,000…Rahul will show you how you could potentially increase it to Rs 200,000 in the long run.

This is different from anything Rahul Shah has ever done before – there's nothing to pay, no service to subscribe to and no forms to fill to attend these classes.

Just click here to sign up for the free video classes.
------------------------------
It's also the reason I love smallcap stocks. They give you the opportunity to be part of such a story.
They give you a ticket to grow your wealth from the growth a business, just like the promoters do.
But there's one problem...
Such growth businesses often come with a hefty price tag attached to their stock's valuations.
Everyone in the market sees their potential and their stocks prices shoot up. Due to this, even if you buy such a stock, your upside is limited.
But what if you could buy such a growth stock at a bargain price?
I promised to tell you more about lesser known opportunities in the smallcap space...
Today, I want to tell you about just such a stock.
The Double Income Project: The Lazy Man's Guide to Doubling Your Income in The Long Term
This company is the clear market leader in the domestic industry. it operates in a highly competitive and dynamic industry
Despite that, its products command a premium and it has grown faster than its industry.
So much so, the second largest domestic player is barely half its size! This gives it a big edge over its competitors.
Its customer list is the who's who of each industry it caters to...and not just in India but in the US and Europe too.
This brings me to the amazing growth potential...
The key business drivers for this company is its growing presence in the high potential export market.
It caters to marquee clients and can charge premium prices - even higher than the domestic market.
--- Advertisement ---
Watch this Video Now And You Will Stop Worrying About Money...

If you are concerned about money, then you MUST watch this exclusive video right now.

Because in this video, Richa Agarwal, Head of Small Cap Research, talks about stocks that have made a select group of people Crorepatis.

They invested in just one stock and ended up becoming Crorepatis in the long run.

In this video, Richa also reveals her unique formula to identify such potential RARE stocks.

Plus, she also discusses her special report, 'One Stock Crorepati: How to Get Rich With This Little-Known Indian Stock'.

This video is now available for your viewing...

This video could be taken down any time soon. So, hurry…

Click here to watch the video right away…
------------------------------
These valuable customer relationships mean a great deal for its global expansion plans. It typically takes some years to become a preferred vendor to customer of this kind in the developed markets.
But once these tie-ups are established, they open up a plethora of opportunities globally. This is because after having acquired some noteworthy global customers, it becomes easy to break into newer markets.
The company's exports have already more than doubled over the last 4 years. I believe, the share of these lucrative exports will go up significantly in the next 3 to 4 years.
This is why I believe this company is in a sweet spot to not just grow sales at a rapid rate but to also maintain its profit margins.
This is a rare and explosive combination for building wealth over the long term. The company's promoters are well aware of this and are buying shares from the market.
At the current price, I expect this stock to more than double before it meets my target price.
I believe, this is the perfect opportunity for my Hidden Treasure subscribers...a growth stock at a value price.
I can't name the stock in this public forum but if you have subscribed to Hidden Treasure... click here for my report on this company.
...If you haven't subscribed to Hidden Treasure you can sign up here.
This is one opportunity you just can afford to miss!
Warm regards,



Richa Agarwal
Editor and Research Analyst, Hidden Treasure
PS: Dear reader, today at 5pm in the One Stock Crorepati Mega Summit Richa Agarwal, will share details of her high-conviction Crorepati Stock. Registration for the summit closes soon. Claim your free seat here.
Recent Articles