Golden Decade of Defence


Potential 33x Opportunity by 2030
3 Stocks for Bulletproof Returns in a Decade
Aug 22, 2022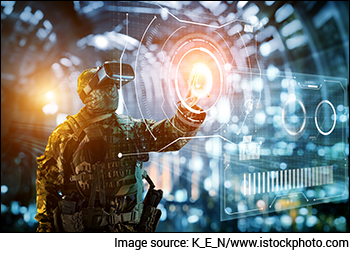 In 1981 Richard Feynman, a visionary physicist, had a clever idea.
Could the odd properties of quantum mechanics be used to carry out simulations that computers of the time could not cope with?
Since then, researchers have come up with a rich variety of problems for which ordinary computers were unequipped. This gave birth to quantum technology.
Over the years, global tech behemoths like Intel, Hewlett-Packard, Google, and Microsoft have incubated research programmes for quantum computing.
Indian tech majors have also made some headway with the technology. But what really made the difference was the decision of the Indian defence forces to have a dedicated research centre for quantum computing.
Quantum technology does not bring fundamentally new weapons or standalone military systems. Rather, it significantly enhances measurement capability, sensing, precision, and computation power.
For the defence forces this means having a marked edge in intelligence and surveillance.
--- Advertisement ---
Next 10 Yrs Belong to this Sector... Potential 33x Growth...

We rarely get to see this kind of growth these days.

It's a potential 33x opportunity by 2030.

The next 10 years belong to this one sector.

As per our research, this could be one of the fastest-growing sectors of the stock market by 2030... and possibly even beyond.

If you're an investor, then you simply cannot ignore this sector today.

Otherwise, you could be leaving a lot of money on the table.

We're going to reveal everything about this mega opportunity at our upcoming special event... including details of 3 stocks to ride this potential 33x opportunity.

Here Get All Details
------------------------------
In December 2021, the Indian Army set up a quantum computing laboratory at Mhow, Madhya Pradesh. The goal is to carry out extensive research in quantum cryptography, a mechanism to develop secure communications.
The reason I call this an important move is because, so far, the Defence Research and Development Organisation (DRDO) was India's only defence R&D entity.
Although DRDO has more than 50 laboratories and works with academic institutions like the IITs, it has not always been proactive. The most famous instance is the failure of the Arjun Tank, conceived in 1974 at a budget of Rs 155 m.
By the time the tank entered the defence service in 2004-05, its design had become outdated. Moreover, even though publicised as 'Made-in-India' product, 69% of the Arjun tank's components came from foreign vendors.
Such lapses in 2022 would be unpardonable. So, a diverse R&D ecosystem is a must have for Indian defence. The quantum technology research centre is a step in that direction.
Could the attempt to localise defence research fail again?
--- Advertisement ---
3 Stocks to Consider Buying THIS Month

The market has made a comeback of sorts from the lows of May.

Right now, investing in the most dominant players in a highly promising industry is the key to experiencing potentially monumental returns in the long term.

Here are the details of 3 such stocks from our smallcap guru, Richa Agarwal...

Act Now
------------------------------
The Union Budget for 2022-23 allocated over Rs 12 bn for defence research. The budget also allocated 25% of defence R&D budget for private sector, including start-ups. Plus, start-ups have the Innovations for Defence Excellence (iDEX) programme.
In short, India's plan to develop cutting edge defence technology is far better this time.
And who would benefit from this?
Well, several defence manufacturing companies in India are investing billions to get access to such technologies. But there are just a handful that could lead the pack.
I have identified 3 defence stocks with a significant edge in tech innovation.
Click here to for details on how on to gain access my report - 3 Next-Generation Defence Stocks for Every Indian's Portfolio
Warm regards,



Tanushree Banerjee
Editor, StockSelect
Equitymaster Agora Research Private Limited (Research Analyst)
PS: Join me today at 5 PM for my online event: War Profits. I'll reveal a potentially 33x profit opportunity in Indian defence stocks. Book your free sat here.
Recent Articles