A Walk Down the Street with Rahul Shah: Friend, Philosopher, Guide
Aug 24, 2018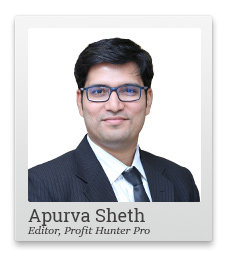 If you run through your kid's school dictionary you will come across the following definitions for all the three:
Friend - a person who you like and enjoy being with or with whom one has a bond of mutual affection;
Philosopher - a thinker, someone who studies or writes about the meaning of life;
Guide - a person who shows the right way to others.
There are some people who are your friends, a few who are your philosophers, and even fewer who can be your guides.
It is difficult to find a person who can be all the three at the same time.
Fortunately, I know one person who I can call a friend, philosopher and guide - Rahul Shah.
It's always fun to be with Rahul. He is at his wittiest best - with his wry jokes and dry one liners - especially at the lunch table.
He is a deep thinker and has extensive knowledge which can be applied across the spectrum right from investing to career to life.
He is a great guide too. You know already how well he has guided thousands of readers to the right way of investing.
--- Advertisement ---


Your Book Ships Out Soon…Register Today

We promised 1,000 of our readers virtually free copies of our popular book Equitymaster's Secrets: 2018 Limited Edition.

As promised, if you've already registered, your book will be dispatched at the earliest. All you have to do is pay Rs 199 for postage and handling, to receive a virtually free copy of a book whose first edition is worth Rs 1,450 on Amazon.

But please be warned: This is a limited period opportunity.

Once 1,000 copies have been claimed, we will end this offer.

Register now and tell us where to send your book.
------------------------------
While in office, he is always plugged in to his computer reading, researching, and listening to different ideas.
He's always accessible and ready to help anyone who walks up to him in office. But I especially look forward to my post lunch walks with him which are always insightful.
Here's one such conversation we had while we were on a walk after lunch. As you know -thoughts of the markets dominate my days...
Me: The markets are so volatile these days. How do you manage to stay so calm and composed? Don't you feel the pressure when things aren't going your way?
Rahul: The secret to staying calm, especially under pressure situations, is having a systemic approach to markets. It takes the guess work out of investing.
Investors - all people really - are easily swayed by emotion. Having a system in place helps us be rational - and not make the usual investing mistakes - like selling valuable stocks in a panic, or holding on to dud stocks.
That's why investors should let systems bear the burden of decisions - that is where I see most investors failing.
Now Rahul has enjoyed tremendous success with his systems based approach to investing. This is what inspired me to explore the systems based approach in trading as well. I have already started meeting people and am digging deep into the field.
I will write more about my trysts with systems in my future updates.
The fact is, Rahul's system-based approach to investing is unlike any I have ever seen - in several cases it has doubled - even tripled - a stock in just a few months.
That's an enviable record - add the fact that almost 90% of his recommendations are winner - that is a strike rate you will not see consistently in the market.
That is why I say - we should all be looking for a good system - and this is it...
I want you to look forward to the web summit today at 5 pm where Rahul takes the centerstage and reveals his exact strategy. [You can sign up for a seat here if you haven't yet].
The strategy has generated returns that would make any trader envious...174.8% return since he started following it in February 2014. This surpasses Sensex, which is up by only 84.8% during the same period - twice over.
With the system based approach Rahul has picked several stocks which generated almost unbelievable gains like...
545% on Titagarh Wagons in less than a year...
206% on Purvankara in less than 2 years...
176% on LEEL Electricals in less than a year, and so on.
You know, I truly believe, following a system based approach can do wonders for your investments.
If you are on the lookout for a good system for your own portfolio - I strongly suggest you look closely to Rahul's system - he calls it the 'accelerated profits' strategy - and its simple enough that you can follow it and generate such massive gains too.
And you don't have to wait too long for it. As I said earlier Rahul is talking about his strategy at an exclusive web summit today at 5pm.
I am sure this talk will be as insightful as my post lunch walks with Rahul - I am lucky to have access to his wisdom - and today you are too. Reserve your spot here.

Apurva Sheth (Research Analyst)
Editor, Profit Hunter Pro
PS: Remember at sharp 5pm today we are going live with Rahul Shah's Accelerated Profits Summit! Make sure you have a spot now - do not delay, click here.
PPS: By the way, it is Apurva's birthday - he doesn't know I am telling you this - but wouldn't it be a fun surprise for him if his readers sent him wishes. So, post a little happy birthday note for your favourite trader - Apurva Sheth!
Recent Articles