How to Find Hidden Value in Overvalued Markets
Aug 26, 2021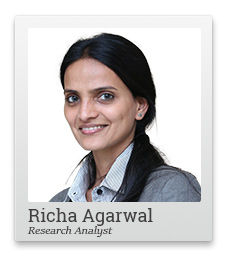 These are crazy times for stock markets.
On one hand, there is 'dumb money' pouring in. You can see this in euphoric valuations of loss making companies filing for IPOs.
On the other hand, shareholders are being overactive and nitpicking about how businesses should be run. In some cases, this is leading to decisions that could be potentially damaging.
For instance, the proposal to vote down Siddharth Lal, the man who almost led the resurrection of Eicher Motors and created the iconic Royal Enfield brand.
I believe the 'easy money' has already been made in the market. It's getting more challenging by the day to find great investing opportunities with enough margin of safety.
And that brings me to 'Optionality'.
If I have to nail it down in one sentence it would be this...
--- Advertisement ---
Replay Available: Super Smallcaps Summit

Today, we went LIVE with Richa Agarwal's Super Smallcaps Summit.

Richa revealed details about the 3 'dark horse' stocks that could potentially hand you hundreds or even thousands of percent in gains over the long term.

However, you missed the Exclusive event for some reason.

And because we don't want you to miss out on this rare opportunity, we have a replay of the event arranged for you.

Click the link below to watch the replay now.

Watch the Replay

or click here to read the transcript
------------------------------
It's the potential value of an investment that is difficult for the market to quantify and is not factored in the current valuation.
A good approach to find value in these times is to analyse optionality. It doesn't get factored in the profit and loss statements.
It could lie in a company's investments, in an entity that is not yet listed and is not a part of public consciousness.
Here's an example.
Consider the optionality in BSE before CDSL got listed.
Or in Info Edge, before Zomato became a household name.
Optionality could also lie in intellectual property - patents, exclusive technology contracts of the companies that are yet to be monetised. We saw this playing out in case of Astral Ltd.
Astral was the first Indian licensee for four products of US-based Lubrizol Corporation. The latter enjoyed 85% market share in global production of CPVC resin.
The association gave the company exclusive access to raw materials and global brands, as well as a strong lead over its competitors.
The stock turned out to be a multibagger.
Equitymaster's Stock Screener: Identifying High-Potential Stocks Has Never Been this Easy
Optionality could also come from new businesses. For instance, Amazon expanding beyond books and developing Amazon web services (AWS), and getting into cloud computing.
In Hidden Treasure, we have stocks that have benefitted from this kind of optionality.
In fact, we saw this manifest in one of our smallcap recommendations recently.
The stock hit an upper circuit as the company received its single largest order to supply green energy solutions to an electric 2-wheeler company.
The thing is, this company, until 2 years ago, had no presence in green energy. Its initial foray into the segment remained unnoticed for a long time. Now that the monetisation seems close, the stock is up over 300% in less than a year.
And this could just be the beginning of a great run.
Optionality could also come from the inclusion of a related or new product/category. For instance, Just Dial launching the exclusive B2B platform JD Mart that will compete with Indiamart.
Another example is BSE launching a mutual fund platform, insurance products, commodities, and electronic platform for services like bookbuilding for IPO, offer to buy, offer to sell, a new bond platform, power exchange, and other blue ocean businesses.
Regional expansion could also give a company huge optionality. Think about Starbucks expanding to international markets.
--- Advertisement ---
REVEALED: Multibagger Stock Ideas for The Next 10 Years...

Electric vehicles...

Renewable energy...

E-commerce...

From where will the biggest winners of the next decade come from?

The Answer Will Surprise You
------------------------------
Last, optionality could come from a shift in strategy.
As my colleague Aditya has been writing, a lot of auto ancillary companies are consciously diversifying and adjusting their product portfolio to be ready for EV shift.
In doing so, they are much better placed than pure EV plays that could burn out by the time the EV trend gains scale.
There are multiple ways to develop optionality in businesses.
The good news is there is no dearth of companies with a huge optionality premium waiting to be unlocked.
As Tanushree highlighted in the Equitymaster's Annual Conference this year, many companies in the listed space have been incubating businesses that have been missed by the market.
These may not contribute much to profits now but would help these companies ride megatrends such as fintech, defence, ecommerce, AI, blockchain, and EVs.
For instance - Hero Motocorp's investment in Ather Energy, ABB's in Ecolibrium Energy, HDFC's stake in CAMS and in fintech startup smallcase, to mention a few.
As I mentioned, financials don't capture optionality. If you are counting on financial screeners, there is a 100% chance you will miss it. Finding optionality in stocks requires deep research.
It requires one to be tuned in to company specific updates - new investments, acquisitions, developments on the R&D front, and understanding long-term business strategies.
And even then, it's not enough to just identify optionality. Benefitting from it needs patience and a probabilistic approach to investing.
My team and I are doing our best to find businesses with underlying but uncaptured value and to benefit from it.
Stay tuned to know more about these opportunities.
Warm regards,



Richa Agarwal
Editor and Research Analyst, Hidden Treasure
Recent Articles