Why Banking Stocks Will Outperform
Aug 28, 2020
Editor's note: Banking stocks have started to outperform. If you're a regular reader of Profit Hunter, you wouldn't have been surprised. In this editorial, authored earlier this month by Apurva Sheth, our ace chartist predicted this would happen. The trigger for the rally was RBI's monetary policy. Read on to know why banking stocks are rallying...
---
RBI Governor Shaktikanta Das kept the policy rates unchanged yesterday.
But he announced a series of other measures which could address issues of stress in the banking system.
The RBI allowed a one-time restructuring of loans without classifying them as Non Performing Assets (NPAs). The central bank also decided to form an expert committee headed by former ex-ICICI Bank CEO, KV Kamath, to suggest a resolution framework for accounts under stress.
That's not all.
Medium Small and Micro Enterprise (MSME) loans that were standard on 1 March, 2020, will also be allowed for restructuring.
The loan to value (LTV) for gold loans will be increased from 75% to 90%. This means banks can disburse more loans for the same quantity of gold.
--- Advertisement ---
Stocks to BUY During the Coming Market Correction...

What if the market correction gets deeper?

Are you worried it could wipe out all the wealth you've built during this bull run?

If your answer is YES, then you're going to love this.

There's a secret strategy that is not only perfectly positioned to survive a market crash...

But it also stands to gain immensely from it...

This is the PERFECT TIME to master and deploy this secret strategy that has the potential to double your money EVERY 4 years...

LAZY MILLIONAIRE - Build Your Own 4x Millionaire Portfolio
------------------------------
These measures by the RBI are steps in the right direction. But will it boost sentiments in the banking sector?
I'll try to address this question. Here's a chart I showed you a few weeks ago in May.
The benchmark NSE Nifty is down about 8% this year. But the Bank Nifty, which tracks some of India's biggest listed banks, is down about 32%.
2020 Performance of Bank Nifty and NSE Nifty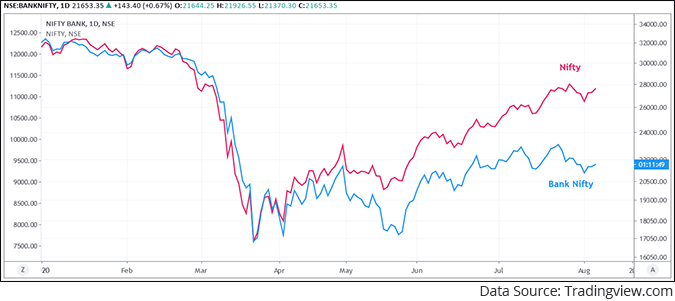 Nifty and Bank Nifty were moving in tandem until markets bottomed out on 23 March. The Bank Nifty has underperformed Nifty since then and continues to lag.
Last Chance: Grab Your Free Spot for Rahul Shah's Lazy Millionaire Summit
Investors and traders aren't willing to touch them even with a 10 feet pole.
But I believe this could change soon. Check out this chart.
Ratio Chart of Bank Nifty to Nifty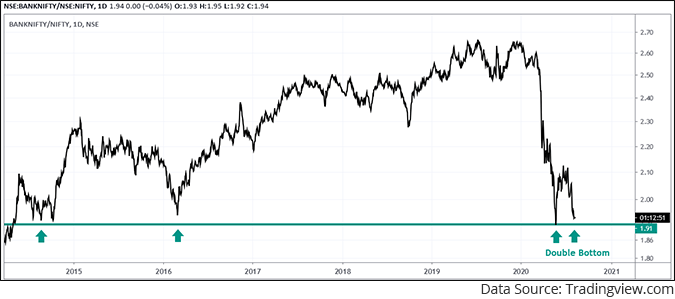 This is a ratio chart of Bank Nifty to Nifty. Here I have divided the closing prices of Bank Nifty by the closing prices of the Nifty. It shows how Bank Nifty is performing relative to Nifty.
(You can easily plot this chart on tradingview.com. Just type - BANKNIFTY/NIFTY in the ticker box)
A rising ratio line means Bank Nifty is outperforming Nifty. A falling ratio line means it is underperforming.
It is important to remember that a rising ratio line does not necessarily mean that Bank Nifty is rising and Nifty is falling. It simply means, Bank Nifty is outperforming Nifty. This could be that both are falling but Bank Nifty is falling less than Nifty.
--- Advertisement ---
2022's BIGGEST Investment Idea

We're proud to introduce you to our BIGGEST investment idea for 2022.

This investment idea is the result of countless hours of combined research by our team members.

You could learn how to tap into this 15x opportunity by watching the video of our special event.

Watch the #1 Investment Idea for 2022 by clicking the link below.

Watch Video Now
------------------------------
You will notice in the chart, Bank Nifty was outperforming Nifty for a long time, since 2014.
But earlier in February 2020, the ratio dropped like a rock. The ratio dropped from a high of 2.67 to a low of 1.90 by May 2020.
All the major corrections in the ratio since 2013 have found support around 1.90 levels. The ratio rebounded from this level in May and even crosses 2.10 by June. That's an outperformance of more than 10% in a month.
And it's testing the same levels once again.
It's forming a 'W' bottom also known as double bottom. If the ratio holds above 1.90 then it could signal a reversal from here.
This could provide an excellent opportunity to traders in the banking space as several stocks are still languishing and have scope for upside.
The risk to reward ratio is certainly in favour of buyers. Banks are indeed in a sweet spot with the regulator's support and favourable price action.
Watch out for opportunities in this space.
Warm regards,

Apurva Sheth
Senior Research Analyst, Fast Profits Report
Equitymaster Agora Research Private Limited (Research Analyst)
PS: Richa Agarwal was live yesterday at the One Stock Crorepati Summit. Watch the video of the summit here.
Recent Articles