Will Paytm be the Next Apple?... And Why That Question Shouldn't Bother You
Aug 29, 2018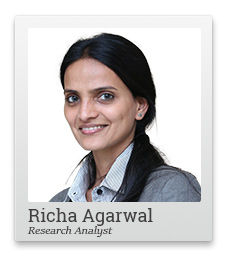 In a first, it's an Indian company that has qualified for direct investment by Berkshire Hathaway.
Buffett's Berkshire Hathaway has bought a stake in One97, the owner of Paytm. The expected investment is pegged at around Rs 24 - Rs 25 billion for 3-4% stake. The deal thus values Paytm at over US$ 10 billion (Rs 700 billion).
Now Buffett is not known to be a big fan of tech companies. Although he did make an exception when he got into Apple in May 2016. The stock price since then has almost doubled. Apple has hit the trillion-dollar mark in market cap. And it is one of the biggest holdings for Berkshire Hathaway.
While we are on this, you must know that not all Buffett's bets and trillion-dollar stories make for happy endings.
PetroChina, a stock that Buffett invested in in 2002-2003, offered 55% average annual returns (CAGR) until 2007. In 2007, it became the first company ever to reach the trillion-dollar mark.
But that was soon forgotten. Over the next one year, the stock of PetroChina crashed to less than US$ 260 billion. It has not recovered till date. Not many remember it for being the first trillion-dollar company. All it is known for is the largest destruction of shareholder wealth in the global history. Although to Buffett's credit he exited before this catastrophe.
--- Advertisement ---


How to Spot Potential Small Cap Winners Early

Senior Research Analyst Richa Agarwal has discovered a way to identify potential small cap winners early.

This strategy has previously generated triple- and even four-digit gains in a few years.

And with many solid small companies available for cheap right now, this could be a perfect time to put this strategy to use.

So don't delay...

Click here to know all about this strategy now!
------------------------------
Coming back to the Paytm deal...
Almost a year ago, Buffett in an interview had said that he would hop on a plane to India if there is a wonderful company for sale which he understands.
But that wasn't his only condition:
I would love to buy a business, but it has to be a big business to move the needle at Berkshire...
What made him change his mind? That too for a company that is reporting losses and where the management does not expect it to be profitable soon.
To be fair, Buffett is not directly involved in the Paytm deal.
Further, given the corpus Berkshire Hathaway has, the deal makes sense.
With just Rs 25 billion investment (less than 0.1% of Berkshire Hathaway's total assets), even if the deal does not make money, it won't swing the needle much in the negative.
Any upside, on the other hand, would be a reason to celebrate.
Unfortunately, you as a retail investor may not enjoy the luxury to take such risks or place such bets (do note that Paytm is not listed). But do not lose heart... for you have a privilege that even Buffett envies.
Unlike Buffett, you do not have to worry about the size of the businesses you may want to invest in.
Or about letting go of great opportunities because they do not move the needle for you. Or bet on loss making businesses in the wild hope that they will someday become very big.
In short, you are luckier than Buffett and many other fund managers, as you could invest in small cap stocks - a space out of bounds for big investors.
It is in this space that Hidden Treasure team found its first hundred bagger... And a space where our recommendations have beaten Sensex nearly three times since inception.
My latest recommendation in this space is a company with an asset light and diversified model - a proxy play on multiple sectors such as textile, auto, consumer and engineering goods. An asset light and diversified sector exposure gives me the comfort that the upside is huge and downside, limited. At just around Rs 2 billion of market cap, the growth is yet to unfold for this small cap company.
So, while financial dailies and media are likely to go on and on about this Paytm deal, it's time for you to focus where you can make money.
Get over the size of the companies, or tracking what big investors are doing. In the long run... what matters is the upside.
In my experience, there is no better space to make outsized returns than the small cap space... And no space where retail investors have an edge over big investors.
Regards,



Richa Agarwal (Research Analyst)
Editor, Hidden Treasure
PS: To use your advantage and get access to a set of sound small caps that can help build your wealth dramatically, join Richa's Hidden Treasure service. Click here to join.
PPS: Who among us hasn't dreamed of escaping to the backwaters of Kerala - recharging our frayed nerves among the serene tea and coffee plantations? Kerala is the ideal place in the minds of many Indians. Do we want to let it just waste away? Do we want to let it go to ruin just because we didn't spare a minute to think about what we could do? Here's something you can do now - quickly and easily. Contribute to the Kerala Flood fund. Click here to donate now.
Recent Articles