We Beat the Market by Nearly 3x and I Invite You to Do the Same
Aug 31, 2020
Editor's note: Dear reader, small-cap stocks are on fire. Small traders are making big money. It seems like the market is offering easy money...but it's not. You need to be very careful of the kind of smallcaps you buy. If you're not, then you could burn your fingers in the market. I recommend you let our smallcaps editor, Richa Agarwal, guide you in the challenging but exciting segment of the market. Read this editorial, written by Richa two weeks ago, to know how she beat the smallcap index by nearly 3x...
---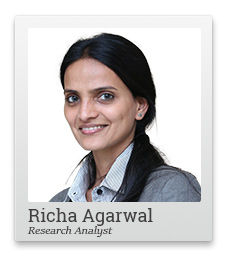 Think of the biggest decisions of your life in the last one decade.
Now group them into good and bad.
It's likely your good decisions would have probably led to positive outcomes, and vice versa.
So, what's wrong with that?
I'll come to it in a bit.
For now, let's travel back in time a little more.
How sure were you of these decisions, when you were taking them for the first time, and when you did not know the outcome?
Let me share my examples of recommending stocks...
In October 2013, I recommended Kolte Patil Developers Ltd in Hidden Treasure, at Rs 76. It was trading at a price to book value of 0.7 times back then.
I closed the position four years later, at a price of Rs 225, with 196% gains. That is 31% on a compounded basis.
Why did I recommend a sell?
--- Advertisement ---
These 3 Stocks are the Dark Horses of the Stock Market

The mainstream media mostly ignores them.

Mutual funds and hedge funds can't buy them in bulk.

Stock brokers rarely cover them.

These stocks are the dark horses of the stock market.

They only come in limelight after they have rallied by hundreads of even thousands of percent.

Our head of smallcap research, Richa Agarwal, has a knack for identifying such stocks before they begin their rally.

Over the years, she has spotted such stocks which have gone on to offer triple and even quadruple digit gains for investors. (* Past performance is no guarantee of future results)

Today, when the markets are near all-time high... and some investors are thinking of booking profits... Richa has spotted 3 such stocks which are set for a massive rally.

She will reveal the details of these 3 stocks on 28th January at her free online summit.

Click here to sign-up instantly. It's free.
------------------------------
I thought the valuations had priced in the positives in the business, unlike at the time of recommendation.
For this real estate sector player, there were just too many known unknowns to come up with high conviction estimates. Respecting the uncertainty and limitations in forecasting, it made sense to exit.
Within the next three months, the stock went up another 71%. Had I recommended subscribers to hold, the gains could have been 413% (instead of 196%) from the recommendation price.
In hindsight, closing the position seemed like a premature call. Some subscribers did remind me of that.
To be honest, there was a point when it felt like an opportunity lost. It overshadowed the sense of achievement on getting solid gains on the closed position.
But what happened next?
In the following months, the stock fell back to Rs 204, well below my closing price. As I'm writing this, the stock is languishing at Rs 172.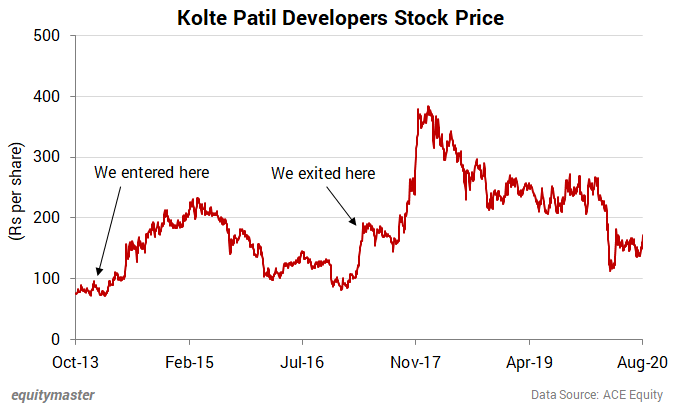 My sell call was a good decision after all.
But would it still be right if the stock touches Rs 1,000 over the next 2 years?
BREAKING: Full Details of the #1 Investment of the Decade...
Do you see my point?
We tend to determine the quality of decisions based on individual outcomes.
In the process, we discount the role of luck, probabilities, and random events that are difficult to incorporate while making decisions.
But they are all significant factors in deciding the outcome - either positive or negative.
This brings me to limitation of this approach of attributing the quality of decisions to standalone results. It serves you well only in hindsight.
This a common affliction among many investors.
You see, in all probability, the outcomes are more than one. Sometimes, new variables like the Coronavirus are thrown into the equation. We can never account for these.
Don't judge your decisions based on singular outcomes. If you do, then you will believe you are a genius if your call goes right or you will feel like a failure if it didn't.
This will affect your stock picking. The chances are you will end up gambling rather than investing. You may win sometimes but a false sense of confidence could make you lose all the gains on one bad bet.
To prevent this, it is important to follow the right process, and follow it with discipline.
Sometimes, sticking to the right process makes you look bad. For example, closing the position on Astral Polytechnik with 143% gains and then missing its spectacular run to become a 15 bagger...
...or giving a buy at lower level recommendation when the entire market is witnessing positive momentum...
...or closing HEG Ltd with 24% losses in 2013, only to see it shooting up 24 times from there.
The right process is not one that makes you win jackpot. It might offer some unexpected and undesirable results.
But the right process helps you win in the long term. It lets you fare well when you average the outcomes in the long term.
--- Advertisement ---
Top 3 Stocks for 2020 and Beyond

We've uncovered 3 high-potential tech stocks after years of research.

These 3 cutting edge tech stocks could potentially create a wave of Indian millionaires.

First one is present in the sector which is expected to GROW over 300 times by 2030.

Second one is one of the leading players in Artificial Intelligence technology.

And the third one is involved in putting up a global safety net to save the world from cyber criminals.

These 3 tech stocks have the potential to offer life-changing gains in the long run.

Click here to get the details...
------------------------------
Now this does not mean you have to be rigid about your process. It is important to keep refining the process based on experiences.
But you should not abandon your investing process if it occasionally throws a bad result your way.
A process should be judged not based on individual outcomes. Instead check if has stood the test of the time.
This way, you might lose some battles, but will eventually win the war.
We have had fair share of failures in Hidden Treasure but we've stuck to a disciplined process. We've not let luck-based outcomes bias us.
This is the reason for Hidden Treasure's internal rate of return (IRR) of 24.38% since inception.
This compares favourably to the IRRs of 9.6% for the Sensex, and 8.8% for the smallcap index in the same period (February 2008 - June 2020).
By the way, this includes all positions - open, closed, successful, and failed. It captures the up and down cycles in smallcaps for over a decade.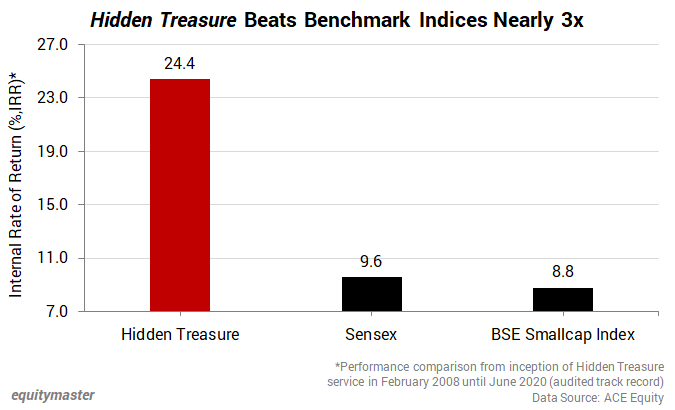 Our performance did suffer in the short term after the 2018 crash in smallcaps. However, the long term track record and the post Covid rebound underscores the strength of stock picking process.
And it validates the faith our subscribers have in us.
Speaking of the smallcap rebound, the BSE Small Cap index is up 17% in last one month.
Nine of our recommended stocks are up more than 25%.
The top three stocks have rallied above 40%, with the biggest gainer clocking nearly 60% gains.
I believe this is just the beginning.
My team and I are focused on bringing to you the best money-making stock recommendations. We want you to participate in this once in a decade opportunity to get rich in smallcaps.
The market has provided a huge wealth creating opportunity for investors who get their stock picking right.
So, what's the best stock to bet on?
I recommend you consider my 'Crorepati stock'. It's the one stock I'm most bullish on.
Warm regards,



Richa Agarwal
Editor, Hidden Treasure
Equitymaster Agora Research Private Limited (Research Analyst)
PS: Get the details of my Crorepati stock here...
PPS: Equitymaster wishes the best investor in the world, Warren Buffett, a very Happy 90th Birthday! Watch out for Tanushree's Profit Hunter editorial tomorrow on the Oracle of Omaha.
Recent Articles