Investment in securities market are subject to market risks. Read all the related documents carefully before investing
An Emerging Opportunity for Investors
India's Lithium Megatrend
Backdoor Stocks to Profit from India's EV Tipping Point
Sep 1, 2023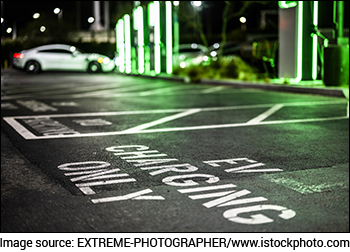 It took 48 years for US households to have 100% electricity. Similar penetration of radio and refrigerator took 47 years.
Cell phones, computers, and the internet took around 25 years each to reach 80% of the population.
In comparison, social media took less than a decade to reach 80% American households. The technology adoption curve has got steeper with electric vehicles.
5% seems to be the inflection point at which most technologies get ready for mass adoption.
The time it takes to get to that level varies widely by country. But once the universal challenges of car costs, charger availability and driver skepticism are solved for the few, the masses soon follow.
According to a Bloomberg analysis, in 2022, 19 countries had passed what's become a critical EV tipping point. Since then, five more countries have made the leap.
In the US, the EV tipping point didn't arrive until late 2021. The reason for such a delay in EV adoption was the demand for longer range batteries and charging infrastructure.
But by the second quarter of 2023, the penetration of EVs in the US auto market had reached 42%.
India is the third largest auto market after China and the US. EVs made up 3% of new car sales in the country in the June quarter of 2023, after doubling in just six months.
--- Advertisement ---
Investment in securities market are subject to market risks. Read all the related documents carefully before investing

Nifty Scales 20K Again... Some of Our Top Picks are...

It seems like the bulls have completely taken over the market. Nifty50 index has scaled mount 20,000 again.

So, in this scenario which stocks should you consider buying?

Well, as per our research, the stage is perfectly set for a potential big rally in a few Lithium related stocks over the long term.

Get Full Details Here
Details of our SEBI Research Analyst registration are mentioned on our website - www.equitymaster.com
---------------------------------------------
So, the country seems to be at a tipping point for EV adoption. Which is why India's homegrown automakers have been investing heavily in electrification.
But even as we get closer to the EV inflection point, fact is that India has remained a laggard compared to global peers.
For instance, domestic sales of EVs have more than doubled in the past year. But they barely represent 2% of the total light-vehicle sales in the last 12 months.
A couple of domestic auto majors have lined up plans for EV exports. But India has yet to make its presence felt in the international market with powerful EVs.
Moreover, we are also lagging in related segments such as battery manufacturing and charging infrastructure.
The government has offered tax incentives and production-linked incentives to encourage EV production.
Launched in 2015, the FAME initiative (Faster Adoption and Manufacturing of EVs) was meant to reduce the usage of gas and diesel in automobiles. It also aimed to incentivise EVs.
--- This is Third Party Advertisement ---
Mutual Fund investments are subject to market risks, read all scheme related documents carefully.

[MEGA] Webinar Invitation -

Navigating markets in 2024 - Fund Managers' Year End Perspective.

Date: Dec 6th Time: 6pm Venue: Your Computer

What's Next for equity, debt & gold asset classes?

Join Chirag Mehta, CIO and Fund Managers of Quantum AMC as they discuss asset class outlook & what one should expect from the markets in the new-year.

Register Free for this Exclusive Webinar
----------------------------------------
However, the adoption of EVs, both two wheelers and passenger cars, has been way below expectation.
The relatively sparse charging infrastructure in India has impeded widespread adoption of EVs. It has hindered the progress towards green energy goals too.
A World Bank analysis concluded that investing in the charging infrastructure is 4 to 7 times more effective in EV adoption; than providing upfront purchase subsidies.
So, steep prices of EVs, limited charging infrastructure and regulatory bottlenecks are the deterrents even at EV tipping point.
Getting non-EV players to become part of EV charging value chain could offer a massive push to EV adoption. Plus, fleet aggregators should also be encouraged to operate EVs across India.
Now, there are entities that are indirect plays on the EV boom. They could be less subject to cyclical demand and the regulatory risks of EV makers.
Claim your discount: Get your tickets to the Equitymaster Conference 2024
In fact, a company I recommended recently is preparing itself to meet the climate challenge for its business by becoming a part of EV charging value chain.
The company has already installed and commissioned 4 fixed EV charging stations in Delhi. It has also rolled out its battery swapping facility for two-wheeler and three-wheeler segments.
Similarly, the International Energy Agency (IEA) has predicted that India will have a third of global battery storage capacity by 2040. Which means all the electricity that is being produced will have to be stored effectively for later use.
So, electric batteries are to this century what oil was to the previous one. And battery makers that can cater to both EV and other industries are the best hedged to ride the boom.
Watch this space for more...
Warm regards,



Tanushree Banerjee
Editor, StockSelect
Equitymaster Agora Research Private Limited (Research Analyst)
Recent Articles