Here's How to Ride a Rebound in this Volatile Market
Sep 2, 2020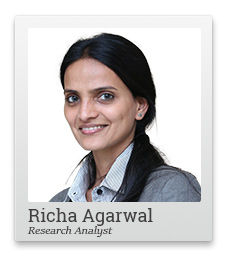 We all saw it coming.
But no one predicted it would be so bad.
The reported GDP is down 23.9%. The worst contraction in 4 decades. In fact, the economy might be headed for the worst annual correction since independence.
As if the data yesterday wasn't grim enough, the regulator's margin rules and border tensions with China led to a sharp market correction.
In the near term, expect markets to be volatile. If you are playing the market for short-term, perhaps you should do 'nothing'.
--- Advertisement ---
These 3 Stocks are the Dark Horses of the Stock Market

The mainstream media mostly ignores them.

Mutual funds and hedge funds can't buy them in bulk.

Stock brokers rarely cover them.

These stocks are the dark horses of the stock market.

They only come in limelight after they have rallied by hundreads of even thousands of percent.

Our head of smallcap research, Richa Agarwal, has a knack for identifying such stocks before they begin their rally.

Over the years, she has spotted such stocks which have gone on to offer triple and even quadruple digit gains for investors. (* Past performance is no guarantee of future results)

Today, when the markets are near all-time high... and some investors are thinking of booking profits... Richa has spotted 3 such stocks which are set for a massive rally.

She will reveal the details of these 3 stocks on 28th January at her free online summit.

Click here to sign-up instantly. It's free.
------------------------------
This is the risk in the market rally that I had been warning of for some time now. This is what I wrote back in June :
From a macro perspective, the only thing that has changed in India is the easing of the lockdown. The Covid-19 cases and casualties are only going up. We have chosen to live with the virus as there is no other choice.

The lockdown put the economy into a deep freeze instantly. Easing it and going back to normal is an uphill task. The GDP is likely to contract sharply this year. Many medium and small-scale businesses have been wiped out and more will follow. Investment activity, amid lack of demand, is muted.

Discretionary demand will likely take a long time before it comes back. However, there are intervals when stock markets forget all this. We saw one such interval over the last few weeks. The coming days and weeks could see many such short-lived waves. I hope you will not get carried away.
The reason I call it risk, and not volatility, is the indiscriminate rise of the market from the fall in March. It has lifted valuations of stocks irrespective of the fundamentals. Don't be surprised with a permanent capital erosion if rising prices are the only trigger for your buying stocks.
It's time to look beyond profits, and conventional narratives. That's because the business landscape has undergone a drastic shift.
BREAKING: Full Details of the #1 Investment of the Decade...
The wave of disruption that was in motion will only get stronger with Covid. Many case studies on successful businesses will need to taken off the table. A case in point is Future Group.
Yet, I would not recommend you lie low or to stay away from the markets. I have a game plan.
Here's what I would like to recommend:
First, consider stocks which are either disruption proof, or agents of disruption themselves. A few days ago, I shared a list of five stocks in the report titled - 5 'Essential' Smallcaps to Ride the Covid-19 Rebound. Hidden Treasure subscribers can access it here. While there has been a rise in all 5 stocks, 3 of them are still in the buying zone.
Often, investors consider earnings growth a barometer for business strength. They fall victim to bad accounting practices. You could avoid this by focusing on cash flows and the balance sheet. A high growth in earnings without commensurate rise in cash flows is a warning sign. Further, avoid high debt companies or businesses that need huge working capital.
Invest only if you are thinking from a long-term perspective. The truth is no one can time the market. Even Page Industries had a phase of over 40% market correction before it rose again to become a hundred bagger. You cannot fight market volatility in the short-term. Your only defense is patience when markets act irrationally and wait for valuations to catch up. In the long run, they do.
--- Advertisement ---
Top 3 Stocks for 2020 and Beyond

We've uncovered 3 high-potential tech stocks after years of research.

These 3 cutting edge tech stocks could potentially create a wave of Indian millionaires.

First one is present in the sector which is expected to GROW over 300 times by 2030.

Second one is one of the leading players in Artificial Intelligence technology.

And the third one is involved in putting up a global safety net to save the world from cyber criminals.

These 3 tech stocks have the potential to offer life-changing gains in the long run.

Click here to get the details...
------------------------------
Your returns are inversely proportional to the entry price in the stock. While it's okay to pay up for the quality, don't overpay. Never compromise on the margin of safety in valuations.
Last but not the least, have a diversified portfolio. Respect asset allocation. Investing is not a definite science. You won't be right 100% of the time. But with a strong stock selection, and a diversified portfolio, your gainers will more than make up for the bets that do not play out as expected.
Following these simple rules has helped Hidden Treasure beat benchmark indices by nearly 3 times over a period of about 12 years. I hope they will help you too.
Warm regards,



Richa Agarwal
Editor, Hidden Treasure
Equitymaster Agora Research Private Limited (Research Analyst)
PS: Get access to my top stock recommendation to ride the market rebound here.
Recent Articles