Insider Buying Alert: Promoters Increase Stake in 8 High-Quality Smallcaps
Sep 3, 2019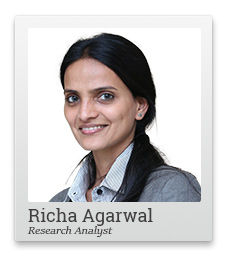 There is a famous saying in the investment world - a good company is not always a good investment.
In bull markets, this is mostly true.
But in bear markets, the statement loses relevance.
I believe this is a great time to buy quality smallcaps that are available at beaten down valuations.
Now I have been expecting and talking of a smallcap rebound for quite some time.
--- Advertisement ---
[Only For Indian Citizens] India is Set to Regain Its Lost Riches

India was the world's richest country nearly 2,000 years ago.

And if you are like us who believe that India is on track to regain its status as one among the greatest countries on earth…

Then, we encourage you to join other true Indians in the first-ever mega summit "REBIRTH OF INDIA" for FREE.

Click Here to Claim Your FREE Pass for this MEGA Summit…
------------------------------
But markets are having a mind of their own.
News like GDP growth at 5%, US China trade war, and another dismal month for the auto sector are certainly not a mood lifter. Despite the relief measures by Ms Sitharaman, the smallcap index is down 2%.
But if this mood has rubbed off on you, making you stay away from smallcaps, here's why you need to reconsider.
The insiders in some quality smallcaps are lapping up their own shares.
It makes sense to track what insiders are up to.
--- Advertisement ---
The 'Profit Accelerator' That Helped Wipro Multiply 2,000 Times Since 1991

Do you know what a 'profit accelerator' is?

It is one of 3 traits that the most profitable stocks have…

For instance, back in 1991 Wipro underwent a huge transformation…

This was the 'profit accelerator' the company needed.

Over the next 3 decades, the stock price of Wipro multiplied over 2,000 times.

Amazing, isn't it?

If you're wondering what exactly a 'profit accelerator' is, you'll find a full explanation of that and the other 2 traits that make a 100X potential stock, in this note.
------------------------------
Insiders or promoters sell shares for various reasons. It could be to meet some personal expenses, to increase the liquidity in the stock, and sometimes, because they do not feel positive about the businesses they own.
But as Peter Lynch suggests, they buy just for one reason - They think their stock is undervalued, and will finally go up.
You see, who knows better the prospects of the business than the promoters with the most skin in the game. When the person who runs the business, and also owns it for the long term is seeing the opportunity to get in, it would be silly to ignore it.
Now, not all businesses where promoters are buying make the cut in my view. Especially in this environment.
The businesses that I would look for must have a strong balance sheet, the capacity to suffer, most importantly, a management team that is competent and trust worthy.
But where can one find this perfect mix?
In my recently released webinar, there are eight Hidden Treasure recommendations that have made it to the list. These are the stocks where fundamentals are strong, the stocks prices have suffered amid bearish sentiments, and promoters have increased stake in the last few months.
Two of these recommendations are not just long term bets. They promise steady dividend income as well, with yields north of 3% (on each) at current prices.
I hope you will make the most of this once in a decade opportunity to get rich from the smallcap rebound.
Warm regards,



Richa Agarwal
Editor and Research Analyst, Hidden Treasure
PS: Dear reader, I believe a select group of 4 small-cap stocks are on the verge of a rebound. Get the details here.
Recent Articles