Put the Odds in Your Favour to Find Smallcap Multibaggers
Sep 3, 2021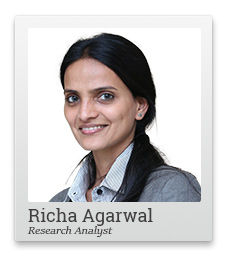 As a student, one comes across a lot of formulae, theories with little relevance in real life... At least the one's that mere mortals can relate to.
But a few strike a chord and are worth reflecting upon.
I count Pareto principle in the latter category.
When I read about it the first time, I could think of multiple ways it played out in student life.
This included the phenomenon getting 80% of project work done in just 20% of the time.
It's named after an economist Vilfred Pareto, an Italian who observed that a few people - around 20% owned 80% of the wealth.
Also known as 80:20 rule, this principle has been crucial to concepts like quality management, process efficiencies, and optimising output.
In investing, the relevance is no less.
--- Advertisement ---
Replay Available: Super Smallcaps Summit

Today, we went LIVE with Richa Agarwal's Super Smallcaps Summit.

Richa revealed details about the 3 'dark horse' stocks that could potentially hand you hundreds or even thousands of percent in gains over the long term.

However, you missed the Exclusive event for some reason.

And because we don't want you to miss out on this rare opportunity, we have a replay of the event arranged for you.

Click the link below to watch the replay now.

Watch the Replay

or click here to read the transcript
------------------------------
Those who have witnessed the joys of compounding know that 80% of the gains are likely to come in just 20% of the time they held a stock.
In fact, it could be even more extreme.
As an analyst, I see this principle play out when a few stocks in a portfolio lead to an overwhelming share of gains.
If you search for 100-baggers in last decade, you will realise out of the thousands of listed companies, there are only about 20 stocks that have achieved this glory.
What is even more interesting is that almost all of these were below a market cap to Rs 25 bn to begin with and fall under the category of smallcaps/microcaps.
Now, this should not be surprising.
Unlike bigger companies most of which are in a mature phase of their lifecycles, select small caps have a longer runway, and a higher potential upside.
Indeed, they come with some inherent risks like volatility.
But you only need a 10%-20% of portfolio's exposure to this asset class to make a big difference to your overall returns.
Equitymaster's Stock Screener: Identifying High-Potential Stocks Has Never Been this Easy
It's critical to be mindful of which stocks you choose for this 10%-20% allocation.
You see, there are thousands of companies listed under the small cap category.
But only a few are likely to break the mould of a smallcap and upgrade to a midcap, or potentially even a largecap in the long term.
Using a bottom up approach maximizes your chance of picking potential winners. This means focusing on business specific fundamentals and valuations, along with macro factors.
Unfortunately, most investors buy smallcaps on the basis of tips, recent price movements, and noise.
This is even truer in the current market environment when smallcaps are rallying and have outperformed midcaps and large caps.
The rebound has led to decent gains in most smallcaps irrespectively of the business quality.
It's in such environment that investors throw all caution to wind and pick ugly ducklings, mistaking them for swans.
Picking good stocks will be even more critical this time as the second Covid wave has not completely subsided.
--- Advertisement ---
REVEALED: Multibagger Stock Ideas for The Next 10 Years...

Electric vehicles...

Renewable energy...

E-commerce...

From where will the biggest winners of the next decade come from?

The Answer Will Surprise You
------------------------------
And there are cases for a new variant already.
Here are some of the ways you can maximize your chances of success:
There has been a significant consolidation in the last one and a half year across different industries. The strong are getting stronger, and the weak, weaker. If you focus on players that are leaders or have a unique edge in the niche they operate in, you are likely to be betting on the right side.
Pick companies with nil or less dependence on borrowed capital. While liquidity is available in the current environment, understand that interest rates will not always be so benign. You would want to select a business that does need no or little debt to sustain growth, and that doesn't have to shell out most of its profits to pay loan obligations.
Avoid trying to time the market. Think from a long term perspective - at least three to five years. Focus on structural trends rather than cyclical. Then work backwards to see which businesses/companies will be most relevant.
For small businesses, managements can be the make or break factor. When you buy a smallcap stock for the long term, it's not a stock ticker you are choosing. It's like choosing a business partner. Understand the management you are betting on. Competence will not be enough. You will need to ensure that there is integrity too.
Last but not the least, be mindful of the valuations. Don't buy a stock until you think it's undervalued. You will have to understand the business and industry well enough to arrive at an intrinsic value. If you don't understand it, ignore it.
Warm regards,



Richa Agarwal
Editor and Research Analyst, Hidden Treasure
Recent Articles