Don't be Surprised if Metal Stocks Outshine All Others for a Year
Sep 4, 2020
If there's anything more surprising than the recovery in markets since March, then it's the performance of metal stocks.
In April 2020, I wrote about three sectors which normally do well during a bear market. These are Healthcare, FMCG and IT. All are defensive sectors and tend to outperform during a crisis.
Check out the returns of the major sectoral indices since 23 March 2020. Healthcare stands tallest with gains of 61%. IT is at fourth position with gains of 55% while FMCG is lagging with gains of 23%.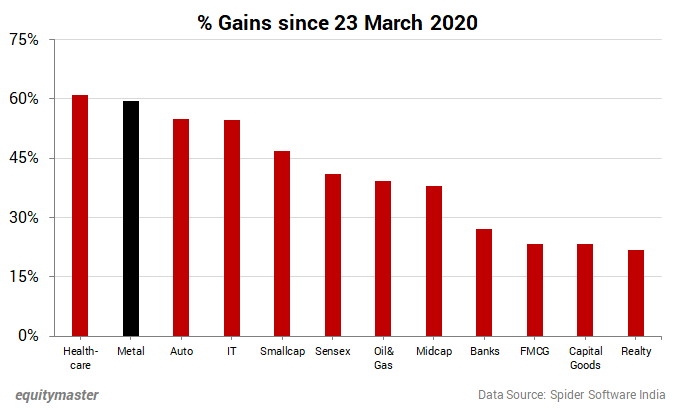 You may have already noticed that metal sector is marked differently from the rest. That's because it's a surprise. Frankly speaking it's hit me hard.
I would have never expected metals to deliver such strong performance. Metals normally lag in a bear market. It usually ends up in the bottom three sectors.
--- Advertisement ---
Here's an urgent profit opportunity from us that no mainstream media is revealing...

The #1 Stock for 2021.

...An innovative stock with the industry giants chasing it for its technology to touch millions and millions of people every day.

It serves several clients across the globe, but what got me is this...

The stock is leaving all its competitors behind despite the COVID crash, and now the price has already started to move.

There's actually one more reason why this stock could take off and make its early investors rich.

It's revealed here in this note with transparency.
------------------------------
This got me thinking...what did I miss?
I must confess the rally in metals would have been far more obvious if I had looked closely earlier. Anyways better late than never.
The secret behind the rally in metals is nothing else but its greed and fear cycle. I have been sharing with you such greed and fear cycles in stocks, currencies, and even commodities.
Now let's check out the greed and fear cycle in BSE Metal index.
Greed and Fear Cycle in Metal Index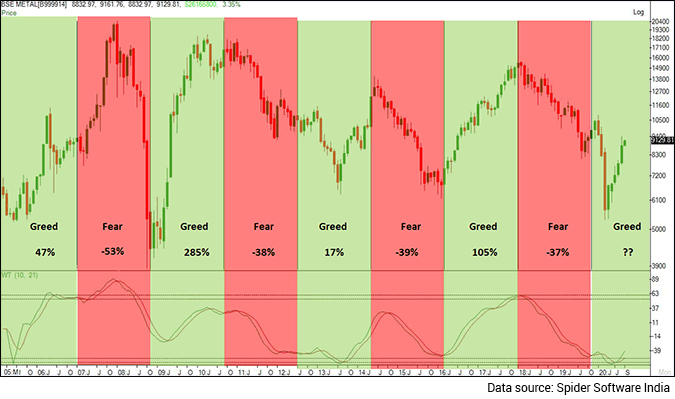 BSE Metal Index is going through a greed and fear cycle since April 2005. One phase lasts for 22 months. Now there isn't any magic behind the number 22. Every security has its own ebb and flow and you must find it.
For metals it's 22 months. For the auto sector its 32 months. For the IT sector its 24 months.
--- Advertisement ---
Going Live on 30th September 6pm To Answer A Burning Question

Economies across the globe have collapsed.

However, despite all the weak economic data, the stock markets have rallied.

But how sustainable is this rally?

The burning question of the hour is

"Where are the Stock Markets Headed?"

And that is exactly where our upcoming live and exclusive free webinar will help you.

Join Nilesh Shetty, Associate Fund Manager, Equity Funds and I.V. Subramaniam, Director, Quantum AMC LIVE as they address your most pressing concerns...and try and fulfill your need for the next big investment opportunity.

If you are a serious investor, you cannot afford to miss this opportunity.

Register FREE for this upcoming webinar in 1-click
[Yes! I want to attend this Exclusive Webinar]

Yes, also send me your financial planning newsletter, Quantum Direct, free of charge.

Date: 30th Sept. | Time: 6pm | Venue: Your Computer
------------------------------
I have drawn vertical lines at interval of 22 months. I have marked the greed phase in green and fear phases in red. The sector tends to move up on a point to point basis during the greed phase and moves lower during the fear phase.
Let's see how it has performed during various phases over the years and what can happen over the next few months.
The greed phase in metal sector started in April 2005 and ended in January 2007 with gains of 47%.
The sector entered the fear phase and even moved higher. In fact, that was the highest the sector has ever traded at. But these gains evaporated as the markets tumbled in 2008. The sector ended down by 53%.
The next greed phase started right when the sector bottomed out in October 2008 along with the markets. It generated staggering gains of 285% in 22 months.
UNLOCKED: Up to 3x More Gains During the Corona Crisis...
After such a strong performance, you can't expect anything but terrible performance in the fear phase which followed. It was down by 38%.
The returns in next greed phase was subdued at 17%. The sector dropped by 39% in the next fear phase which ended in March 2016.
After six years of subdued performance, metals were up for a ride in the greed phase which began in April 2016. The sector was up by 105% till January 2018.
By now you would know what was likely to follow next. The fear phase arrived, and the sector tumbled 37% in 22 months. The fear phase ended in November 2019 and it's in greed phase since then.
Now greed phase will last till September 2021. This means there is still one year to go. Now If you consider from a point to point basis metal sector is trading lower than where it was when it entered this greed phase.
That's good news because the sector has a lot more ground to cover up in a short span of time.
So, keep your eyes on metal stocks. Solid profit-making opportunities are coming your way.
Stay tuned...
Warm regards,

Apurva Sheth
Senior Research Analyst, Fast Profits Report
Equitymaster Agora Research Private Limited (Research Analyst)
PS: Today you can get access to stock recommendations from our Co-head of research, Rahul Shah, which have the potential to double your income. Get the details here.
Recent Articles