A Walk Down the Street with Rahul Shah: Friend, Philosopher, Guide
Sep 6, 2019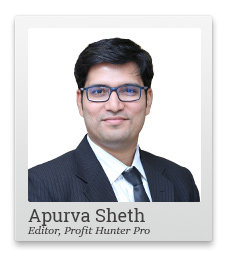 If you run through your kid's school dictionary you will come across the following definitions for all the three:
Friend - A person who you like and enjoy being with or with whom one has a bond of mutual affection
Philosopher - A thinker, someone who studies or writes about the meaning of life
Guide - A person who shows the right way to others
--- Advertisement ---
Richa Agarwal's #1 stock pick for 2021 is out

It is a little-known company that is now tapping into a Rs 4 trillion opportunity...

Setting it up to potentially deliver huge gains in the years to come.

Now, this stock has already started to move...

As the word spreads, there's a chance that this stock could move up rapidly.

Hence the urgency to act now...

Here are the full details of the company I'm talking about...
------------------------------
There are some people who are your friends, a few who are your philosophers, and even fewer who can be your guides.
It is difficult to find a person who can be all the three at the same time.
Fortunately, I know someone who I can call a friend, philosopher, and guide - Rahul Shah.
It's always fun to be with Rahul. He is at his wittiest best - with his wry jokes and dry one liners - at the lunch table.
He is a deep thinker with extensive knowledge. It's knowledge I have applied across the spectrum right from investing to career to life.
He is a great guide too. You know already how well he has guided thousands of readers in the right way of investing.
While in office, he is always plugged in to his computer reading, researching, and listening to different ideas.
Unlock Now: India's 3 Unstoppable Tech Stocks
He's always accessible and ready to help anyone who walks up to him in office. I especially look forward to my post lunch walks with him which are always insightful.
Here's one such conversation we had while we were on a walk after lunch. As you know - thoughts of the markets dominate my days...
Me: The markets are so volatile these days. How do you manage to stay so calm and composed? Don't you feel the pressure when things aren't going your way?

Rahul: The secret to staying calm, especially under pressure situations, is having a systemic approach to markets. It takes the guess work out of investing.

Investors - all people really - are easily swayed by emotion. Having a system in place helps us be rational - and not make the usual investing mistakes - like selling valuable stocks in a panic, or holding on to dud stocks.

That's why investors should let systems bear the burden of decisions - that is where I see most investors failing.
Now Rahul has enjoyed tremendous success with his systems based approach to investing.
--- Advertisement ---
How to Unlock Almost 3x More Gains During the Corona Crisis...Good News...

Our top analyst Richa Agarwal just identified 5 "pandemic-proof" smallcaps that could win the war against coronavirus...

And deliver up to 50-100% gains really fast!

She has revealed the exact details of these 5 high-potential smallcaps in her latest special report...

Check It Out Now...
------------------------------
This is what inspired me to explore the systems based approach in trading as well. I have already started reaping benefits of following a system.
You too can benefit from Rahul's knowledge. Rahul has been plugged deep in to his work station all day long for many months now.
He is working on something totally new. It's something which has never done before in India.
The most exciting part about it is that it could help thousands of office goers and middle-class people like you and me lead a better life.
He wrote to you about it yesterday - Rahul's Automatic Income Project.
I'm super excited to know more about it.
Rahul will reveal details of everything he is been up to for so long.
Stay tuned...
Warm regards,

Apurva Sheth
Editor and Research Analyst, Profit Hunter Pro
PS: Rahul Shah has been working on an exciting project for many months! After intensive research Rahul believes, no matter how much you earn per month, he can show you how to make much more in a reasonable period of time. Get the details here...
PPS: Identifying profitable trades in this volatile market requires a proven trading strategy. This is exactly what I have developed for you. Get the details of my trading strategy here...
Recent Articles