Are Infosys and TCS Safe from Nasdaq Whales?
Sep 9, 2020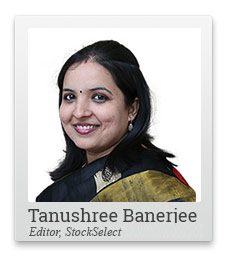 As I write this, both Infosys and TCS are at their lifetime highs in terms of market capitalisation.
TCS has trading history of fifteen years.
But for Infosys, there have been five instances in the past 27 years, when the stock reached such pinnacle and crashed. Four out of the five times, it took nothing less than four years for the stock to regain its market cap.
But the dotcom crash, which had its roots in the US' tech stocks, had sent the stock into a lost decade.
Not that it was entirely unanticipated.
--- Advertisement ---
3 Stocks for Potentially Massive Gains

COVID-19 has triggered a fundamental shift in the global economic and geopolitical map.

This reshuffling of the geopolitical map is just ONE of the forces fuelling the great Indian revival.

A revival that will restore the power, wealth, and influence we once enjoyed.

And, those who invest in the companies at the heart of this revival could turn a small stake into generational wealth.

Our co-head of research, Tanushree Banerjee, has narrowed down on 3 specific stocks.

She strongly believes, these 3 "revival stocks" could potentially offer massive gains.

Click here to learn more about this mega opportunity
------------------------------
The CEO of Sun Microsystems, Scott McNealy, said this at the peak of the dot-com bubble...
At 10 times revenues, to give you a 10-year payback, I have to pay you 100% of revenues for 10 straight years in dividends. That assumes I can get that by my shareholders. That assumes I have zero cost of goods sold, which is very hard for a computer company. That assumes zero expenses, which is really hard with 39,000 employees. That assumes I pay no taxes, which is very hard. And that assumes you pay no taxes on your dividends, which is kind of illegal. And that assumes with zero R&D for the next 10 years, I can maintain the current revenue run rate.

Now, having done that, would any of you like to buy my stock at $64?

Do you realize how ridiculous those basic assumptions are?

You don't need any transparency. You don't need any footnotes.

What were you thinking?
He clearly thought investors were crazy to pay 10 times revenues back in 1990.
Revealed: 3 Stocks for Potentially Massive Gains
That the FAANG stocks (Facebook, Apple, Amazon, Netflix, Google), on an average, are trading at about 5 times revenues currently, would have probably, put him at ease.
However, the fear of unwinding of derivative contracts bursting the FAANG bubble has spooked markets.
Traders are calling it the Nasdaq Whale.
Could this mean that Indian tech behemoths, Infosys and TCS, could catch cold if the FAANGs sneeze?
There are two reasons why I believe this should not worry you dear reader.
One, because the derivative contracts and the NASDAQ Whale are evident in just a handful of US tech companies.
So, its very unlikely that this could end up being a sector wide malaise. And even in the event of a sharp correction in the FAANG stocks, the impact on Indian IT sector would be limited.
Two, because the Indian tech majors are currently reinventing themselves like never before.
I recently wrote to StockSelect subscribers about how TCS seems better placed than most startups (subscription needed) to create huge shareholder wealth with its edtech opportunities.
My claim has sufficient proof.
For instance, of the 5,216 patent applications made by TCS so far, it has been granted 1,341. Which means, the company keeps a close watch on the return on investment from new technologies, unlike the cash burning startups.
Also, TCS is not the only Indian tech company taking big strides in cutting-edge technologies. Several others are creating products and servicing global entities with artificial intelligence, machine learning, blockchain and SaaS.
So, as much as valuations must remain a key criterion for buying Indian tech stocks, this is nothing like the dotcom bubble.
Rather, investors giving Indian tech stocks a miss fearing the NASDAQ Whale, would stand to miss out of one of the biggest megatrends of the coming decade.
Warm regards,

Tanushree Banerjee
Editor, StockSelect
Equitymaster Agora Research Private Limited (Research Analyst)
PS: Get access to Rahul Shah's Automatic Income training here.
Recent Articles