A Recession Proof Stock You Can Bet On
Sep 10, 2019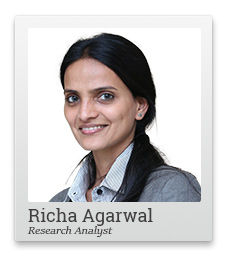 Last week I wrote to you about how promoters are participating in a once in a decade opportunity of making big money from the smallcap rebound.
You see, the last time the BSE Smallcap index was at today's level of about 12,700 points was in January 2017. In the following 12 months, the index moved up a massive 57%.
Will the next 12 months repeat history?
Maybe.
After all, the markets are finally showing early signs of a smallcap rebound.
--- Advertisement ---
Ex-Swiss Investment Banker Reveals His Biggest Investment Strategy in 4 Free Video Classes

Rahul Shah, ex-Swiss investment banker and Co-Head of Research at Equitymaster, is hosting a series of 4 free video classes for his readers, where he will reveal the details of something he's been working on for years…

The Double Income Project…

Rahul will show his readers, step-by-step, how to dramatically increase their income, potentially even double it…in what he believes is the earliest amount of time possible. a few short years.

For instance, if you make Rs 50,000 a month…Rahul's goal is to show you how to take it to Rs 100,000 in the long run.

Or if you make Rs 100,000…Rahul will show you how you could potentially increase it to Rs 200,000 in the long run.

This is different from anything Rahul Shah has ever done before – there's nothing to pay, no service to subscribe to and no forms to fill to attend these classes.

Just click here to sign up for the free video classes.
------------------------------
A lot of smallcaps on my watchlist screen are in the green... Some even recorded double-digit gains yesterday.
That's the thing with smallcaps. The fall is sharp. And the rebound, sharper.
Honestly, I would not be surprised if despite knowing my views and optimism in the smallcap space, you are still waiting on the sidelines.
Auto slowdown, US China trade war, and now the GDP shocker...the bad news has been pouring in.
It is not easy to ignore the news while investing your hard-earned money.... more so in the highly volatile smallcap space.
The Double Income Project: The Lazy Man's Guide to Doubling Your Income in The Long Term
But what if I tell you that there is a smallcap business that operates in an economic heaven, and could be one of the biggest beneficiaries of the market rebound.
The company commands a market share of more than 40%.
And there is almost a 100% chance that you would be using its services.
Yes, this single business has a quite a few attributes that any winning business might ever possess...
These include high entry barrier induced by regulations, and strong client stickiness.
And did I mention the zero debt and a huge operating leverage - While expenses remain the same, any increase in revenue directly flows to profits.
--- Advertisement ---
Watch this Video Now And You Will Stop Worrying About Money...

If you are concerned about money, then you MUST watch this exclusive video right now.

Because in this video, Richa Agarwal, Head of Small Cap Research, talks about stocks that have made a select group of people Crorepatis.

They invested in just one stock and ended up becoming Crorepatis in the long run.

In this video, Richa also reveals her unique formula to identify such potential RARE stocks.

Plus, she also discusses her special report, 'One Stock Crorepati: How to Get Rich With This Little-Known Indian Stock'.

This video is now available for your viewing...

This video could be taken down any time soon. So, hurry…

Click here to watch the video right away…
------------------------------
Now this company does not need much capex to grow its revenues.
So, what does it do with all the profits it earns?
Well, it distributes a significant chunk as dividends...that leads to steady income for its investors.
I have been thinking hard about how this business could be disrupted...and have realised that this business itself is an ultimate disruptor.
The company is a strong play on digitisation, a trend which is only set to increase in India...and enjoys a long runway ahead.
All in all, the company makes the cut for my next Hidden Treasure recommendation which I will release this week.
Usually, the typical horizon period for my smallcap recommendations is 3 to 5 years. But if you ask me, this could be one business that you could own and pass on to future generations. Make sure you do not miss this opportunity to make your generations richer.
Warm regards,



Richa Agarwal
Editor and Research Analyst, Hidden Treasure
PS: I believe 4 small-cap stocks are on the verge of a rebound. Read more about these 4 stocks here.
PPS: Rahul Shah, Co-head of Research at Equitymaster, has an exciting money-making proposal for you! No matter how much you earn per month, Rahul will show you how to make much more in a reasonable period of time. Read more about Rahul's strategy here...
Recent Articles