Ignore the Media Headlines and Focus on High Quality Small-Cap Stocks
Sep 10, 2020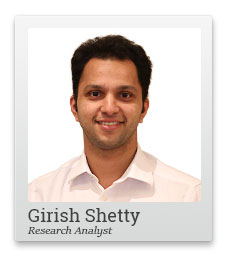 Do you see everything in black or white?
Do you tend to have right/wrong or yes/no opinions on everything?
Well, most people do.
That's why newspapers and TV channels feed you everything in extreme. They take sides and provoke you to do so too.
Take the recent headlines about the Indian GDP. You would've found news headlines like these...
'Indian GDP crashes to an all-time low'.

'India GDP much worse than expected'.
What do you feel, immediately, when you read these headlines?
Do you feel something is horribly wrong with the economy?
Do you think we might be in for a recession or depression for years to come?
--- Advertisement ---
Releasing Shortly: 3 Backdoor Stocks to Play the 15x EV Opportunity


In just a few short days from now, we will be releasing our latest special report on Electric Vehicles...

3 Backdoor Stocks to Play the 15x EV Opportunity

Now, this special report, will be released at our upcoming The Electric Vehicles Gold Rush event...

I invite you to join the event...and find out how you can claim a copy for yourself.

To know more about this FREE event, please visit here...
------------------------------
Well, these headlines are not factually wrong, but they don't tell you the context we're in.
With the right context, the headline would've been something like this...
'Indian GDP expectedly down due to the Covid-19 related lockdown'.
But this headline doesn't sound so interesting, right? That's why you won't see such headlines often.
In the real world, it always helps to have a balanced perspective. The same goes for the investing world as well.
We see retail investors asking questions like... Smallcaps are up 60% in just over 5 months. Is it time to sell?
But what if I tell you the BSE Smallcap index has given negative returns in the last 3 years. Would you still think about selling smallcaps?
--- Advertisement ---
The Rebirth of India

3 Hidden Forces are Converging for the First Time Ever...

This convergence is going to unleash a once-in-a-generation wealth boom.

A wealth boom that could potentially mint countless new dollar millionaires as the stocks at the heart of this event return thousands of percent over the long term.

It's a story of ground-breaking consequences that cannot be ignored.

Our co-head of research, Tanushree believes, those who invest in the companies at the heart of this event could turn a small stake into generational wealth.

Just head to this page to get more details
------------------------------
You cannot sell all your small-cap stocks based on good or bad headlines that newspapers show you every day.
Be selective in the stocks you buy or sell. More so as the world slowly recovers from covid-19.
You see, there will be a few businesses that will be permanently damaged in the post covid-19 era.
Poor business models that are debt heavy will likely not survive this difficult phase. These are the businesses you should avoid. If you're still holding them now, you should sell them, even if you are positive on smallcaps overall.
On the other hand, strong businesses with less fixed expenses, and little no debt are likely to survive.
These stocks will bounce back stronger when this crisis is over.
That is what we've consciously tried to do when picking Hidden Treasure stocks for our subscribers.
Join Today: Equitymaster is on Telegram. Join FREE Today for Exclusive market Updates
We've focused on low debt but fundamentally strong businesses. Businesses that are essential part of the customers' day-to-day lives.
We know that despite short-term uncertainty, these businesses will be around for decades.
When we're confident about these businesses, what the BSE Smallcap index does in the short-term does not matter.
If you too select stocks this way, dear reader, you don't need to worry about sensational headlines on newspapers or TV channels.
Having the right approach to picking stocks will go a long way in creating long-term wealth.
Warm regards,



Girish Shetty
Research Analyst, Hidden Treasure
Equitymaster Agora Research Private Limited (Research Analyst)
PS: Get access to Rahul Shah's Automatic Income training here.
Recent Articles