This Man Predicted the Market Crash. Here's What He's Saying Today...
Sep 11, 2019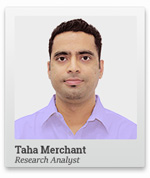 A quick flashback.
It was January 2018. The broader stock market (including small and midcaps) was at its peak.
New fund offers (NFOs) in the equity mutual fund (MF) industry had hit a 10-year annual high of Rs 223 billion.
NFOs are new schemes started by MFs inviting people to invest in them for the first time.
At about Rs 3.8 billion, the average NFO size had touched its highest since the boom days of 2007-08.
--- Advertisement ---
READ: FULL Transcript of Our Urgent Broadcast

The full transcript of our urgent broadcast on India's Revival is available for a limited time now.

In case you missed watching our broadcast LIVE...

You can see all the important highlights from our broadcast in this transcript.

Please note that we may take this transcript off the internet any minute.

So it is highly recommended you read it immediately.

Click Here to Read the Transcript NOW
------------------------------
They are new funds with no track record. So to flourish, NFOs need many extremely excited investors.
Just how excited were investors those days?
Enough that NFOs' contribution to total MF sales had increased almost four-fold.
And, of course, MFs were having a gala time taking all this money from over-eager investors and funneling it into risky stocks.
But MFs were not the only market intermediaries doing this.
Companies, initial public offerings (IPOs) markets, investment bankers, brokers - basically anyone and everyone whose interests are aligned to how much investor money they can bring in to equities, was doing the same thing.
--- Advertisement ---
[Watch Now] 3 Little-known Stocks We are Super Bullish On




Click Here to Watch Now
------------------------------
Like vultures in the brutal African savannah, swooping down on an easy meal, they swept down on excited investors who were only too willing to hand over their money.
In such a market, a usually quiet, unassuming colleague of mine, was saying something very different.
Here's what he wrote in a report to his readers at exactly that time:
"While everyone else around us is busy encouraging their investors to buy stocks, we, at the risk of looking like fools, are doing exactly the opposite.

In fact, we've been steadily recommending more sells than buys through 2017, taking subscribers' money quite the other way.

We've also steadfastly held onto our horses when it comes to fresh buys, and are facing flak for that as well.

And we understand why; it is not easy for an investor to get a 'do nothing' recommendation when everyone else around them is getting drunk on stocks.

But that's exactly what's needed right now.

The period between Jan 2013 to April 2014, and the first three months of 2016 were relatively the best periods to put money into stocks.

Sadly, the janta was doing the exact opposite.

And vice versa during other periods (of high markets).

They continue to make the same mistake today. And we're not about to let our subscribers join their folly."
These were the words of the reticent and unassuming Rahul Shah - ex-Swiss investment banker and the Co-Head of Research at Equitymaster - during the market's peak in January 2018.
JUST IN: Limited-Time Access to Full Transcript of Our Urgent Broadcast on India's Revival
If you ask him about it, he'll tell you it was not a prediction. He merely pointed out the market was expensive.
But I'll tell you this: No one else was saying what Rahul Shah was saying at that time.
And through his recommendations, he guided his subscribers in avoiding a big part of the market crash since then.
So what is Rahul Shah saying today?
Well, he's been meticulously working on a project which he calls - Automatic Income.
You see, Rahul has found a new system which can potentially increase your monthly income, even double it, in the long run.
He'll be sharing his Automatic Income strategy with viewers in a series of 4 free video classes starting Tuesday, 17 September.
Having worked closely with Rahul, I believe, when he has something to say, there's usually a ton of money to be made.
I can't wait for the classes to begin.
Block your seat for Rahul Shah's Automatic Income classes.
Warm regards,

Taha Merchant
Research Analyst, Microcap Millionaires
PS: Starting 17 September, investing guru Rahul Shah, will show you how to potentially double your income. Very few investors are aware of this strategy called Automatic Income. Read more about Rahul's strategy here...
Recent Articles