This Could Be the Best September for Auto Stocks
Sep 11, 2020
Last week, I shared a chart with you showing the performance of the various sectors since the market bottomed out on 23 March 2020.
The performance of metal sector surprised me. It usually lags and it's common to find it in the bottom 3 rather that top 3.
There's been a change this week. Autos have replaced metals in the second position.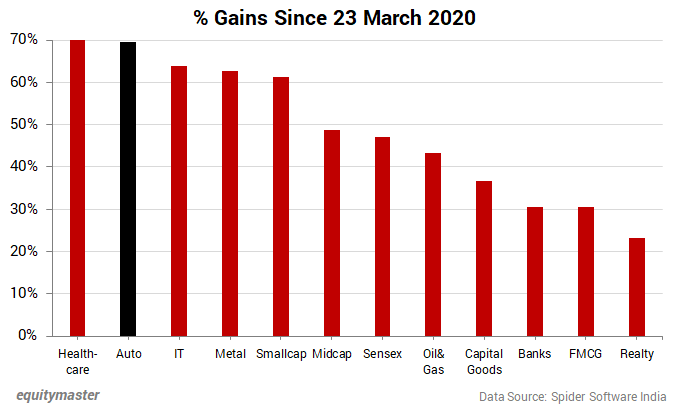 This time, I am not at all surprised. In fact I'm not surprised by the way auto sector has moved over the last 5 months.
Why?
--- Advertisement ---
These 3 Stocks are the Dark Horses of the Stock Market

The mainstream media mostly ignores them.

Mutual funds and hedge funds can't buy them in bulk.

Stock brokers rarely cover them.

These stocks are the dark horses of the stock market.

They only come in limelight after they have rallied by hundreads of even thousands of percent.

Our head of smallcap research, Richa Agarwal, has a knack for identifying such stocks before they begin their rally.

Over the years, she has spotted such stocks which have gone on to offer triple and even quadruple digit gains for investors. (* Past performance is no guarantee of future results)

Today, when the markets are near all-time high... and some investors are thinking of booking profits... Richa has spotted 3 such stocks which are set for a massive rally.

She will reveal the details of these 3 stocks on 28th January at her free online summit.

Click here to sign-up instantly. It's free.
------------------------------
Well, if you have been a regular reader of Profit Hunter, then you probably know the answer already. But if you aren't then look at the following chart.
I wrote to you about this chart for the first time a year ago.
The Greed and Fear Cycle in BSE Auto Index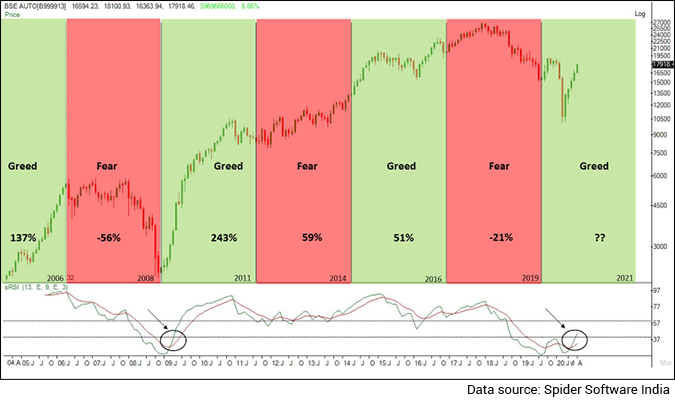 This is a monthly chart of the BSE Auto Index since inception.
I spotted a rhythmic cycle of greed and fear in the BSE Auto index that repeats every 32 months. I picked the major top of April 2006 as the end of greed phase in the sector.
BREAKING: Full Details of the #1 Investment of the Decade...
The sector trended downwards for 32 months until December 2008. I have drawn the next vertical line there. This line marks the end of fear phase and beginning of the next greed phase.
I followed the same approach and drew each vertical line at an interval of every 32 months.
I've marked the greed phase in green and fear phase in red.
The index rallied 137% in the first greed phase which ended in 2006. It dropped 56% in the fear phase of 2008.
The index then moved up 243% in the greed phase of 2011.
The index ended the fear phase of 2014 with gains of 59%. This seems unusual but we can think of it as an exception.
The index then moved up 51% in the greed phase of 2016 which ended in December 2016 and moved into the fear phase. The index lost 21% in this fear phase.
The index entered the greed phase in September 2019 and will stay there until December 2021. This means there is still a lot of time for the auto sector to move up.
--- Advertisement ---
Top 3 Stocks for 2020 and Beyond

We've uncovered 3 high-potential tech stocks after years of research.

These 3 cutting edge tech stocks could potentially create a wave of Indian millionaires.

First one is present in the sector which is expected to GROW over 300 times by 2030.

Second one is one of the leading players in Artificial Intelligence technology.

And the third one is involved in putting up a global safety net to save the world from cyber criminals.

These 3 tech stocks have the potential to offer life-changing gains in the long run.

Click here to get the details...
------------------------------
Now 32 months is a long enough time to be invested in a stock or sector for a trader. They are interested in making fast profits with limited risk.
Cycles can help traders here as well.
But you must know where to look for the data and how to look at it. Here's an interesting chart.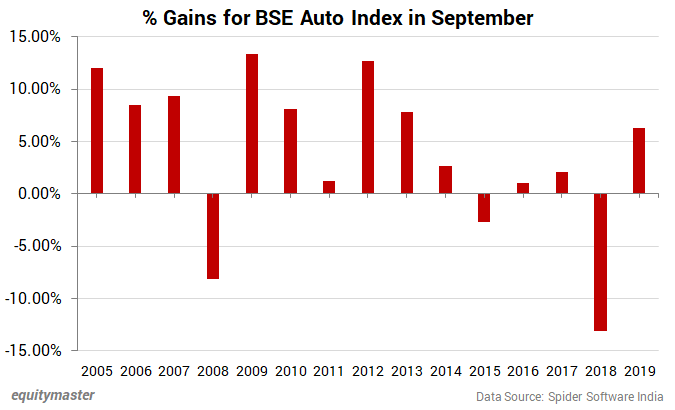 This chart shows the performance of BSE Auto index for the month of September since inception.
The index ended in the red on only 3 out of the last 15 years for the month of September. That's a success ratio of 80%. Professional traders would give an arm and a leg for that sort of a success ratio.
The two major falls in the auto index happened in September 2008 and 2018. The index dropped by 8% and 18% respectively. The index was in the fear phase in both these instances.
This leaves us with just one instance where the index dropped in the month of September during greed phase.
Now I know what you may be thinking. All this doesn't guarantee the index will end in the green this month.
I completely agree. Nobody can give you guarantees in stock market. If he does, then he's fooling you or himself.
What we are interested in is putting probabilities in our favour. What I've showed you will certainly help you do that.
Now we can go and find opportunities in the auto sector based on our parameters. If you find a compelling opportunity then you can go all in with high conviction.
And the best part about this is you could use this knowledge next year...and the years beyond.
That's all from me folks. Have a profitable September!
Warm regards,

Apurva Sheth
Senior Research Analyst, Fast Profits Report
Equitymaster Agora Research Private Limited (Research Analyst)
PS: Get access to Rahul Shah's Automatic Income training here.
Recent Articles