This Could Be the Best September for Auto Stocks
Sep 11, 2020
Last week, I shared a chart with you showing the performance of the various sectors since the market bottomed out on 23 March 2020.
The performance of metal sector surprised me. It usually lags and it's common to find it in the bottom 3 rather that top 3.
There's been a change this week. Autos have replaced metals in the second position.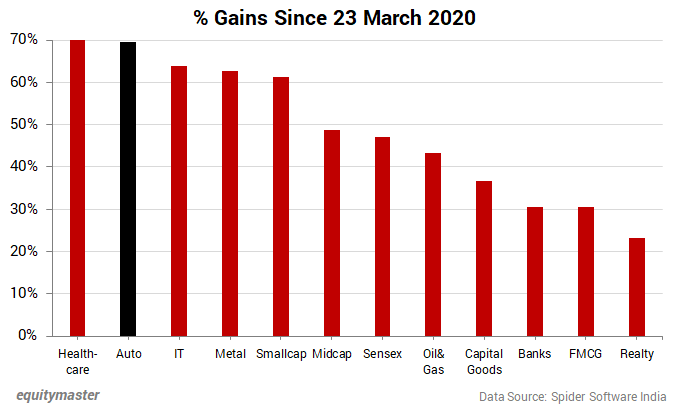 This time, I am not at all surprised. In fact I'm not surprised by the way auto sector has moved over the last 5 months.
Why?
--- Advertisement ---
Here's an urgent profit opportunity from us that no mainstream media is revealing...

The #1 Stock for 2021.

...An innovative stock with the industry giants chasing it for its technology to touch millions and millions of people every day.

It serves several clients across the globe, but what got me is this...

The stock is leaving all its competitors behind despite the COVID crash, and now the price has already started to move.

There's actually one more reason why this stock could take off and make its early investors rich.

It's revealed here in this note with transparency.
------------------------------
Well, if you have been a regular reader of Profit Hunter, then you probably know the answer already. But if you aren't then look at the following chart.
I wrote to you about this chart for the first time a year ago.
The Greed and Fear Cycle in BSE Auto Index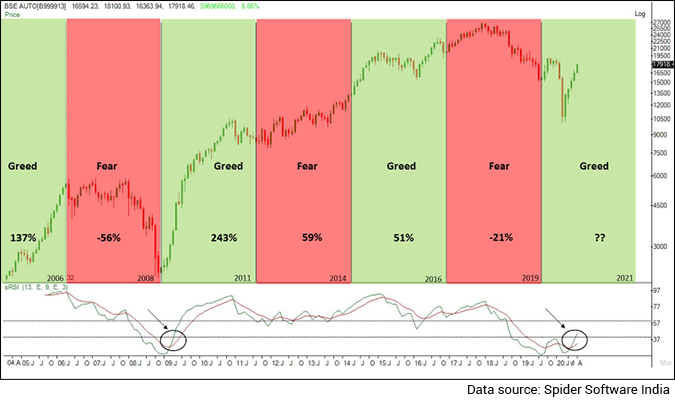 This is a monthly chart of the BSE Auto Index since inception.
I spotted a rhythmic cycle of greed and fear in the BSE Auto index that repeats every 32 months. I picked the major top of April 2006 as the end of greed phase in the sector.
--- Advertisement ---
Going Live on 30th September 6pm To Answer A Burning Question

Economies across the globe have collapsed.

However, despite all the weak economic data, the stock markets have rallied.

But how sustainable is this rally?

The burning question of the hour is

"Where are the Stock Markets Headed?"

And that is exactly where our upcoming live and exclusive free webinar will help you.

Join Nilesh Shetty, Associate Fund Manager, Equity Funds and I.V. Subramaniam, Director, Quantum AMC LIVE as they address your most pressing concerns...and try and fulfill your need for the next big investment opportunity.

If you are a serious investor, you cannot afford to miss this opportunity.

Register FREE for this upcoming webinar in 1-click
[Yes! I want to attend this Exclusive Webinar]

Yes, also send me your financial planning newsletter, Quantum Direct, free of charge.

Date: 30th Sept. | Time: 6pm | Venue: Your Computer
------------------------------
The sector trended downwards for 32 months until December 2008. I have drawn the next vertical line there. This line marks the end of fear phase and beginning of the next greed phase.
I followed the same approach and drew each vertical line at an interval of every 32 months.
I've marked the greed phase in green and fear phase in red.
The index rallied 137% in the first greed phase which ended in 2006. It dropped 56% in the fear phase of 2008.
The index then moved up 243% in the greed phase of 2011.
The index ended the fear phase of 2014 with gains of 59%. This seems unusual but we can think of it as an exception.
The index then moved up 51% in the greed phase of 2016 which ended in December 2016 and moved into the fear phase. The index lost 21% in this fear phase.
The index entered the greed phase in September 2019 and will stay there until December 2021. This means there is still a lot of time for the auto sector to move up.
UNLOCKED: Up to 3x More Gains During the Corona Crisis...
Now 32 months is a long enough time to be invested in a stock or sector for a trader. They are interested in making fast profits with limited risk.
Cycles can help traders here as well.
But you must know where to look for the data and how to look at it. Here's an interesting chart.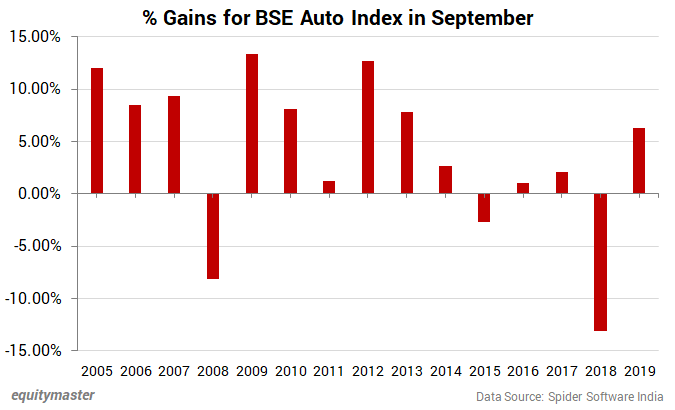 This chart shows the performance of BSE Auto index for the month of September since inception.
The index ended in the red on only 3 out of the last 15 years for the month of September. That's a success ratio of 80%. Professional traders would give an arm and a leg for that sort of a success ratio.
The two major falls in the auto index happened in September 2008 and 2018. The index dropped by 8% and 18% respectively. The index was in the fear phase in both these instances.
This leaves us with just one instance where the index dropped in the month of September during greed phase.
Now I know what you may be thinking. All this doesn't guarantee the index will end in the green this month.
I completely agree. Nobody can give you guarantees in stock market. If he does, then he's fooling you or himself.
What we are interested in is putting probabilities in our favour. What I've showed you will certainly help you do that.
Now we can go and find opportunities in the auto sector based on our parameters. If you find a compelling opportunity then you can go all in with high conviction.
And the best part about this is you could use this knowledge next year...and the years beyond.
That's all from me folks. Have a profitable September!
Warm regards,

Apurva Sheth
Senior Research Analyst, Fast Profits Report
Equitymaster Agora Research Private Limited (Research Analyst)
PS: Get access to Rahul Shah's Automatic Income training here.
Recent Articles