Want Bigger Returns Than You Thought Possible? This is Where You Should Look
Sep 12, 2018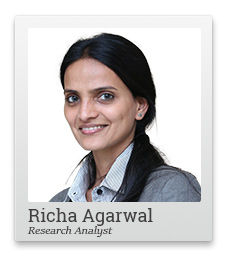 One of the hardest things as an investor is watching the lines on a stock price chart slope downwards...the lower the line goes, the more it hurts...
I have warned you repeatedly over the recent past about how macro and regulatory concerns could cause short term correction in small caps.
The reason I do so, is to prepare you...
To make sure you are not taken by surprise...and that you are reassured that things will get better.
To make sure you don't get distracted...but remain focused on opportunities that sentimental corrections can offer...
You see, I have a fantastic idea that I have been working on.
If you read my letter yesterday, you will know that I call this the goldmine in the stock market.
I am writing today to tell you more about this idea...but, not yet...
First, let's address what is happening out there in the small cap space where I dwell.
The small cap index is down 17% from its peak...
And with all that's happening in the emerging markets and to the oil price, the correction could be deeper - until soon, it may end up running aground.
And I am so excited about this.
Yes!
This is exactly what I have been waiting for...hoping for, even!
The timing could not be better.
Let me explain why...
Here is a confession...a baring of my soul to you. Every day I have to live with this reality, that...
Some of my service, Hidden Treasure's best recommendations could have been the ones I never made!
And the fact is, this was done in your best interest, dear reader.
You see, we have seen some good profits on this journey.
We have together found and embraced some fantastic young companies and watched them grow.
But I know there is more...not just good profits, not just great profits either...I have seen the possibility of extreme profits!
It all started with a great stock idea I had. I had travelled to check out a company, done my research, met the management...
It was a brilliant business - and the price was just right because it was so small nobody else was even looking at it. No big investors, no funds...
I knew I had a winning bet for the long term...and was even ready to stake my reputation on it by recommending it to you!
But there was a problem - it was a low liquidity stock.
You see, I could not have recommended this stock to all subscribers without potentially causing a sharp surge in the stock price.
If that happened, not all subscribers would have been able to buy at the recommended price levels...
And that would have gone against our research policy.
Nonetheless, as an analyst, I was not happy to let go of this opportunity.
Knowing that there was more of this out there made me restless...
Hidden Treasure, since inception, has managed to beat Sensex returns almost three times.
But I knew that with this stock, I could do a lot better.
This could have been a few thousand per cent gains in a few years from a stock, instead of being content with just a few hundred per cent returns.
I began looking for more jewels like this - and found a whole world of brilliant, young undiscovered companies just sitting out there, waiting to be found and explode into the world.
And whoever got there first would be in for a world of profits.
And, this may be my ego talking, but I wanted to open for my readers a door to this world.
A world of undiscovered, under-researched, small but brilliant businesses that could lead to unparalleled profits to a few, early, lucky people.
It sounds too good to be true, huh?
But the more you learn, you will be nothing short of extremely amazed.
In the meanwhile - check out Hidden Treasure to get a taste of the potential in the small cap space.
To extreme profits,
Regards,



Richa Agarwal (Research Analyst)
Editor, Hidden Treasure
PS: Richa is the single most brilliant small cap analyst I have seen out there - and with her recommendations you could build wealth that is hard to imagine. So do not wait - today's market is throwing up a lot of opportunities. Click here now.
PPS: Ajit Dayal, our founder, will be talking at the Indian Merchant Chamber, Churchgate on the Lehman Crisis on the 15th of September 2018. Those of you who are interested in attending this event can sign up here.
Recent Articles