Great Managers Make Great Investments - Especially in These Companies
Sep 14, 2018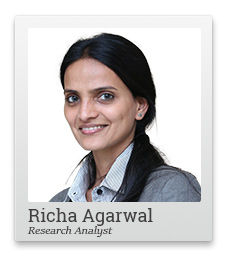 Recently, Alibaba - Asia's most valuable company announced that Jack Ma, its founder and executive chairman will be stepping down in a year's time and passing on the torch to the current chief executive officer Daniel Zhang.
Investors in the company were taken aback by the decision, since Jack Ma - now one of China's richest men - built the company from ground up. And understandably, the company's stock has taken a beating since the announcement.
On the flipside, back home, investors cheered as private lender, Axis Bank appointed Amitabh Chaudhry as its new CEO to succeed the outgoing Shikha Sharma.
Changes in the leadership of companies are big events, and companies spend a long time looking for the perfect suitor to take the company ahead.
After all, these leaders set the goals for the future, and steer the company towards them.
A change in management can completely change the direction a company takes.
That said, management changes at large companies don't have quite as large an impact, as they run rigid and well-defined processes.
However, when it comes to small-cap firms the management can be a make-or-break factor.
Which is why, especially in small-cap companies, you need to keep an eye out in case of changes in leadership,
In fact, management quality is one of the most overlooked factors when evaluating small-cap stocks.
Before you dive head-first into a small-cap stock, make sure you know the answer to these questions:
Does the management walk the talk?
Is it transparent in its communications?
What's their focus: stock price performance or business growth?
Is the management aware of the trends?
It is important you ask these questions because small-cap companies seldom undergo the same scrutiny as their larger peers in terms of disclosures and corporate governance.
Since most of them are young and growing companies, managements find it hard to resist skirting on a few issues and window-dressing their numbers to attract interest from potential investors.
That's why I don't even think about recommending a small cap company in Hidden Treasure, without meeting its management first and getting the facts straight from the horse's mouth.
But I also never take management's word as gospel truth.
I steadfastly cross-check their claims. Anything they say that cannot be confirmed by suppliers, customers, and competitors - must be dismissed.
Talking to management helps me understand businesses and their vision better.
There have been countless instances where I have liked the business of the company, its numbers look encouraging, but the management seems to be blind to changing trends, or just not prepared for the road ahead.
Like how one management claimed to have filed multiple patents the world over. I was certainly impressed as I left that meeting - that is, until of course I did my due diligence and learned that he was able to monetize only a fraction of them, without any explanation about the earnings potential of the rest.
This gave me the conviction to not recommend the stock in Hidden Treasure.
My team and I meet with many managements, and we reject far more than we recommend.
While this approach may have led us to miss out on a few opportunities, my subscribers are not complaining.
Hidden Treasure recommendations have beaten the Sensex nearly three to one since inception (based on internal rates of return).
Successful investing is not just about identifying a good business...
Especially for small and growing companies, a bad management of an otherwise good business can lead to unrecoverable losses.
Similarly, a change from a bad to a visionary management, can bring out the best in the company.
Make sure you have enough information before betting your hard-earned money on a stock.
Regards,



Richa Agarwal (Research Analyst)
Editor, Hidden Treasure
PS: Richa's brilliant Small Cap service is available now - with stock ideas that beat the Sensex 3 times over...there is NO better wealth building small cap service. Click here to get access now.
Recent Articles