A Rs 280 Billion Bonanza for Smallcaps?
Sep 15, 2020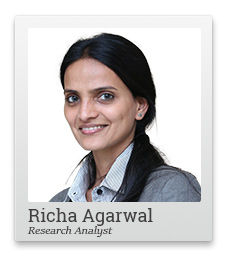 I was busy with the upcoming Hidden Treasure recommendation on Friday when multiple notifications and alerts flashed on my screen.
The regulator had come up with a circular that could lead to a huge rally in smallcaps.
It issued guidelines for 'multi-cap' equity mutual fund schemes.
The circular mandates multi-cap equity schemes to allocate 25% each to largecaps, midcaps, and smallcaps. The remaining 25% is up to the fund manager. This was to be implemented by February 2021.
So far, that marketcap based allocation for multi-cap schemes has been flexible, in the absence of any mandate.
In fact, multi-cap is a misnomer. The allocation to smallcaps is barely 10%. For some funds, it's low single digits or even nil.
The regulation aims to being more transparency and proper indexing in the mutual fund industry, and hopefully will curb mis-selling or mis-labelling.
--- Advertisement ---
3 Stocks for Potentially Massive Gains

COVID-19 has triggered a fundamental shift in the global economic and geopolitical map.

This reshuffling of the geopolitical map is just ONE of the forces fuelling the great Indian revival.

A revival that will restore the power, wealth, and influence we once enjoyed.

And, those who invest in the companies at the heart of this revival could turn a small stake into generational wealth.

Our co-head of research, Tanushree Banerjee, has narrowed down on 3 specific stocks.

She strongly believes, these 3 "revival stocks" could potentially offer massive gains.

Click here to learn more about this mega opportunity
------------------------------
By the way, I hope you remember, it was the market regulator's circular on categorisation and rationalisation norms for mutual funds, that coincided with the beginning of a huge correction in smallcaps.
Even fundamentally strong stocks in smallcaps were penalised due to this. It led to sharp correction in smallcaps and a widening of the valuation gap between largecaps and smallcaps.
Assuming every fund rebalances, Friday's circular is expected to trigger a move of around Rs 280 billion from largecaps to smallcaps.
We can see the sentiment playing out already. The smallcap index today was up 4.19% yesterday. This was the highest ever single day move in last five years.
But there is more to it that you should know...and I'm not sure the markets are accounting for this.
On Sunday, a clarification from the regulator followed.
It suggested that based on the preference of unit holders, mutual funds could consider rebalancing.
However, they also have an option to facilitate a switch for unitholders to other schemes. They could also merge the multicap fund with a largecap fund or convert it to large cum midcap fund.
Revealed: 3 "Revival Stocks" for Potentially Massive Gains
Now rebalancing or equal allocation was always an option with these schemes. Yet it was never practiced.
Given the alternate ways to comply, I would expect the multicap funds with higher assets under management to opt for switching, converting or merging.
That's because the impact cost (the cost of buying or selling) related to the rebalancing (i.e. increasing exposure towards smallcaps) could be huge for these large funds due to lower liquidity in smallcaps.
But will they?
Think about it. A lack of multicap schemes could negatively impact their business.
It will be difficult to entice the final buyer (investor in such schemes) with no differentiated offering, and to increase the appeal of overcrowded largecap schemes or meet return expectations.
All in all, while the clarification has blunted the potential impact on rally in smallcaps, I believe the move would still be net positive for select smallcaps.
In any case, the smaller multicap schemes are likely to consider increasing exposure to high quality smallcaps. That would cause a rally in select smallcaps.
Yes, a few smallcaps only!
You see, not every smallcap will be in the shopping cart of institutional investors.
For the rebalancing, they would only look for small-cap stocks with high liquidity, high promoter stake, low debt, and stable business models with strong growth prospects.
It's likely for these finer details to take some time to sink in. In the meantime, there could be a speculative rally across smallcaps, as we saw yesterday.
It would be myopic and imprudent to bet on any smallcap in the hope of a regulation driven rally.
That said, you must invest in smallcaps selectively with long-term horizon in mind.
Here's why...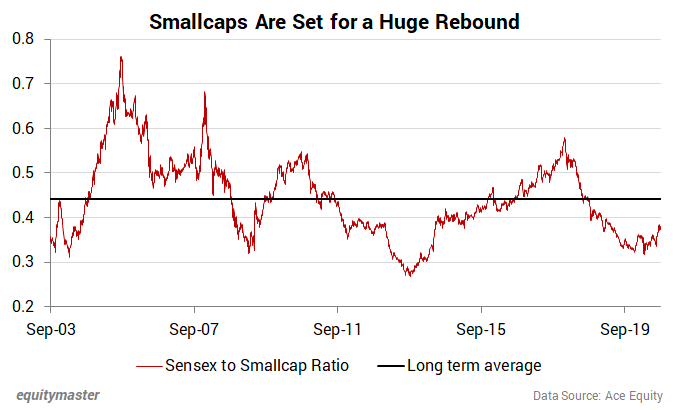 You see, despite the rally in smallcaps since March, there is still a huge valuation gap between smallcaps and Sensex.
The ratio of smallcaps to Sensex stands at 0.37 now, as compared to long-term average of 0.44 times.
This means certain smallcaps will witness a significant rebound, irrespective of regulations.
Over the years, we have recommended smallcaps that are market leaders, with decent liquidity, strong business models, and management reputations.
Since March, our smallcap recommendations are focused specifically on companies that are either immune to the pandemic or are likely to grow.
We are holding on to these positions. We expect the target prices will be met much sooner than we forecasted.
That's because I believe the fund managers who wish to rebalance would get into action well before the February 2021 deadline.
You see, the stocks that qualify are limited, and likely to be chased by most fund houses. This means the longer one waits, higher the entry price will be.
To conclude, the rebound in the smallcaps is likely to be limited to only a select group of stocks.
And it could happen sooner rather than later.
In fact, this could be a once in a decade opportunity to get rich from select smallcaps.
Make the right move before it's late.
Warm regards,



Richa Agarwal
Editor, Hidden Treasure
Equitymaster Agora Research Private Limited (Research Analyst)
PS: Get access to my top smallcap recommendations here...
Recent Articles