You Can Get Rich with Penny Stocks
Sep 17, 2018
It is amazing how a good chunk of Warren Buffett's billions have been earned just by behaving a little more rationally than others and by not losing his head when everyone around was losing theirs.
I am not the only one to hold this opinion.
Charlie Munger, Buffet's long-time partner is often heard saying that he finds it remarkable how much long term advantage guys like Buffett and him have gotten by trying to be consistently not stupid, instead of trying to be very intelligent.
An example I love using here is Buffett's investments in South Korean stocks back in 2004.
The South Korean stock market was a mess at the time. Despite being one of the most promising economies in the world, its stocks were trading at a huge discount to its counterparts from the developed world. And at the root of this undervaluation was nothing else but plain, simple fear. People were so shaken by the 1997-98 crisis that they preferred investing in anything but stocks.
However, for an investor sitting more than 6,000 miles away, it was yet another opportunity to capitalise on human behaviour.
--- Advertisement ---


What the Mainstream Media Did Not tell You About the 10-Year Lehman Anniversary…

15 September 2018. The world remembered the biggest financial bankruptcy in history: Lehman Brothers

But you did not hear the entire story...

That's because the full story - it was a Financial Holocaust - was hidden from you...but no longer.

For the full story about what happened that fateful day 10 years ago, and since, read Ajit Dayal's exclusive report, A Financial Holocaust Eliminated from History

Don't miss this, dear reader! To find out how you can claim this report...Click Here!
------------------------------
So, what did he do? Did he fly all the way down there and get a first hand assessment of the situation out there before committing any money? Or did he wait for the dark clouds to clear?
Absolutely not. He simply leafed through a reference book on South Korean companies which had a one page profile of each listed stock. Within 5-6 hours, 20 stocks available extremely cheap and with strong balance sheets were identified. Since the size of these companies were too small for the big Berkshire family, he invested US 100 m of his own personal money, snapping up a small stake in all the 20 stocks.
While there is no information available on whether he made money on these investments and how much, I think the graph below clearly tells us he might have gone laughing all the way to the bank. KOSPI, the South Korean benchmark went up more than 2x in the three years after Buffett made his South Korean investments.
Warren Buffett's South Korean Expedition: How to Make a Killing?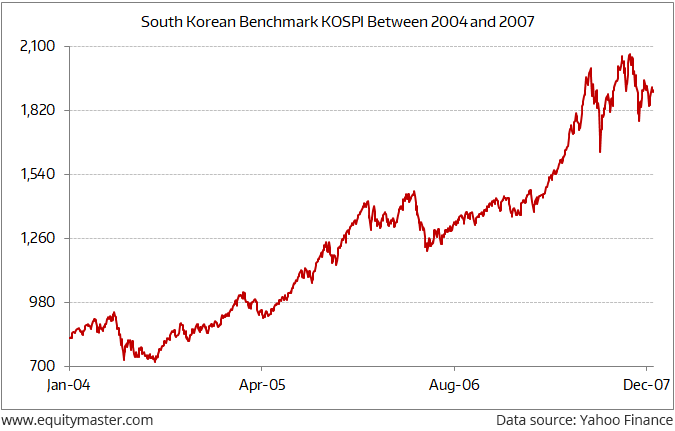 It is clear that making money from South Korean stocks was not so much about being very intelligent, as about just being less stupid.
Buffett did not have any superhuman insight on Korean companies. Neither did he have any privileged information. The book he used to identify Korean stocks was available to any investor willing to take the effort. All he did was choose not to behave like a frightened caveman and freeze with fear. Wall Street may know more about math. However, he knew human behaviour better.
Let me also be clear that such opportunities are not one off.
Human behaviour allows for success time and again if you are able to detach yourself emotionally. And yes, out of 20 investments you make, a few may turn out to be poor choices. But the others will more than make up for any losses.
And the further down you go in terms of market capitalisation, the better you can take advantage of human emotions and invest in these mispriced bets.
Which is why I'm writing to you about investing in penny stocks.
This could be the most effective and the simplest approach to have. Not trying to come up with the most incisive analysis and not trying to have access to information before than everybody else...
Of course, these things matter. But what matters most is trying to capitalise on human behaviour every single time and across every single stock.
And what exactly will be the blueprint for such an investment approach?
Well, stay tuned and I'll write lots more over the next few weeks about how you can use the power of penny stocks to make a lot of profit.
Good Investing,



Rahul Shah (Research Analyst)
Editor, Profit Hunter
PS: If it is small cap stocks you are interested in, however, you should definitely give it a shot right now - the market is hot for these stocks now. Opportunities abound - get them here.
Recent Articles