Fed Up of the Bad Real Estate Market? Here's a Stock You Can Buy Today
Sep 18, 2019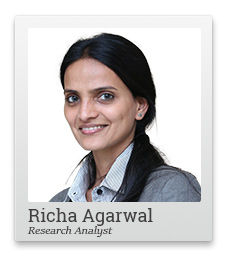 If you've been an investor in real estate, chances are you haven't had it good in the past few years.
Real estate prices haven't gone anywhere in a while now. If anything, they've fallen.
And anyone who has tried to sell his apartment in the last year or two knows that liquidity is down to a trickle.
To understand how to make the best real estate investments, lets see how ace investor Warren Buffett made his real estate decisions.
It was 1955.
Buffett was 25 and just starting a family. One of the first instincts of anyone out to start a family is to buy a house.
But not Buffett:
"In Omaha, I rented a house at 5202 Underwood for US$ 175 a month. I told my wife, 'I'd be glad to buy a house, but that's like a carpenter selling his toolkit.' I didn't want to use up my capital."
So, it's not like Buffett didn't have the money to buy it.
By that time, he already had US$ 127,000 - quite a large sum for the time. A good house would have cost about a fifth of that.
But he still didn't bite.
Small Presentation: For Those Looking to Buy Stocks
His reasoning was unconventional but the pure logic of it was striking - a completely rational calculation of what would lead to a better financial result.
It's void of all emotion and pre-conceived notions.
Buffett reflected on his situation at the time. He knew he had the skills to multiply money at a lucrative rate. Given that, he didn't see the sense in blocking a big part of his capital in a house.
He reckoned it would be wiser to rent a house instead, and use the money to invest.
If you're wondering how Buffett's decision sixty years ago is relevant to you today...read on!
You see, residential rental yields back here in India are among the lowest in the world. They stand at a measly 2% or so. That's the amount of rent you pay per year compared to the market value of the property.
So, even if you had the money to buy a house, should you?
Look at it this way. Renting a house is the equivalent of taking a loan at an interest rate of 2% per annum. For just Rs 2 every year, you get to use an asset worth Rs 100. You could then use that Rs 100 to invest.
Even a simple bank fixed deposit earns close to 7% today. Subtract the 2% rent you pay and you have 5% surplus accruing to you every single year.
And if you make investments which safely earn a higher rate of return, you would make more than 5% per year. Over the years, this can make a mammoth difference to your wealth.
Now, when you rent, you may miss out on any property price appreciation that happens along the way.
But relying on such appreciation for wealth creation is tricky. Who knows at what rate house prices will go up in the coming years?
It could be a fabulous return, it could be mediocre, it could be nothing, or it could even be negative (yes, this too is a possibility).
But make no mistake...
While property price appreciation from today's already high real estate prices may be a big wild card, India's housing market - especially the organised affordable housing segment - will grow leaps and bounds.
This will happen as hundreds of thousands of Indians, in our growing economy, buy their first home.
In fact, this is the kind of economic trend smart investors would do well to be part of.
So, is there a better way to play the real estate market?
You'll be glad to know that I've found precisely such an opportunity!
As you know, most real estate companies have been in severe distress for the past few years.
But this tough period has been a blessing in disguise for one branded real estate player.
In fact, the company saw a massive jump in the area it sold last year despite negligible growth in the markets it's operating in.
Now the share of organised players in India's real estate market is only 10%. I expect this share to double in the next four to five years.
And this branded player with an extremely strong balance sheet is in a great position to capitalise on this shift.
The big fall in the stock market yesterday has made it the perfect time to scoop up this solid stock at an attractive bargain price.
But I believe this opportunity may not last for long as the stock market could rebound at any time.
Hidden Treasure subscribers can read my report on this company here.
If you haven't subscribed to Hidden Treasure, you can sign up here.
Warm regards,



Richa Agarwal
Editor and Research Analyst, Hidden Treasure
PS: Dear reader, in a recently published video, I talked about specific stocks which turned a select group into crorepatis. I also shared my formula to identify such rare stocks. Watch the video here.
PPS: Yesterday, Rahul Shah went live with his first Automatic Income training video for those looking to double their income. You can access the video here.