Wait! Don't Chase Smallcaps Now
Sep 18, 2020
Last Friday, the market regulator came up with a circular on multi-cap mutual fund schemes.
As Richa wrote to you on Tuesday, it could potentially be a Rs 280 billion bonanza for smallcaps.
The circular mandates multi-cap equity schemes allocate 25% each to largecap, midcap, and smallcap stocks by February 2021.
This will rejig the structure of multi-cap funds which are heavily invested in to largecaps right now. This chart shows how these funds will change once the new rules are implemented.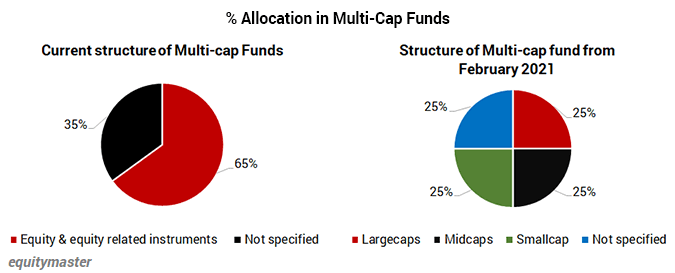 The total assets under management (AuM) in multi-cap funds is about Rs 1.45 trillion. As per the mandate, if 25% of this AuM is invested then smallcaps should have an exposure of Rs 360 billion.
Right now, it's is just under Rs 100 billion. This leaves space for a lot of money to be invested in smallcaps.
However, what most of the people are missing is that large multi-cap funds can simply change names of their schemes and chose one which better reflects their strategy and exposure.
--- Advertisement ---
Top 3 Stocks for 2020 and Beyond

We've uncovered 3 high-potential tech stocks after years of research.

These 3 cutting edge tech stocks could potentially create a wave of Indian millionaires.

First one is present in the sector which is expected to GROW over 300 times by 2030.

Second one is one of the leading players in Artificial Intelligence technology.

And the third one is involved in putting up a global safety net to save the world from cyber criminals.

These 3 tech stocks have the potential to offer life-changing gains in the long run.

Click here to get the details...
------------------------------
So, chances are that smallcaps may not see huge inflows as everyone expects. But most brokers seem to be ignoring this fact. They are busy printing long reports of smallcap stocks to buy.
It's not their fault. All they are interested in is generating brokerage. Whether the client makes money on their recommendations or not is secondary for them.
I believe there's no point in chasing smallcaps after they have rallied 80-90% from their March lows. The best time to buy smallcaps is when no one was looking at them.
I told you this not once but twice. Read the pieces I wrote to you earlier this year in January and July.
And that's not all.
I recorded a YouTube video to show you why I believe smallcaps are the best investment. Check it out.
Regular readers would remember this chart. I'm showing it again for the benefit of those who are new to Profit Hunter.
Weekly Ratio Chart of Sensex to Smallcap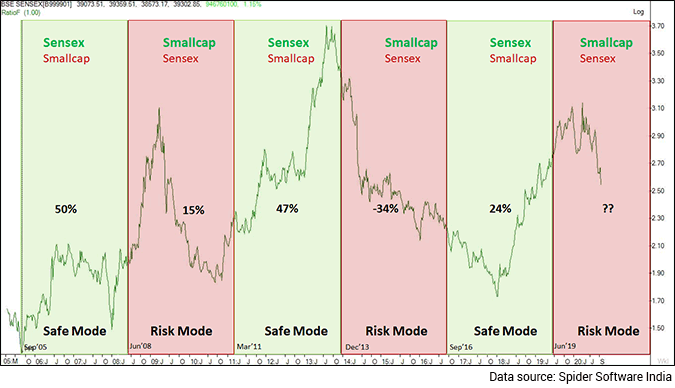 We divide the price of Sensex with Smallcap index to derive this ratio chart.
The Sensex to Smallcap ratio goes through a 144-week cycle.
Sensex outperforms Smallcaps when this ratio is in 'safe mode' and underperforms when it is in 'risk mode'.
When markets are in safe mode, investors tend to play safe and buy more Sensex stocks.
UNLOCKED: Up to 3x More Gains During the Corona Crisis...
During the risk mode, they buy more of smallcap stocks which generally results in their outperformance.
Now, outperformance doesn't necessarily mean that Sensex is rising and Smallcap is falling or vice versa.
It simply means, that one is rising more than the other. It could even mean that both are falling but one is falling less than the other.
The ratio alternates between safe mode and risk mode at an interval of 144 weeks. The first safe mode began in September 2005 and lasted till June 2008.
Sensex outperformed smallcaps by 50%. This simply means if smallcaps moved up100 rupees then the Sensex moved up 150 rupees.
In the risk mode which followed, Sensex still managed to beat the Smallcaps by 15%. This is an exception which we can ignore.
In the safe mode which began in March 2011 Sensex outperformed Smallcaps by 47%.
In the following risk mode, Sensex underperformed Smallcap by 34%. Smallcaps delivered superior returns during this risk mode which began in December 2013 and ended in September 2016.
Now it was Sensex's turn to cover up. The ratio entered safe mode in September 2016 and stayed there till June 2019. Sensex outperformed Smallcaps by 24% in this period.
The ratio entered the risk mode once again in June 2019 and will stay there till March 2022. This means that there is still lot of scope to make money in smallcaps.
But you must be patient enough to wait for the right opportunity. You cannot just buy any small-cap stock, at lofty prices, and expect it to make money for you.
Check out the following monthly chart of BSE Smallcap Index.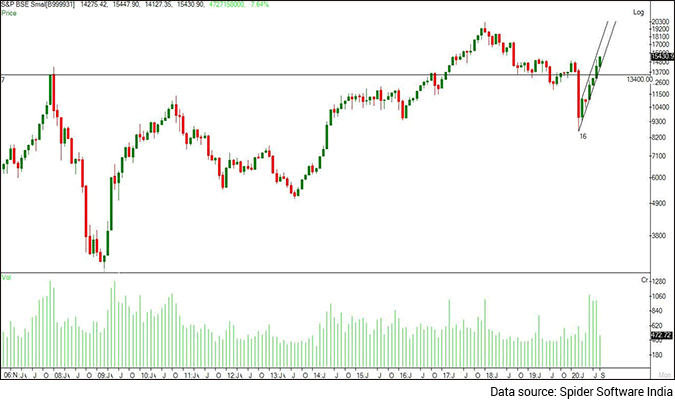 The index is on a winning spree for the last 4 months. It has almost doubled from the March lows. The index is moving up in a rising channel since its bottom in March.
Now, there isn't any rule in the market which says an index cannot move further after doubling from the lows.
But markets do not move up in a straight line.
Even if it is in a strong uptrend, there are periods when markets consolidate or even fall before resuming its uptrend.
In this case, we haven't seen any of it. So, don't deny the possibility of a correction. There are several uncertainties which market is ignoring like the US Presidential election, geo-political tensions with China, getting the pandemic under control, and the economic slowdown.
These things could act as hurdle in the smallcap rally. So, my suggestion to you dear reader, would be to wait on the sidelines for some time.
Allow the markets to take a breather before you jump in.
Warm regards,

Apurva Sheth
Senior Research Analyst, Fast Profits Report
Equitymaster Agora Research Private Limited (Research Analyst)
PS: Read our latest report on the best smallcaps to buy by becoming a premium member of Hidden Treasure. Join us here.
Recent Articles