Investment in securities market are subject to market risks. Read all the related documents carefully before investing
An Emerging Opportunity for Investors
India's Lithium Megatrend
Will SBI and NTPC be the Next PSU Stocks to Rally?
Sep 20, 2023
Hours before Indian women cricket team lifted the T20 World Cup this year, the Uttar Pradesh Police ensured that the family of one of the team players, Archana Devi, watched the match live.
They installed an inverter at her home in Ratai Purwa village in Unnao district, which experiences long and frequent power cuts.
Ratai Purwa represents India's power crisis in few of the 'electrified' villages in the country.
So, there the village dwellers do not enjoy consistent power supply despite electrification.
NTPC, the country's largest power generator, has increased its generation capacity by 78% in the past decade. Yet, the capacity growth is far from creating a meaningful impact in several Indian villages.
Similarly, Gunji, a small village in Uttarakhand's Pithoragarh district, is in a unique situation. The village is adjacent to the Nepal and Indo-China border. It has the last State Bank of India branch in the country.
The bank branch is only open for four to five months during the summer season.
Both the travellers and those involved in the Indo-China trade get money from the SBI's Gunji branch. Due to no internet connectivity, the Gunji branch also fails to provide services like internet banking to the people of the village.
So, here too, despite SBI's presence, the village dwellers have to do without banking facilities for most parts of the year.
--- Advertisement ---
Investment in securities market are subject to market risks. Read all the related documents carefully before investing

An Investment Opportunity at a Very Nascent Stage

Recently, our co-head of research, Tanushree Banerjee has found an excellent investment opportunity in the EV space that is still at a very nascent stage.

This is your best chance to get on the ground floor of this opportunity before the broader market catches up.

Full Details Here
Details of our SEBI Research Analyst registration are mentioned on our website - www.equitymaster.com
---------------------------------------------
Now, one look at the potential power demand and credit demand in India can tell you how important NTPC and SBI are to the country.
Reckon this:
Two thirds of India's agricultural lands are set to be electrically irrigated by 2030.
All rural areas are to have 100% power access without outages.
20% urban areas to use electric cooking devices by 2030
90% of the rail routes to be electrified.
60% of passenger vehicles to be Electric Vehicles by 2030.
So, even the IEA's projection that India's power consumption will grow only 6% per annum until 2030, seems conservative.
India's Power Demand Over Next Decade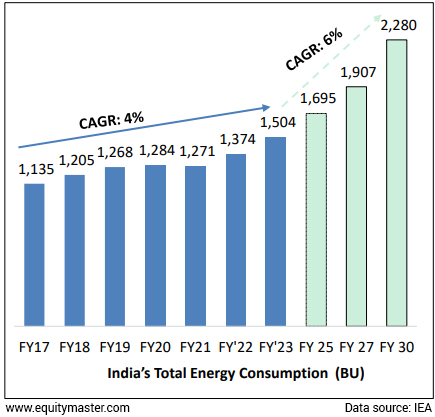 To add to that even the closest competitors of NTPC are far from catching up with it in terms of capacity and overall fundamentals.
Despite having 5 times the capacity of the second largest power producer, NTPC has sustained healthy margins and return ratios versus competitors.
--- Advertisement ---
Investment in securities market are subject to market risks. Read all the related documents carefully before investing

Value for Money Stocks?

You see, most stocks are either trading at super-expensive valuations... or they are trading way below their true worth because they are actually worthless stocks...

There are very few stocks in the market that you can call 'value for money' stocks.

But these 'value for money' stocks are some of the safest stocks available in the market... that you can buy at bargain prices.

If you're interested in these stocks where your downside is limited... but upside potential is huge... then it is highly recommended that you check out our 'value for money' stocks research...

Read More
Details of our SEBI Research Analyst registration are mentioned on our website - www.equitymaster.com
--------------------------------------------
Even a monopolistic entity like Power Grid Corporation is extremely dependant on NTPC for its growth prospects.
NTPC's Valuations Do Not Reflect Its Capacity Strength
| FY23 | NTPC | Tata Power | JSW Energy | Power Grid |
| --- | --- | --- | --- | --- |
| Capacity (MW) | 72,000 | 14,000 | 4,500 | |
| Operating Margin (%) | 27 | 14 | 32 | 85 |
| Net Margin (%) | 9.5 | 5.5 | 11.0 | 33.3 |
| Debt / Equity (x) | 1.5 | 1.8 | 1.3 | 1.5 |
| Return on Equity (%) | 12 | 12.6 | 7.2 | 19.6 |
| Book Value (Rs) | 152 | 90 | 113 | 89 |
| Price to Book Value (x)* | 1.6 | 3.0 | 3.5 | 2.2 |
Data source: Ace Equity
Similar to the demand for power, the demand for credit in the country is far from getting satiated anytime soon.
There are massive capex plans by both government and corporates during the decade. So, banks like SBI may have to accelerate their disbursals to meet demand.
In the past, the largest public sector banks were known to accumulate huge non-performing loans at peak of every capex cycle. The PSU corporate customers somehow never managed to honour the loans as the cycle turned.
But this time things are different.
In Discussion at Conference 2024: The Role of AI in Investing
The PSU banks have, over the past decade, cleansed their books. So not only are the NPA levels lower but their balance sheets are geared to lend for capex.
So, the sentiment towards PSU banks has shifted from pessimism to extreme optimism.
SBI, has particularly seen a flood of new account openings in the past decade thanks to Jan Dhan Yojana.
Hence the bank is armed with one of the largest low-cost deposit bases among Indian banks. It can compete with private sector peers in retail lending.
SBI the Key Beneficiary of Jan Dhan Accounts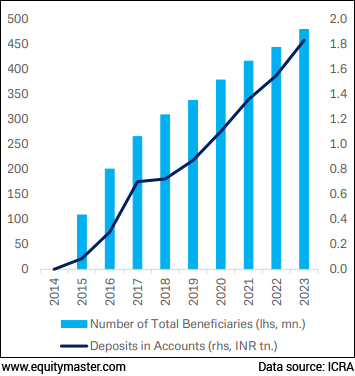 Despite this, SBI fails to fetch the kind of valuations that its private sector peer, even a significantly smaller entity like IDFC First Bank, enjoys.
SBI's net NPAs are currently at a decadal low. This makes the bank less vulnerable to even the upturn in interest rates.
Also, a possible credit squeeze in the financial sector can hardly upend the bank's robust network of depositors.
SBI's Financials Make a Compelling Case
| FY23 | SBI | HDFC Bank | Kotak Mah Bank | IDFC First Bank |
| --- | --- | --- | --- | --- |
| Capital Adequacy (%) | 14.5 | 18.9 | 23.0 | 16.1 |
| Net Interest Margin (%) | 3.3 | 4.2 | 5.0 | 6.4 |
| Net NPA (%) | 1.2 | 0.3 | 0.6 | 1.0 |
| Debt / Equity (x) | 13.9 | 7.4 | 3.7 | 7.8 |
| Return on Equity (%) | 16.8 | 17.1 | 14.2 | 10.6 |
| Book Value (Rs) | 402 | 519 | 563 | 39 |
| Price to Book Value (x)* | 1.5 | 3.1 | 3.2 | 2.4 |
Data source: Ace Equity
So, stocks like SBI and NTPC seem well poised to ride the massive surge in PSU valuations.
But even after the recent spike in their prices the valuations of the stocks remain closer to their long-term averages.
In the meanwhile, their peers in the railway sector seem to be the toast of the stock markets in recent times.
The news headlines on the railway capex plans are keeping investors hooked to the stocks.
Railways is one of the key drivers of the PM GatiShakti scheme and the National Logistics Policy.
This master plan for multi-modal connectivity has an estimated budget of Rs 100 bn. It aims to decongest India's rail infrastructure significantly in the next few years.
The railways have finalised the largest acquisition of 75,000 wagons over the next three years.
In addition, the government is considering introducing nearly new Vande Bharat trains. To add to that there is a plan to revamp almost 200 major stations around the country.
So, needless to say that a bunch of railway companies, most of which are now listed, are winning orders at a pace never seen before.
Now, most railway stocks other than IRCTC were very reasonably valued until few months back.
Hence, some early investors grabbed the opportunity to buy into them. And since then, there has been no looking back.
There is a buying frenzy in railway stocks over past few weeks, notwithstanding frothy valuations. It has even overshadowed even the rise in defence stocks.
No doubt few of the railway stocks deserve a re-rating thanks to the bulging order books.
But if the PSU stock euphoria continues, stocks of entities like SBI and NTPC cannot be left behind.
Warm regards,



Tanushree Banerjee
Editor, StockSelect
Equitymaster Agora Research Private Limited (Research Analyst)
Recent Articles