I Believe These Stocks Will Deliver the Most Outsized Returns in 2021 and Beyond
Sep 23, 2020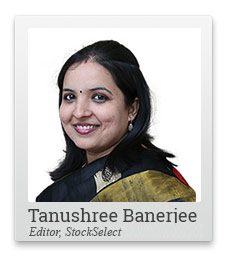 There is just one thing I want. I want you to ask the Library of Congress for every book they have on horse handicapping.
These words of sixteen-year-old Warren Buffett took his father, a US congressman, by surprise.
Despite his father's reluctance, Buffett got several books from the library. He studied them all and created his mental models.
He tested them on old horse racing data. Through this process, Warren discovered the rules of the racetrack:
Nobody ever goes home after the first race.
You don't have to make it back the way you lost it.
The early lessons that he learnt here helped him immensely in becoming a super successful investor.
--- Advertisement ---
[Must watch] Big opportunity in defence

The opportunity available in the defence sector right now is a rare money-making opportunity.

Tanushree Banerjee, the co-head of research, revealed everything about this rare and big opportunity at her Explosive Profits Summit.

We've hosted the replay of this summit for those who missed it.

Watch now to get the details of India's #1 defence stock.

Please note, we may soon take the contents offline. So, learn everything about this rare opportunity as soon as possible.

Watch Now
------------------------------
He has the longest ever track record, of over 5 decades, of superlative returns which can be traced back to these racing rules.
Why am I narrating about Buffett's tryst with horseracing?
A few million people have taken interest in Indian stock markets, probably for the first time in their lives, after the market crash of March 2020.
It was a brilliant move to attempt to be greedy when everyone else was fearful.
But they are now like the horse racers who do not want to go home after the first winning race.
Many new investors are now not keen to part with stocks that have multiplied in their portfolios in a matter of months.
UNLOCKED: Up to 3x More Gains During the Corona Crisis...
In fact, they are not even willing to see the risks.
I explained this in my video on the quickest bull market in history.
There two things new investors must remember.
Panicking when stocks begin to fall won't help you.
Blindly buying more of the stocks that crashed also won't solve your problems.
You could lose your shirts doing this.
--- Advertisement ---
For Those Looking to Buy Stocks

If you're looking to buy stocks now, then we've uncovered 3 great stocks for you.

Our research says, these stocks have the potential to create a wave of Indian millionaires.

Get the Details Now
------------------------------
The stocks to buy in a market crash, should be the ones with the potential to create outsized returns over the long-term.
And there is one sector that's stands out. I believe...
Companies in this sector are likely to grow much faster over the next decade due to high levels of innovation.
These companies have business models ideally suited to the post Covid-19 world.
They enjoy network effects that give them greater protection against competition than their old-economy predecessors.
The main raw material in their products, is intellectual property. Thus, these companies can scale up at low cost.
High cash and low debt levels make these companies strong and agile to tap into growth opportunities.
I am of course, referring to the technology sector.
I have strong reasons to believe India's tech companies are poised to deliver outsized returns well beyond 2021.
Just be sure that you are very selective with the stocks you pick. Also remember to be patient and buy these stocks only at the right prices.
I'll keep writing to you about my favourite tech trends and companies that I'm keeping a close eye on.
Warm regards,

Tanushree Banerjee
Editor, StockSelect
Equitymaster Agora Research Private Limited (Research Analyst)
PS: Get the details of my best 3 tech stock recommendations here.
Recent Articles