The Real Wealth in Electric Vehicles
Sep 24, 2021
Editor's note: Electric Vehicles are the hottest story in the market today. There is huge wealth to be made in this space. But to play it right you must find the best EV stocks to buy. Tanushree Banerjee, our co-head of research, wrote a great editorial on this. I'm sharing it with you today.
---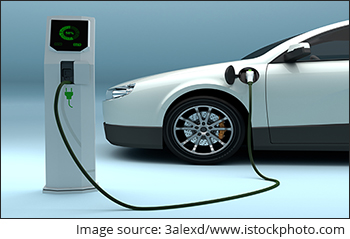 It was 1914.
Henry Ford bought his wife, Clara, a Detroit Electric car rather than one of his own Model Ts.
That year, Henry Ford confirmed rumours that he was developing a low-cost electric car. It was to be developed in partnership with none other than Thomas Edison.
The problem that Ford was trying to solve was building a light weight storage battery. This would operate for long distances without recharging. The need for constant recharging was the electric car's primary weakness back then.
For want of a reliable battery, the electric car was repeatedly delayed. Edison tried and failed to develop an alternative to the heavy, bulky lead-acid batteries. Eventually, the entire project was quietly abandoned.
Electric cars might have been expected to benefit from the concerns over the sustainability of gas-guzzlers.
But the battery technology made little progress. Sales of electric cars peaked in the early 1920s. As internal combustion engines became more reliable, they left electric vehicles in the dust. So, the last time electric vehicles created a storm, they lost out for want of sustainable fuel.
--- Advertisement ---
The Hidden Opportunity in EV Stocks No One Knows About

With today's fast-changing technology and concern about the environment, the popularity of electric vehicles (EVs) has been on the rise.

Most investors go the usual route of investing in large companies and waiting to rake in profits.

We believe that's not the best approach.

In fact, our research has uncovered a hidden way to make potentially windfall gains from this EV opportunity.

Interested to know more? You can get all details by clicking the link below:

Equitymaster's Latest Research Project - Details
------------------------------
A hundred years later, thanks to companies like Tesla, electric vehicles are back in vogue.
Turns out that the spotlight, again, is not on the vehicle itself but its fuel. This time, lithium is being called the 21st century oil!
Lithium-ion batteries are critical in the making of battery packs for electric vehicles. The most important use of lithium is in rechargeable batteries for mobile phones, laptops, digital cameras, and electric vehicles (EV).
Lithium-ion batteries account for 35-40% of the cost of an electric vehicle and lithium cells constitute around 70% per cent of the battery cost.
Rechargeable batteries are the most valuable part of an electric vehicle. In fact, it often differentiates the frontrunners from the rest. So, most EV companies are rightly focussed on building giga-factories to anchor the battery to the EV value chain.
But once again questions arise on the sustainability and geopolitical consequences of relying on single kind of fuel.
EV batteries need consistent and abundant supply of lithium and cobalt. Mining these "rare earth" elements raise environmental and geopolitical questions.
FREE Event: Discover Your First Stock for a Potential Rs 7 Crore in Long-term Wealth
Though lithium is quite abundant, cobalt is not. The main source of cobalt is the Democratic Republic of the Congo, where mining conditions are primitive. To add to that they violate human rights.
If that was not enough, once mined, cobalt is mostly refined in China, which also has the lion's share of global lithium-ion battery production capacity.
China, in fact, dominates production of rare-earth elements, too. Not surprisingly, almost 40% of the EVs produced in the world today come out of Chinese factories.
Geopolitical tensions have already led to disputes between China and western countries on supply of computer chips and related manufacturing tools.
In the meanwhile, EV producers in India, betting big on lithium batteries need to make way for alternative fuels too. Those companies successful in doing so may be able to ride a rather long megatrend.
So, the real wealth in electric vehicles is far from the passenger car manufacturers, for now. Rather, companies that successfully develop batteries with reliable fuel have a lot of profits coming their way.
The ongoing EV revolution is a critical element of the big India Revival megatrend. Join my India Revival group on Telegram to get the latest updates.
--- Advertisement ---
What CNBC Won't Tell You...


The next 10 years would be a golden period for Indian investors...

The "Big Bull" Rakesh Jhunjhunwala claims it could be one of the largest stock market bull runs in India ever...

And veteran investor Raamdeo Agarwal says the S&P BSE Sensex could even reach 200,000 points in the next 10 years... All thanks to these...

Highly Powerful Wealth-Building Mega-Trends
------------------------------
There is no denying the opportunity is huge.
But it is important to figure out which of the players have the most credible track record of creating wealth.
India's Revival is a massive megatrend that is here to stay for decades.
But you need to invest in the best stocks to take full advantage of this megatrend.
Investing in the best stocks could result in wealth compounding on a massive scale. But remember, not every opportunity is equal.
As investors, you need to differentiate between the good, great, and gruesome businesses.
How do I do that for my subscribers?
Well, I'll be glad to tell you all about it!
Join me today at the India Revival Summit at 5pm sharp and find out.
Warm regards,

Tanushree Banerjee
Editor, StockSelect
Equitymaster Agora Research Private Limited (Research Analyst)
PS: This evening at 5pm, at the India Revival Summit, I'll show you how to potentially make 1000%+ gains from a once-in-a-generation opportunity. Book your free seat here.
Recent Articles