It's When You Sell that Counts
Sep 25, 2020
Last week, I wrote to you about the frenzy in smallcap space.
The market regulator issued a circular which would rejig the structure of multi-cap funds.
Most people believed it would benefit smallcap stocks. Several brokerages published long reports of smallcap stocks to buy.
Now I'm not against brokers but I know how they operate.
Brokers have a habit of selling what's best for their business and not what's best for the retail investors and traders.
I stuck my neck out and told you to avoid buying smallcap stocks. I hope you considered my view and benefitted from it.
The BSE Smallcap Index is down by 7.4% in the first four days of this week. Several stocks are butchered much more than the index. If you were holding on to smallcap stocks, then you got a timely warning before they fell.
--- Advertisement ---
3 Stocks for Potentially Massive Gains

COVID-19 has triggered a fundamental shift in the global economic and geopolitical map.

This reshuffling of the geopolitical map is just ONE of the forces fuelling the great Indian revival.

A revival that will restore the power, wealth, and influence we once enjoyed.

And, those who invest in the companies at the heart of this revival could turn a small stake into generational wealth.

Our co-head of research, Tanushree Banerjee, has narrowed down on 3 specific stocks.

She strongly believes, these 3 "revival stocks" could potentially offer massive gains.

Click here to learn more about this mega opportunity
------------------------------
If you were looking out to buy fundamentally solid stocks, then they're available for less than their prices last week. It's a win-win for you.
So how did I come over to this view and why I was so confident about it?
Apart from the things I mentioned in my previous article with respect to the smallcap index, there was also an interesting development in the charts of the benchmark Nifty.
Nifty has also moved up smartly just like the smallcap index since March...but it hit a roadblock in July.
Smart traders began gradually offloading the shares they bought at lower levels. Buyers tried their level best but eventually succumbed this week.
I've seen such phases in markets several times. Smart traders call it a distribution phase. A head and shoulder pattern is one of the most common patterns you will observe on the charts in the distribution phase.
When I observed this pattern developing in Nifty, I knew that it was time to take money off the table. Exits are much more important than entries.
Revealed: 3 "Revival Stocks" for Potentially Massive Gains
Let's see what this pattern is all about.
In a head and shoulder pattern, we have a situation where a stock or index has typically been in a bull trend for a while.
The stock goes up, makes a high, falls a little bit, goes up to a higher high, does not make a higher low, rallies again, fails to make a new high, and then starts to break down.
We've got the shoulders and the head. Here's how this pattern looks...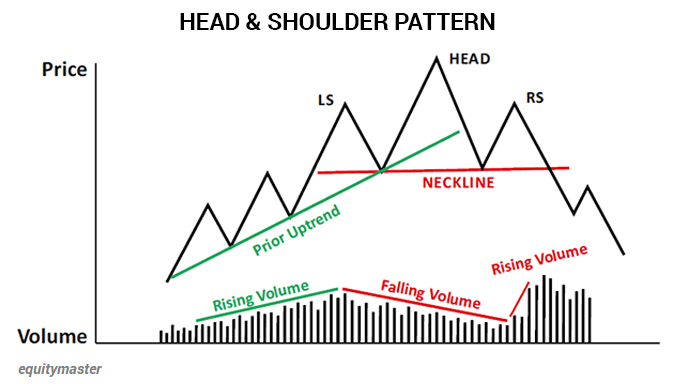 You could also figure out the possible downside once the stock breaks down from this pattern. The calculation goes something like this.
You measure the distance from the top of the head to the neckline. When the stock breaks below this pattern, that's going to be the distance by which the stock could drop.
For example, if the top of the head was 100 and neckline was at 90. This is a difference of ten. Then the likely target for the stock after breaking the neckline could be 80, again a difference of 10.
Now that we know how a head and shoulder top looks, let me tell you why they happen.
Stocks are in an uptrend before the pattern forms. Prices are moving up with increasing volumes and the sentiment is also bullish. The prices eventually decline and forms the left shoulder.
Prices pick up steam again just when bullish hopes appear to be fading. Price hit a higher high but volumes decline steadily indicating lower participation at higher levels. This is the head of the pattern.
Now the price declines again but finds support around the previous lows. It bounces back again but doesn't cross the prior highs. It only reaches to a level it reached previously when it formed the left shoulder and then begins a sharp decline. This is the right shoulder.
Prices do not hold the previous supports (neckline) as traders scramble to exit from their long positions. New short sellers - who are now more confident the stock has topped - pile in. Few buyers are there in the market at this point...so the result is a rapid decline.
Once the stock breaks below the neckline, it can drop a similar distance it covered from the head to the neckline after breaking down.
Saving Money and Timely Exits
Once you have spotted this pattern correctly it can help you in saving money.
Avoid taking fresh exposure in stocks where you see this pattern. That's what I recommended you do last week. You may tighten your stops and even exit your longs when you see this pattern develop on the charts.
If you're an aggressive trader then you could also short sell the stock once the stock is about to complete the right shoulder formation. You could also add short positions once the stock breaks below the neckline.
So that's all about the head and shoulder pattern.
I am sure you want to know how this pattern looks on the Nifty. Don't worry! I've got you covered. I published a YouTube video explaining this pattern and even shared two live examples. First is of Nifty and second is of Dow Jones Industrial Average.
Go ahead and enjoy the video. Don't forget to hit the like button.
Warm regards,

Apurva Sheth
Senior Research Analyst, Fast Profits Report
Equitymaster Agora Research Private Limited (Research Analyst)
PS: Get access to our smallcap stocks editor, Richa Agarwal's, top stock for 2021 here.
PPS: India's #1 trader, Vijay Bhambwani, was on the Investor Hour podcast. He spoke about the need to trade for big profits in this market. Watch the video below...
Recent Articles