My Top Pick for 2021 is Not a Stock. It is Something Much More Powerful
Sep 28, 2020
The period from 2014 to 2019 had approximately 1,500 trading days in the stock market. And there were some investors who traded every single day of these 1,500 days.
I doubt whether majority of them made any money.
Then, there were others who didn't trade at all but stayed invested right through. These are the typical Buy and Hold investors. At the end of the six-year period, they would have seen their investments double, a good enough 12% in CAGR terms.
However, there was one more group of investors, especially of the small-cap kind, whose investment style lay between these two extremes.
Neither did it invest as frequently as traders nor was it a typical Buy and Hold group.
--- Advertisement ---
[Must watch] Big opportunity in defence

The opportunity available in the defence sector right now is a rare money-making opportunity.

Tanushree Banerjee, the co-head of research, revealed everything about this rare and big opportunity at her Explosive Profits Summit.

We've hosted the replay of this summit for those who missed it.

Watch now to get the details of India's #1 defence stock.

Please note, we may soon take the contents offline. So, learn everything about this rare opportunity as soon as possible.

Watch Now
------------------------------
In fact, the investors belonging to this group, remained invested in the market only 33% of the time i.e. two out of the six years between 2014 and 2019.
Well, those 33% of the days were calendar years 2014 and 2017.
Between 2014 and 2019, these were the only big rewarding years for the small cap investor.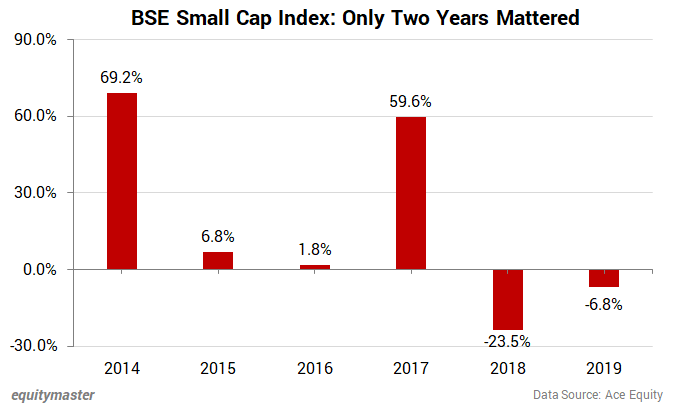 Therefore, if someone was fully invested in these two years and stayed 100% in cash for the remaining 4 years (earning 5%-6%), his initial investment would have jumped 3.4x.
Needless to say, this approach is way better than trading in and out of stocks every day and Buy and Hold.
However, it begs a very important question.
How exactly did we know in advance that 2014 and 2017 will turn out to be very good year for small cap stocks and not the other four years?
Well, we don't. In fact, no one can with 100% accuracy.
But we did know that stocks could do well in any of the four years between 2014 and 2017 and may not do well in the remaining 2 years.
UNLOCKED: Up to 3x More Gains During the Corona Crisis...
This was because the broader market was not prohibitively expensive in any of the four years between 2014 and 2017. And the stock markets typically have a good year when the broader market is not expensive.
On the other hand, the broader market looked expensive at the start of the other two years and it was not a good time to take maximum exposure to stocks in those years.
Well, this is the top pick for 2021 that I was referring to.
This top pick is not a stock but a stock picking process that has helped me and my subscribers beat the stock market by a factor of 2:1 since inception.
Yes, it has helped us outperform the benchmark index by a factor of 2x.
You see, most investors completely ignore the broader stock market when it comes to stock picking.
They think that as long as they buy good quality stocks at attractive valuations, they don't have to worry about the broader market.
However, in my opinion, broader stock market valuations are as important as valuations of individual stocks and therefore, they also need to be taken into account.
--- Advertisement ---
For Those Looking to Buy Stocks

If you're looking to buy stocks now, then we've uncovered 3 great stocks for you.

Our research says, these stocks have the potential to create a wave of Indian millionaires.

Get the Details Now
------------------------------
Thus, in addition to stocks, I also recommend investors to invest in fixed deposits/bonds and keep varying the proportion between stocks and bonds based on broader market valuation.
When the market is not very expensive (typically, a Sensex price to earnings multiple of 25x or more classified as expensive), I can be as much as 75% in stocks and the rest in bonds.
And when they turn expensive, I can bring down the ratio of 50% or even 25% and have as much as 75% in bonds.
This rule has helped me avoid the small cap crash of 2018 and also provided enough cash to be deployed in lot of attractive stocks back in March 2020 when there was a big market meltdown.
This rule is the reason I have outperformed the markets in a big way and is also the reason I am confident of repeating this feat.
It won't be a bad idea to try strategy out in 2021 and beyond.
Trust me, it could do wonders to your long term returns.
By the way, check out this video on how my prediction about 2020 ended up being right.
Warm regards,



Rahul Shah
Editor and Research Analyst, Profit Hunter
PS: Richa Agarwal's top stock pick for 2021 is out. Get the details here...
Recent Articles