Should Sensex at 60k Change Your Approach to Investing?
Sep 28, 2021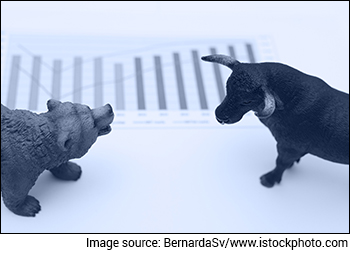 With the Nifty and Sensex hitting all-time highs, the market sentiment is upbeat.
What a relentless rally we have had over the past 15 months.
Every dip seems to be bought in to, while every time the markets rally, pundits set the next Nifty target even higher.
This is among the longest bull runs the Indian market has ever had.
Longest Bull Runs
| Start Date | End Date | Duration (Trading days) | Nifty Movement |
| --- | --- | --- | --- |
| 6-Sep-13 | 6-May-15 | 405 | 43% |
| 28-Dec-16 | 22-Mar-18 | 306 | 26% |
| 5-Aug-20 | 20-Sep-21 | 243 | 57% |
| 12-Nov-18 | 2-Aug-19 | 160 | 5% |
| 15-Jul-91 | 10-Mar-92 | 138 | 122% |
| 1-Nov-05 | 18-May-06 | 133 | 42% |
| 26-Mar-18 | 4-Oct-18 | 131 | 5% |
| 21-Apr-05 | 19-Oct-05 | 117 | 24% |
| 27-Oct-04 | 15-Apr-05 | 116 | 10% |
| 19-Sep-19 | 5-Mar-20 | 115 | 5% |
| 11-Sep-06 | 27-Feb-07 | 114 | 16% |
| 17-Aug-07 | 18-Jan-08 | 103 | 39% |
| 2-Jun-94 | 9-Nov-94 | 101 | 4% |
Source: Bloomberg
We've had 243 days without a 10% correction. The Nifty is up 57% and counting.
This brings me to the most hated and neglected word these days in the stock market - RISK.
--- Advertisement ---
The Hidden Opportunity in EV Stocks No One Knows About

With today's fast-changing technology and concern about the environment, the popularity of electric vehicles (EVs) has been on the rise.

Most investors go the usual route of investing in large companies and waiting to rake in profits.

We believe that's not the best approach.

In fact, our research has uncovered a hidden way to make potentially windfall gains from this EV opportunity.

Interested to know more? You can get all details by clicking the link below:

Equitymaster's Latest Research Project - Details
------------------------------
Over the weekend I was reading a Howard Marks story on ignoring risks in a bull market.
It was a story of a gambler who lost regularly. One day he heard about a race with only one horse in it. So he bet the rent money. Halfway around the track, the horse jumped over the fence and ran away.
Invariably things can get worse than people expect.
'Worst-case' could mean 'the worst we've seen in the past'. But that doesn't mean things can't be worse in the future. In 2007, many people's worst-case assumptions were exceeded. We all know what happened in 2008.
Today, barely anyone is talking about downside risks. After all, returns from investment are a combination of risk and reward.
In one of my previous editorials, I wrote about the concept of how much is present in the price. This is because the stock market always discounts things in advance.
The chronology of a stock price movement is this:
First, the price moves in anticipation of earnings growth. This is the initial price movement where earnings are expected to come over a period of time. It's generally a narrative or a story which gives momentum to the stock price.
After the initial up move, the PE ratio of a stock gets re-rated. this brings in another round of upward price movement.
Finally, the earnings growth is visible which, if above expectations, leads to another round of price rise.
FREE Event: Discover Your First Stock for a Potential Rs 7 Crore in Long-term Wealth
The current prices levels in majority of stocks have already more than factored in the following.
The Narrative - This happened long ago.
The PE ratio Re-rating - We have passed this stage too.
Earnings growth - This is playing out now. Much of it is factored in the price. Only a massive earnings surprise can fuel the rally further.
Consensus estimates of analysts have forecasted a 40% and 14% earnings growth for FY22 and FY23.
Now that is picture perfect. If things go south from here, which they do more often than not, disappointment is eminent.
Let me share with you a short story on how negatives are completely ignored in a market.
A young soldier is captured during a war and thrown in to a prison cell. Inside the cell there is another soldier who has been there since a long time.
The young soldier immediately tries to escape. As his first move, he bribes a guard with cash who gets him in to the prison garage but he is caught during a routine vehicle search.
The young soldier is returned to the cell immediately.
Undeterred the young soldier works on the iron bars of the cells for weeks. The whole time the other soldier looks at him silently.
--- Advertisement ---
What CNBC Won't Tell You...


The next 10 years would be a golden period for Indian investors...

The "Big Bull" Rakesh Jhunjhunwala claims it could be one of the largest stock market bull runs in India ever...

And veteran investor Raamdeo Agarwal says the S&P BSE Sensex could even reach 200,000 points in the next 10 years... All thanks to these...

Highly Powerful Wealth-Building Mega-Trends
------------------------------
The young soldier finally manages to break the bars, slips out of the window and makes it to the outer wall where he is spotted and recaptured.
He is again thrown back into the cell.
Such escape attempts happen a couple more times but were all his attempts were futile. Every time the young soldier tried to escape he was caught and returned to his cell.
Finally, at the end of his wits, the young soldier confronts the other soldier in his cell.
'Couldn't you at least offer to help me with this? I have come up with such great plans, you could have joined me in executing them'.
The other soldier looks at him and replies, 'I have tried all these methods years ago - bribery, breaking the iron bar. None of them work'.
The young soldier furious at his prison mate exclaimed, 'Why didn't you tell me if you knew all of this didn't work before'.
The old soldier replied, 'Who publishes negative results'?
That's exactly my point. In a bull market who talks about the negatives? The risks?
In a bull market, the downside risks are ignored and everything seems hunky-dory. Analysts always overshoot estimates and are too sanguine about the future.
To justify the high valuations, projections are stretched. Even company managements find it difficult to forecast 3 years from now in a dynamic, ever-changing world.
The important task for you as an investor is to focus on allocation and managing risks. I have always believed that managing risk is more important than running behind returns.
Today, the single factor driving this rally is liquidity from the US Federal Reserve. That's why it's time to be cautious.
Now this doesn't mean you should push the panic button and start selling. But you should take home profits from stocks which have given 4-5x return in a year.
After all, what matters is cash in the bank and not the notional value on the screen.
Now you may not agree with my cautious tone. If you have a different view of the market, write to me here and tell me what you feel about the market.
Warm regards,



Aditya Vora
Research Analyst, Hidden Treasure
Recent Articles