This Smallcap is a Must Have Stock in Your Portfolio
Sep 29, 2020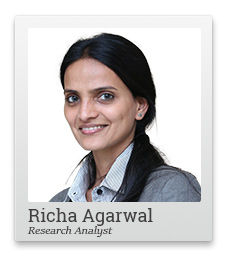 What if I tell you there is a smooth way to multiply your money 2, 3 10, possibly even 100 times?
Yes, it's possible.
You can let your money compound even when you are sleeping. You don't need an ivy league education or a great IQ.
You don't have to toil for it. Someone else will be doing it for you, without asking for anything in return.
This may sound like a dream, but it's not. Some of the richest in the world people swear by it.
And it's heartening to see more people becoming aware of this.
Just look at the surge in the number of new demat accounts. I don't know if it is the post Covid rebound, or an action itch amid the lockdown blues that has led to this surge.
But it's certainly a megatrend in the making.
And it's both good and bad news.
--- Advertisement ---
New FREE Guide on Big Opportunity in Defence


Tanushree Banerjee, the co-head of research, recently released er latest guide:

The Explosive Rs.4 Lakh Crore Opportunity: How to Tap into India's Surging Defence Sector for Potentially Huge Profits

And she has agreed to make it available for free for a limited time.

If you've not claimed your free copy, then do so now. It might not remain free for long. One more thing...

Tanushree has also discovered one stock from defence sector... which she believes has the potential to multiply invested money 10-times in the long run.

She will reveal more details about this stock at her upcoming online special event.

Click Here to Download the Guide & Block Your Seat Now. It's Free.
------------------------------
It's bad news because a lot of first-time investors have gotten lucky in this rebound. They may confuse luck for skill and bet bigger amounts. They will possibly lose their hard-earned money. There will be learnings, but it might come at a huge cost.
It's good news because I believe investing could open doors to generate huge, long-lasting wealth for those who tread with caution.
Investing is simple, but not easy.
You need to be informed. At the same time you need to avoid the noise of the market.
You need to watch this video.
How to Ride the Rebound Amid the Market Flip-Flop
To make a lot of money in the market, you need to bet on a few high-quality stocks.
At the same time, you should stay clear of thousands of others which are potential blackholes for your money.
So how can you be selective and develop a strong conviction with all the noise and options flying around?
Financial or quantitative skills can only take you so far. They can help you screen stocks but you will still lack conviction on your final pick...unless you know who you are partnering with.
Yes, investment is a partnership. It's a long-term contract with the owner of the business and the management team.
You wouldn't choose a business partner without knowing them well and trust their ethics and competence, right?
New: 5 Pandemic-Proof Smallcaps You Should Know About...
In the same way, it's never a good idea to invest in a company without understanding the owner and management.
This is truer in case of smallcap companies, where the management can make or break a business, unlike big businesses which could run on an auto pilot mode.
For almost last 10 years, I have been researching stocks in the smallcap space.
Management meetings have been an integral part of my process of rejecting or recommending stocks.
Sure, there have been cases when my recommendations have not worked as I expected.
Yet, all in all, Hidden Treasure has beaten the indices almost three times in last 12 years.
There are three critical factors that have led us achieve this.
Long-term focus. Compounding needs time, and patience. Never have we recommended a stock with a horizon of less than three to five years.
Management meetings. Without questioning the people running the company, we would never be able to develop the conviction to hold a stock for long-term amid all the volatility in the market.
A smart allocation. Achieving a 100% success ratio in investing is an almost impossible feat. With right asset allocation, you can win big while not being wiped out by occasional losses.
But allocation is a tricky thing and some of the best and most successful investors have starkly different approaches to it.
--- Advertisement ---
[EXCLUSIVE] Invitation - "Mega Panel Discussion on Asset Classes of Equity, Debt & Gold"

Date: 27th Nov Time: 6pm Venue: Your Computer

Even though the Covid - 19 Pandemic shows no signs of mercy across the planet, the deadly year it got along is nearing its end.

But what the pandemic did to the markets will definitely have a lingering effect.

So, the question that arises is - What Next?

As an investor, it only makes sense to have all the required information about the current state of the economy and what the experts think the future has in store

Join Nilesh, Chirag & Pankaj as they address some of the most crucial questions on performance of different asset classes and their year-end outlook.

Click here to Register FREE for this EXCLUSIVE Webinar
[No Payments | No Credit Card | Absolutely FREE]
[Yes! I want to attend this Exclusive Webinar]

Yes, also send me your financial planning newsletter, Quantum Direct, free of charge.
------------------------------
When Warren Buffett was managing much less capital than he does now, his top five holdings comprised over 90% of his portfolio. He was a typical concentrated investor. Given his investing acumen and stock selection skills, no wonder he killed the Dow.
That said, investors like Peter Lynch and Schloss never believed in concentration. At the peak of his career, Peter Lynch's portfolio had over 1,000 stocks. Yet, to this day, his track record remains enviable.
So, what's the ideal approach? What is the holy grail of investing?
Here is what the famous economist John Maynard Keynes has to say in the matter:
"As time goes on, I get more and more convinced that the right method in investment is to put large sums into enterprises which one thinks one knows something about and in the management of which one thoroughly believes. It is a mistake to think that one limits one's risk by spreading too much between enterprises about which one knows little and has no reason for special confidence... One's knowledge and experience are definitely limited and there are seldom more than two or three enterprises at any given time in which I personally feel myself entitled to put full confidence."
In Hidden Treasure, as a rule we ask subscribers to not allocate more than 10%-20% of their portfolio to smallcaps, and not more than 2%-3% to a single smallcap.

However, there is one stock where I have made an exception. I've asked subscribers to consider a 5% allocation to a single high-quality small-cap stock.

Why?

I've tracked the stock for over 4 years. I've met the management and witnessed their execution. My conviction in the company has grown steadily over time.

It's no wonder than this stock is my top smallcap pick for 2021.

This is a stock to consider holding for a long time. I believe the markets are beginning to identify its potential, and the buying window is limited.
Here's what I like about this stock:
It's a market leader with 25% share in its niche.
An innovator, that changed the game not only for its own industry, but for its clients as well. It's the sole supplier to some of the best bluechips. None of its peers come close to what it has achieved.
A proxy play on India's food and FMCG segment which is its fastest growing segment (that comes under the 'essential' category). Again, the best of bluechips make it to its client list.
There are multiple growth triggers in the different segments it caters to.
Potentially new opportunities in pharmaceuticals and agrochemicals.
The company pays steady dividends, has a strong balance sheet, and the stock is still in the buy zone.
Hidden Treasure subscribers can read the stock report here (and the latest update on the stock is available here).
If you aren't subscribed to Hidden Treasure, you can get the report by signing up here.
Warm regards,



Richa Agarwal
Editor, Hidden Treasure
Equitymaster Agora Research Private Limited (Research Analyst)
PS: My top pick for 2021 is moving up fast. The stock report is available at a special price until midnight tomorrow. Don't miss this opportunity. Claim the stock report here.
Recent Articles