Small Cap Stocks Could Triple in Less than 2 Years... Here's Why
Sep 30, 2019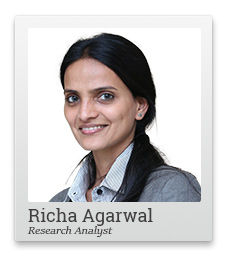 Before I ever recommend any stock, I always insist on meeting the managements, understanding them, making sure they are capable and ethical, and so on.
I travel the length and breadth of the country... even going to remote locations, to meet managements.
Why?
Well, what do you think happens when managements make bad business decisions?
--- Advertisement ---
READ: FULL Transcript of Our Urgent Broadcast

The full transcript of our urgent broadcast on India's Revival is available for a limited time now.

In case you missed watching our broadcast LIVE...

You can see all the important highlights from our broadcast in this transcript.

Please note that we may take this transcript off the internet any minute.

So it is highly recommended you read it immediately.

Click Here to Read the Transcript NOW
------------------------------
A massive loss of shareholder wealth.
The importance of assessing management quality cannot be emphasised enough. After all, it is their decision making in the various areas of the business that will eventually decide whether the business is a long-term compounding machine for shareholders.
But betting on a good quality management is not the only thing to consider. It is also important to judge the quality of the business they are running.
The odds are in our favour when a management with a good reputation tackles a good quality business.
Try having one without the other and you are not quite on a fertile field. That said, management quality is one of the most overlooked factors when evaluating the best small-cap stocks.
--- Advertisement ---
[Watch Now] 3 Little-known Stocks We are Super Bullish On




Click Here to Watch Now
------------------------------
Here are 5 things to pay attention to before you dive head-first into a small-cap stock:
Make sure the management walks the talk. It doesn't matter what they say, it matters what they do.
Is the company taking on too much debt?
Is the management honest and transparent in its communications?
What's their focus? Is the management focused on stock price performance or business growth?
Is the management aware of the trends?
It is important you ask these questions to all managements, but more so to ones that run smaller companies, because small-cap companies seldom undergo the scrutiny their larger peers go through in terms of disclosures and corporate governance.
Since most of them are young and growing companies, managements find it hard to resist skirting on a few issues and window-dressing their numbers to attract interest from potential investors.
Successful small cap investing is not just about identifying a good business.
JUST IN: Limited-Time Access to Full Transcript of Our Urgent Broadcast on India's Revival
Especially for small and growing companies, a bad management of an otherwise good business can lead to unrecoverable losses.
Similarly, a change from a bad to a visionary management, can bring out the best in the company.
Make sure you have enough qualitative information before betting on a stock, irrespective of whether it is backed by a big brand name or not.
Quality of Management Matters
This is also why I won't even think about recommending a company in Hidden Treasure, without meeting the management first and getting all the facts, straight from the horse's mouth.
But wait!
Taking management's word as gospel truth can be a huge mistake.
What they say must be cross-checked. Claims that cannot be confirmed by suppliers, customers, and competitors must be dismissed.
Talking to a company's management helps understand businesses and their vision better.
There have been countless instances where I have liked the business of a company, its numbers look encouraging, but the management seems to be blind to changing trends, or just not prepared for the road ahead.
Like how one management claimed to have filed multiple patents over the world. But after meeting them I found it could monetise only a fraction of them, without any explanation about the earnings potential of the rest.
I did not recommend that stock.
That has gone a long way in my small cap stock recommendation service - Hidden Treasure - beating the Sensex, based on its internal rates of return, by nearly 3-to-1 since inception.
Will Small Caps Go Up Now?
My answer might surprise you...
In a market crash, it is impossible to predict when the next upcycle will start or how long a downcycle will continue.
Be that as it may, every occasionally, there comes along a set of numbers that gets one totally thrilled.
Over the last three decades or so, on average it has taken only 1.8 years to go from the dreadful depths of a stock market crash to the lofty pinnacle of a market high!
Do note that this is not the time taken only to get out of a crash. This is actually the average time it has taken to get from the depths of a market crash to the next market high.
The BSE Sensex's average gain during such periods was 165%! That's more than two and a half times your money in less than two years!
But it gets even more exciting...
Small caps, notorious for volatility, tend to see exaggerated price moves on both the upside and the downside. This means their moves form market crash to market high tend to be even more dramatic!
While data for the BSE Small Cap index is not available for such a long period as the Sensex, this is more than evident from even a cursory look at comparable numbers for the Small Cap index.
The gain in the BSE Sensex when it swung from the depths of the previous crash to its high in Nov 2010 over a span of 1 year and 8 months was 157%.
And the gain in the BSE Small Cap Index over this same period was a massive 254%.
Well, now you know why I think we're all set for a big rebound in small-cap stocks. The data backs my claim of small caps tripling in the next 2 years.
Just make sure you buy only high-quality small caps and hold on to them.
And then...
Enjoy the riches of this rebound.
Warm regards,



Richa Agarwal
Editor and Research Analyst, Hidden Treasure
PS: To know all about profiting from the riches of the small cap rebound...please click here.
Recent Articles