Find Out
How to Find One Stock with Crorepati Potential? >> READ MORE
This EV Segment is Already Taking Off...Here's How to Ride It
Oct 1, 2021
Editor's note: Electric vehicles are the hottest investment opportunity in India today. But do you know how to play it? A couple of months ago, research analyst, Aditya Vora wrote a great editorial to get you up to speed on this very profitable megatrend. Read on...
---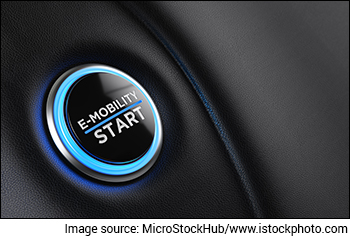 What began as a large box with a single channel has transformed in to a high definition flat screen streaming your favourite Netflix shows via the internet.
Yes, I am talking about the evolution of the television over the past century.
How about the evolution of landline phones in India?
Until the 1980s, there was a waiting list of 20,000 people wanting to get a landline telephone.
Today, a landline phone is also used to make a phone call among other important things like integrating your internet connection to your television, laptop, and other entertainment devices.
Who would have imagined this tectonic shift in technology?
Necessity is the mother of all invention. It's the reason behind a majority of inventions of the 19th and 20th centuries.
However, in the 21st century, upgrading inventions is the new necessity for survival.
--- Advertisement ---
A One Stock Gift in 1990 Turns into Rs 130 Crores

In 2017, Ravi made headlines by calling a leading business news channel with a surprising announcement - his grandfather had left him 20,000 shares of only one stock.


And on the day of his call - these shares were worth Rs 130 crore.

Can you guess which is this company?

It's MRF.

Ravi's story is one of the amazing stories of becoming Crorepati from a single stock.

But the question is, how to find that one stock with crorepati potential?

To find the answer to this million-dollar question, join our 'One Stock Crorepati' MEGA summit on 30th June, where we will reveal details of what we call a potential 'crorepati' stock...

Click here for full details...
------------------------------
Remember Nokia? Or should I say forgotten Nokia?
The only wrong they did was not to upgrade in time. The mantra is upgrade or perish.
Back in July, OLA attracted bookings for 100,000 electric 2-wheelers within 24 hours. The company plans to have a production capacity of 1 million units by end of next year.
Just like TVs and landlines, the technological upgradation in automobiles has begun.
A lot has been spoken about handicaps like lack of charging infrastructure, higher cost price compared to its petrol 2-wheeler peers. Some make sense while some don't.
I believe, due to limitations such as higher costs and charging infrastructure, electrification of cars will happen gradually in India.
However, I am gung-ho about the electric 2-wheeler space.
I feel the revolution in electric 2 wheelers will happen sooner rather than later.
What gives me confidence apart from changing fundamentals which I will discuss later is the change in sentiment.
A country which sold less than a total of 0.25 m electric 2 wheelers in 2020, received a booking of 0.1 m in a day from just 1 company.
--- Advertisement ---
"$2.5 Trillion Crypto Market Boom..."

A booming $2.5 trillion market...

Set to multiply by 100 times over the next decade...

With legendary investors like Warren Buffet, Elon Musk, and Peter Thiel pouring in billions of dollars all over...

Would You Really Want to Miss It?
------------------------------
Even if you assume a conversion rate of 40-50% of bookings to sales, that is 15-20% of total electric 2-wheeler sales of 2020.
The sentiment is clearly shifting. This is a pre cursor to the adoption of a long term trend.
Apart from sentiment, the narrative is also shifting for adoption of electric 2-wheelers.
This is why I think the shift will happen soon.
When the government gets serious, things do change quickly
Incentives for electric 2-wheelers have increased from Rs 10,000/kWh to Rs 15,000/kWh. The cap of maximum discount has increased to 40% of the cost of vehicle from the previous 20%.
This further helps electric 2-wheeler players to reduce prices. This will narrow the gap with their petrol counterparts.
Total cost of ownership
This is the most important decision making factor and it's coming down fast in favour of EVs.
Look at this table...
| Particulars | Ola electric | Activa 6G |
| --- | --- | --- |
| On Road price* (Rs) | 1,20,000 | 76,000 |
| Total usage per year in kms | 8,000 | 8,000 |
| Battery pack (Kwh) | 2.5 | na |
| Range of battery (kms) / Mileage (km/litre) | 100 | 45 |
| Fuel cost/litre | na | 106 |
| Fuel cost/km | na | 2.4 |
| Charging cost/km (Rs 8/unit) | 0.2 | na |
| Total fuel/electricity costs | 1,600 | 18,844 |
| Savings | 17,244 | |
| Additional capital cost incurred | 44,000 | |
| Payback period (years) | 2.6 | |
Rising petrol prices are making headlines every day. The 90% fuel cost savings per year in electric 2-wheelers is music to the ear.
As per these calculation, it will take just 2.5 years for payback. With the life of a 2 wheeler being anywhere between 5-6 years, the cost savings are substantial.
All this is with the current prices of lithium ion batteries where they are. As technology improves, the cost differential is between petrol and electric is going to narrow.
EXPOSED: The Shocking Truth Behind Today's Hottest Investment Opportunity
What about charging infrastructure?
This is a typical chicken and egg story.
Charging an electric 2wheelers is less time consuming as compared to electric cars. As claimed by OLA, it takes 18 minutes to charge its battery to 50%.
Also dynamics such as smaller size of the battery and facilities like home charging, charging at local kiranas can be game changers for the industry.
This is in contrast to electric cars where the time taken to charge them is at least 2-3 times more than 2-wheelers.
Also imagine a public charging station at a mall or parking lot. 5 scooters will take the charging space of 1 car.
So in my view the biggest handicap in terms of charging is also abating.
To sum it up, when an aspiring Indian buys an electric 2-wheeler, the majority of his checklist is answered.
However, not all is perfect...
The eco system will take time to develop. This means distribution, service stations, and mechanics in the initial years will be a trial and error process.
So that brings us to the big question
Are traditional 2-wheeler companies like Hero, Bajaj, and TVS, doomed?
No.
Apart from Ola and Ather which are backed by huge private equity players, it's the massive distribution and reach of the traditional players which will shape the EV ecosystem.
Hero has invested in Ather and it could buy it out over the long-term.
Bajaj Auto has launched Chetak, with about similar pricing as Ola.
TVS I Qube has received encouraging response too.
What investors need to worry about is the auto ancillaries which specifically supply engine parts and fuel systems to the traditional 2-wheelers.
A sizeable portion of their revenue will vanish. Will they be the Nokia or Blackberry of the automobile industry?
Yes.
Electric vehicles are the hottest investment opportunity in India today. Read more about this megatrend here.
Warm regards,



Aditya Vora
Financial Writer
PS: Equitymaster's secret research has uncovered a little-known way to play the massive 15X profit opportunity in electric vehicles. Get the details here.
Recent Articles